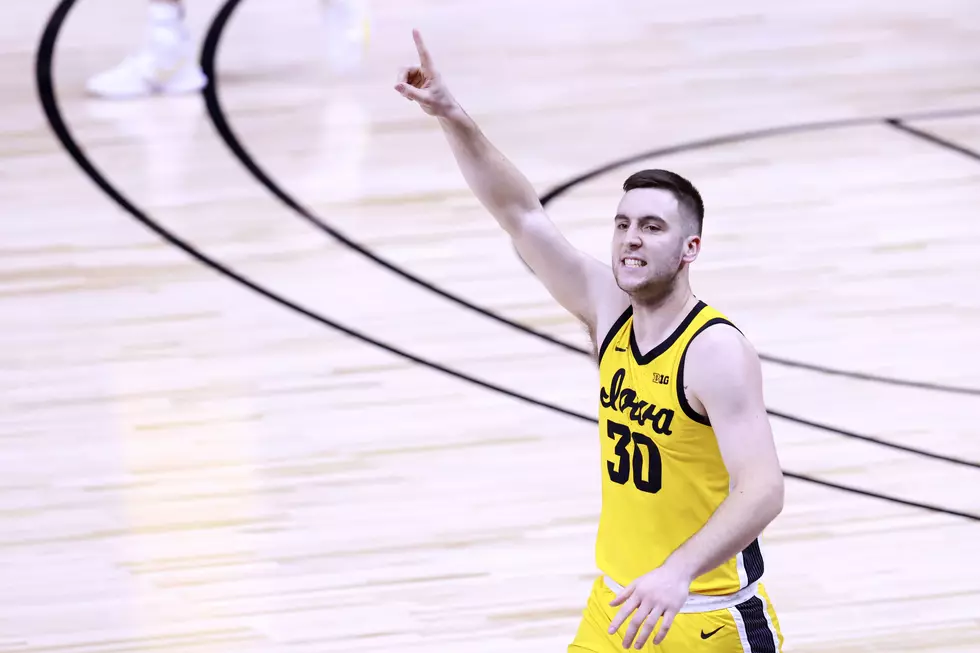 Iowa Basketball Player Complains About the Crowd At Carver
Getty Images
When a college athlete complains about something, it can often fall on deaf ears. I mean, these are men and women who are paid to go to school and play a game. Most of us wouldn't consider our daily job to be as entertaining as playing basketball for the Iowa Hawkeyes. Senior Connor McCaffery took to social media last night and had a few things to say about the crowd at Carver-Hawkeye Arena.
I love how Connor tries to kill us with kindness. This isn't about the crowd tonight, and thank you again for coming! But then he tells us how he really feels, calling the fans "the worst regular season crowd we have had in my career." Wow. That's a lot of games, Connor. And Iowa fans should know. You've been here for six years. Plus, you're the head coach's son! Quite frankly, you're the last person who should be complaining about the crowd. The people who were there on a Monday night for a game against a no-name opponent paid good money to see you. Connor's tweet is a slap in the face to every single person who attended Monday night.
But with every tweet, there lies a little truth. If you've ever been to an Iowa basketball game before, especially non-conference snoozers like last night, the crowd can be a bit quiet. That is emphasized even more when the students are out of town for the Thanksgiving holiday. And Connor is also right about the fact that Iowa has some huge games coming up. A road test at Clemson is followed by a home game against Georgia Tech, a date with Duke in New York City, and then the Cyclones at Carver. It's as daunting a stretch of games as I've seen under Fran McCaffery. Connor is right. They'll need Carver to be loud those nights.
But trashing fans that already support you is no way to get more people into Carver, or make the crowd even louder. It makes you seem unappreciative and out of touch. Things that I'm certain Connor McCaffery is not, by the way. But perception is everything. Give athletes access to social media, they said. Still happy with that decision now?
University of Iowa ANF Wall of Honor Members
The University of Iowa's has now announced 10 members of the America Needs Farmers Wall of Honor at Kinnick Stadium.
You Know You're From the Midwest When...
We asked listeners to complete the sentence: "You know you're from the Midwest when..." and we got some very accurate responses! Here's a look at some of our favorites.