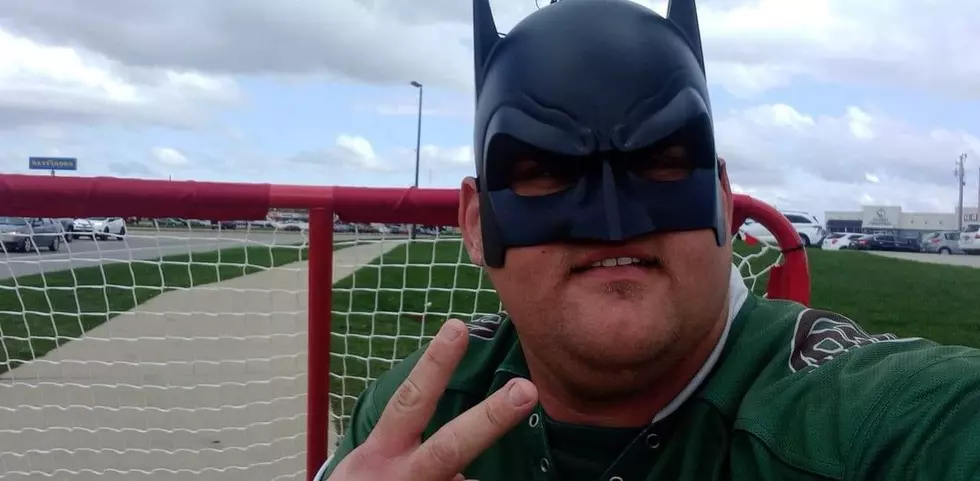 Who's That Guy That Plays Hockey in Front of the Cedar Rapids Best Buy?
Matthew Crawford, Facebook
If you've ever been stopped at the light at the corner of 1st Ave and Collins Road, there's a good chance you've spotted a guy over near Best Buy playing hockey. A lot of us here at the station have seen him in recent weeks, and we all had similar questions. Who is he? Why is he there? Is he advertising something? Why is he playing hockey? We needed answers.
After doing a little online sleuthing, I found out a little bit more about the guy known as "Hockey Man." His real name is Matthew Crawford, and he's from right here in the Corridor. He's 27-years-old and graduated from Linn-Mar High School in 2013.
Back in December, Matthew did an interview on a local podcast called One Word Stories with Alex Schulte. The episode offers a little bit of information about the mystery hockey player and why he does what he does.
As you can see by his jersey, Hockey Man is a big fan of the Cedar Rapids RoughRiders. In fact, he was inspired to play hockey after attending RoughRiders games over at ImOn Ice Arena. He started bringing a net and a hockey stick out to different locations in Cedar Rapids in September of 2019, which gained him a bit of popularity. Nearly three years later, he's known all over the area, and people will stop out to say "hi," take a selfie, and even play a little hockey with him!
I think the thing that people want to know most is WHY Matthew plays hockey on the side of a busy Cedar Rapids intersection. The answer is actually pretty simple: he wants to bring people joy. He enjoys making people laugh and cheering up folks who are stuck in traffic. Sometimes he hands out pucks to kids, too. In his podcast interview, Alex refers to him as a "Hockey Santa Claus." Playing street hockey isn't how Matthew makes a living, but he does have a tip sign out at the recommendation of a fan.
I reached out to Matthew this morning, and he told me that he has no plans to stop entertaining folks with his hockey playing! He tries to get out to the corner at 1st Ave and Collins Road every weekend, and sometimes during the week, too. You can also catch him at most of the RoughRiders home guys during hockey season. Oh, and if you're wondering, Hockey Man's NHL team of choice is the Pittsburgh Penguins!
Back in April, Matthew created a TikTok account under the name Hockeyman3h. Less than two months later, he already has over 2,000 followers. You can check out his page for updates on his life HERE.
7 Things You May Not Have Known Were Invented by Iowans
Iowa is home to some pretty cool inventors! Here are seven things you may not have known were invented by Iowans!
Iowa Facts You Likely Never Knew
Iowa has a state with a rich history and many fun facts, How many of these did you already know? Test your Iowa knowledge!