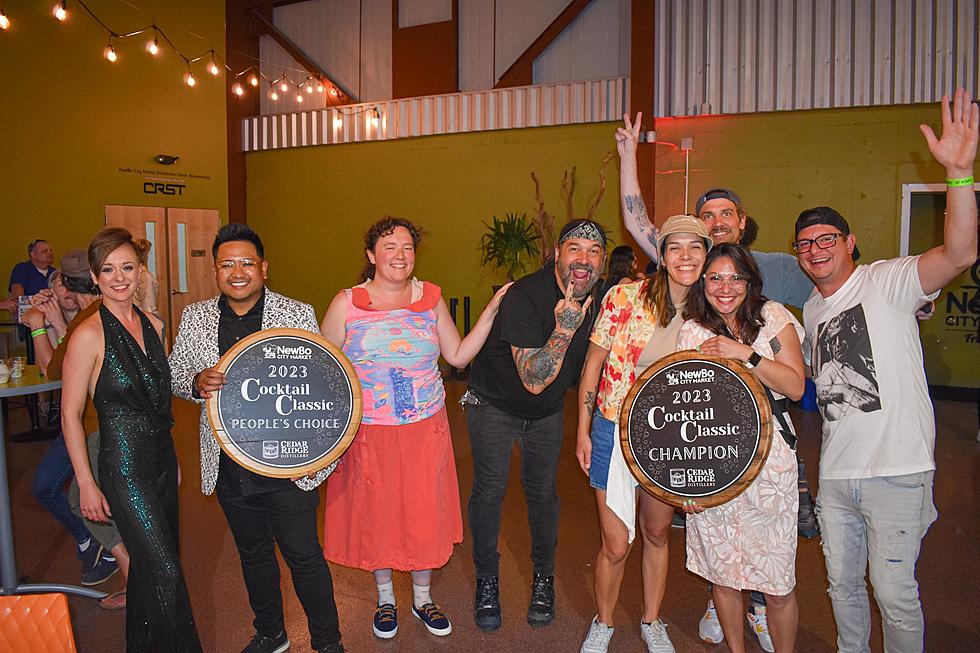 The Two Cedar Rapids Bars With the Best Bourbon Cocktails
NewBo City Market, Facebook
We've got our winners!
Earlier this week, NewBo City Market in Cedar Rapids held their annual Cocktail Classic event. Mixologists from various bars and restaurants in the Corridor are invited to participate in a competition where they have to create a unique new cocktail using Cedar Ridge's Iowa Bourbon Whiskey. There are ultimately two winners at the competition: the Cocktail Classic Champion and the People's Choice.
There were ten local bars and restaurants that took part in this year's Cocktail Classic. They include:
This year's Cocktail Classic Champion was Caucho, represented by bar lead Brooke Dixon and bartender Mikah Lunsford. The People's Choice award went to Ideal Theater & Bar.
Even though there were only two winners, all the cocktails served at the 2023 Cocktail Classic sound delicious! The Map Room in Cedar Rapids offered the "Deadman's Chest: A Hidden Treasure Cocktail," with coconut-washed Cedar Ridge Bourbon, coconut water & milk, sweetened condensed milk, black tea, passionfruit, orange blossom, and cardamom. Each drink also had a "buried treasure" inside!
The folks over at Crosby's in Cedar Rapids came up with the cocktail Queen Anne's Revenge. We have no idea what's in it, but it looks very impressive! So does the Red Tide from Midtown Reserve:
NewBo City Market is considering doing a second Cocktail Classic each year and is looking for suggestions for other spirits from Cedar Ridge! You can check out the post and leave your thoughts on the Facebook post HERE.
Awesome Outdoor Patios to Dine On This Summer Around the Corridor
Now that spring is here, patio season is right around the corner! With the help of Eastern Iowans in the
Cedar Rapids Area Support Local Group
on Facebook, I put together a list of great restaurant patios in the area where you can dine and/or drink when the weather gets warmer. Here are some of the popular places!
2 Guys Eat at 21 Cedar Rapids Restaurants in 1 Day
Cedar Rapidians Camden Stovie and Colton Storla ate at all 21 of the 2023 Cedar Rapids Restaurant Week stops on Saturday, February 18th! Here are all the foods they enjoyed: