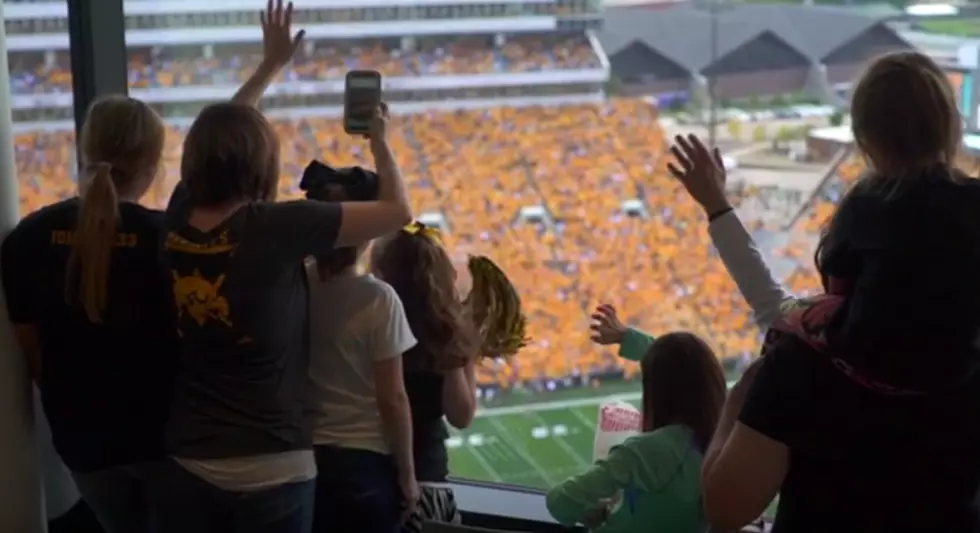 The Iowa Wave is Officially Happening at the Holiday Bowl
ESPN via YouTube
The greatest tradition in college football will be part of the Holiday Bowl, December 27, in San Diego, California.
The Iowa Wave to the kids at the University of Iowa Stead Family Children's Hospital will happen at the same time it does at Kinnick Stadium... at the end of the first quarter. Thanks to a great bit of teamwork and planning, technology is going to make it seem like the wave is right across the street from the kids.
I've been to a lot of college football games all around the country in my nearly 30 years with the bowl game. Without question, The Wave at Kinnick Stadium was the most incredible thing I've ever experienced at a game. It was so moving.

Since it will be dark, we'll ask everyone to turn on the lights on their phones. Fans are in for a treat. Nothing like this has been done in that stadium. We're really proud to bring this to San Diego.

For us, in the 42nd year of the bowl game, I don't know that we've ever done something this cool before. It's going to be memorable.
Mark, I promise you haven't done anything this cool before.
Here's the plan for how they're going to do it: The University of Iowa Stead Family Children's Hospital will be shown on the Holiday Bowl big screen at the end of the 1st quarter. FS1 (Fox Sports 1) will have a camera that will show the fans inside the Holiday Bowl waving... that way the kids in Iowa City can wave back to the fans. Children's Hospital Los Angeles also expects to be involved thanks to Iowa's opponent, USC.
200 tickets to the Holiday Bowl have been purchased by the family of the game's president, Paul Hering. Those tickets are being given to patients and staff at the Rady Children's Hospital in San Diego so they can witness the wave in person. There is talk more tickets may be purchased for kids.
The above is further proof the Iowa Wave isn't just doing good and inspiring kids and their families in the hospital in Iowa City. And I expect we'll see that tears fall just as easily at the Holiday Bowl as they do inside Kinnick.