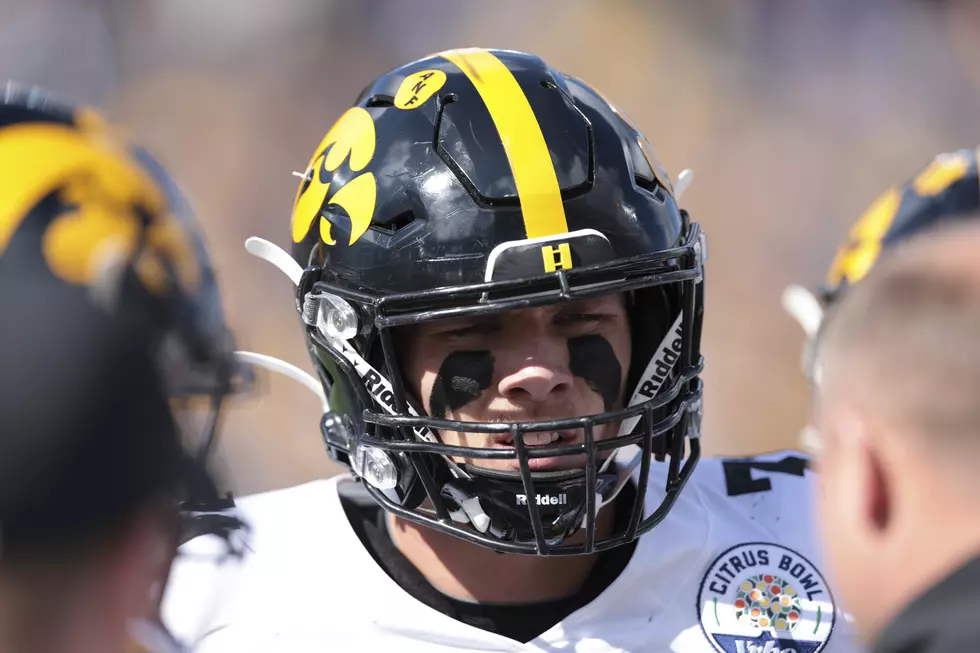 Prayers For Iowa's Jack Campbell After Bowl Game Tragedy
Getty Images
Lineback Jack Campbell was one of the Iowa seniors who could've decided to not play in Iowa's bowl game. He was a unanimous All-American. His name was surely going to be read this spring during the NFL Draft. What more did he have to play for? But Campbell decided that he wanted to wear the black and gold one more time. He spearheaded the Iowa defense and their shutout of Kentucky in a 21-0 Music City Bowl win. It was after the game when Campbell's world was shattered.
According to The Tennessean, Jack Campbell's grandfather, 76-year-old William Smith Jr. of Waterloo, was killed on Friday night in Nashville. Officials say that Smith walked out onto the street and was struck by a hotel passenger van. Police say at least one family member warned Smith not to step into the street, but he reportedly didn't hear the warning. He was taken to a local hospital where he died. Smith was in Tennessee to watch his grandson play his final college game. The Tennessean reports that the family made the difficult decision to not tell Campbell of his grandfather's death until after Iowa's bowl game had concluded.
Campbell had 10 tackles and a sack in his final game as an Iowa Hawkeye. Iowa head coach Kirk Ferentz released a statement saying,
We know Mr. Smith was a strong influence on his grandson and a faithful Hawkeye football supporter. All of us – players, coaches and staff members – will keep the Campbell family in our thoughts and prayers during this profoundly difficult time.
There were no other injuries reported during the accident. The Tennessean reports that police do not believe charges will be filed against the driver, who was working for Holiday Inn at the time of the accident.
Most Memorable Moments of the 2022 Iowa Football Season
Iowa finished the regular season 7-5. It will be remembered as a year the defense carried a team whose offense struggled mightily throughout the season.
University of Iowa ANF Wall of Honor Members
The University of Iowa's has now announced 10 members of the America Needs Farmers Wall of Honor at Kinnick Stadium.