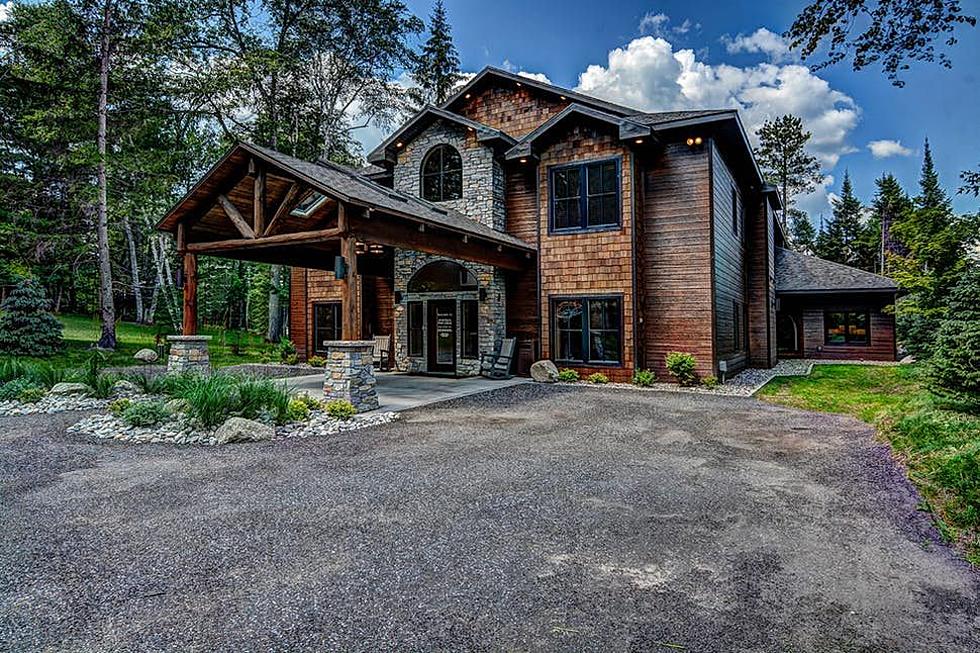 Luxury Wisconsin Cabin Sits on the World's Largest Chain of Lakes [PHOTOS]
Vacasa Wisconsin LLC.
If you're looking for a relaxing getaway that you don't have to travel too far for, this luxury Wisconsin cabin could be the perfect retreat.
Tucked away in Wisconsin woods is Whispering Pines Lodge. Even the name sounds relaxing. According to the description on Vacasa, the cabin mansion sits on the world's largest chain of lakes located in Eagle River, Wisconsin. The outside of this thing is impressive, but wait until you see the inside.
The luxury lakefront lodge is 8,800 square feet, has nine bedrooms and six bathrooms, and comes equipped with a private dock, game room, and theater room! When you walk in the front door you're greeted by 30-foot ceilings, a stone fireplace, and tall windows with an amazing view.
What's cool about Whispering Pines is that you can rent out the whole cabin or they have options to rent fewer rooms as well. The big thing you're going to get with this place is privacy. And with all of the space, it's perfect to have a nice family getaway. There are rooms for everyone and a ton of stuff to do.
If you want to get out of the cabin and enjoy the outdoors it's perfect for that too. The lodge is next to walking trails where you can o for a nice hike, and snowmobile trails if you want to take a winter cruise. Aside from the trails, the yard is big and flat enough for a good game of volleyball or kickball, and there's a fire pit and private dock with a boat. Oh, and did we mention the kids playground? This place has everything! See for yourself in the photos below.
Luxury Midwest Lake Lodge is the Perfect Family Vacation [PHOTOS]
This Wisconsin lake lodge offers luxury and privacy. It's perfect for a fun family vacation or a relaxing stay with beautiful views and the smell of pine.
Amazing, right!? Check out other fun places to get away to below.
This Adult Treehouse is the Perfect Road Trip Getaway [GALLERY]
How about reliving a bit of childhood nostalgia by spending a few days/nights in an (adult) treehouse?
Legacy Stone House in Winterset