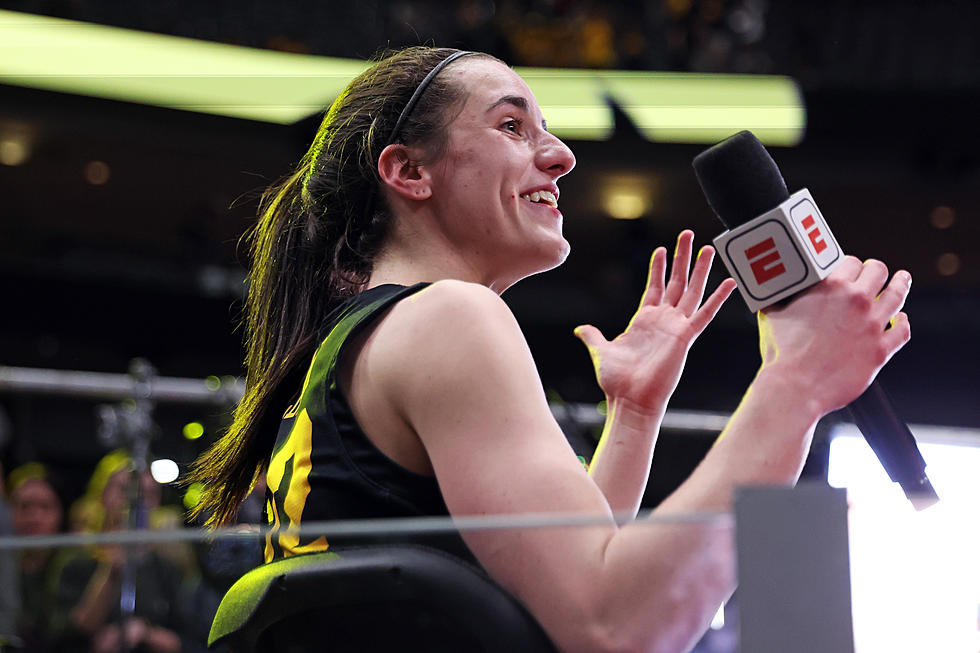 Iowa's Caitlin Clark Nominated For Two ESPY Awards [VIDEO]
Getty Images
You'll have to forgive Iowa's, Caitlin Clark. She got news on Wednesday that she has been nominated for two ESPY Awards. The trophies are handed out by the self-proclaimed Worldwide Leader in Sports ESPN. And while it would be nice to bring home some more hardware for her ever-expanding trophy case, Clark probably isn't losing much sleep over the nominations. After all, she has already taken home some of the college basketball's most prestigious awards.
During Iowa's magical run to the National Championship game this past season, Clark took home numerous Player of the Year Awards including the Naismith Player of the Year, the AP Player of the Year, and the John Wooden Award for Player of the Year. The ESPYs aren't any of those. But what they DO represent is when an athlete breaks through and becomes known outside of his or her sport. KCRG reports that Clark is up for two ESPYs, Breakthrough Athlete and the Best Athlete in Women's sports.
Clark actually has some familiar competition in one category. WQAD reports that former Iowa State quarterback and current San Francisco 49er Brock Purdy is also up for Breakthrough Athlete at the ESPYs. Perhaps if it wasn't for his injury in the NFC Championship game, Purdy might have capped off a dream season with a trip to the Super Bowl. Now, he is in Caitlin Clark's crosshairs, and we all know how that usually goes.
You can vote for Caitlin Clark in both of her ESPY categories HERE. Voting ends on Sunday, July 9th and the awards show will air live on ESPN on July 12th.
Our Favorite Photos From Iowa's Run to the NCAA Championship Game
The 2022-23 Iowa women's basketball season started on November 7 and concluded in the NCAA Championship Game against LSU on Sunday, April 2. Iowa went 31-7 and will be remembered forever for their five NCAA Tournament wins. Here are our favorite photos from the tournament.
Field of Dreams Game Featuring the Cedar Rapids Kernels
Cedar Rapids was the Bunnies for the day as they played the Quad Cities River Bandits, who were the Davenport Blue Sox. Both were an ode to team names of the individual cities nearly a century ago. Played on Tuesday, August 9, 2022, it was the first minor league baseball game ever played at the Field of Dreams in Dyersville, Iowa.