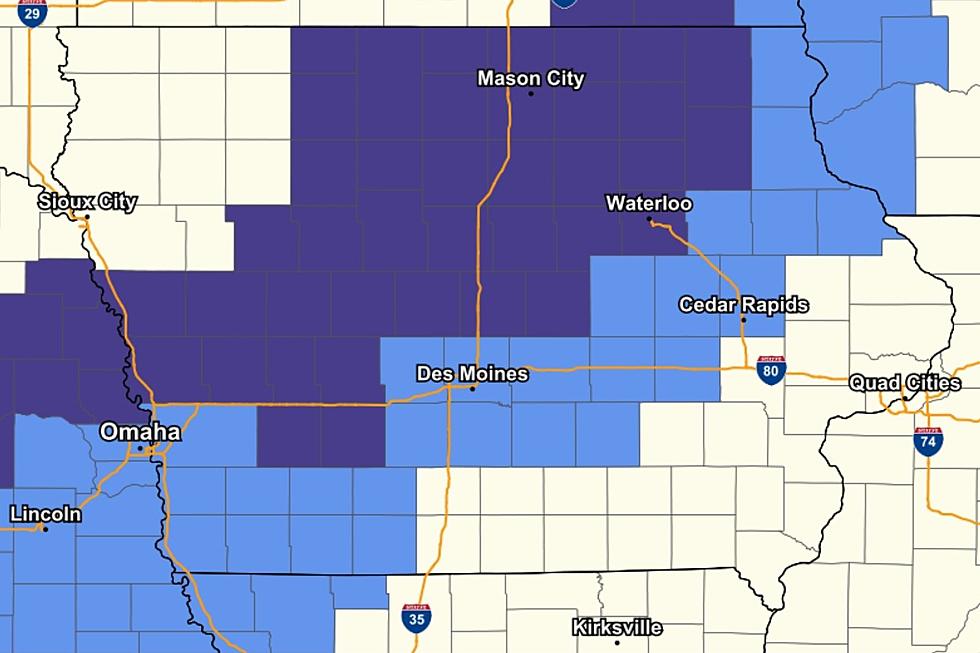 Freeze Warning Issued for Nearly a Third of Iowa
National Weather Service
It's much later than normal, but the first freeze looks to be coming.
The National Weather Service in Des Moines has issued a FREEZE WARNING for 29 counties in Iowa Friday morning. The counties are in purple below.
The warning technically goes into effect 1 AM Friday and runs through 9 AM as temperatures in those areas are expected to reach as low as 30 degrees.
The numbers represent areal coverage...
1 = Patchy Frost
2 = Areas of Frost
3 = Widespread Frost
Frost is predicted when air temperatures reach 32°F (0°C), but because it is colder closer to the ground, a frost may occur even when air temperatures are just above freezing.
Light freeze: 29° to 32°F — tender plants are killed.
Moderate freeze: 25° to 28°F —widely destructive to most vegetation.
Severe freeze: 24°F and colder—heavy damage to most garden plants.
The National Weather Service says:
Take steps now to protect tender plants from the cold. To prevent freezing and possible bursting of outdoor water pipes they should be wrapped, drained, or allowed to drip slowly. Those that have in-ground sprinkler systems should drain them and cover above-ground pipes to protect them from freezing.
Though Cedar Rapids isn't forecast to have a freeze tonight, there could be a frost, as temperatures are expected to bottom out in the mid-30s. The coldest morning in Cedar Rapids thus far this fall was October 16. The mercury reached 35 degrees that morning. Friday night could be even a little cooler, but overnight temperatures are expected to be above 40 degrees beginning Saturday night through at least the early part of next week.
LOOK: What major laws were passed the year you were born?
Data for this list was acquired from trusted online sources and news outlets. Read on to discover what major law was passed the year you were born and learn its name, the vote count (where relevant), and its impact and significance.
See How School Cafeteria Meals Have Changed Over the Past 100 Years
Using government and news reports,
Stacker
has traced the history of cafeteria meals from their inception to the present day, with data from news and government reports. Read on to see how various legal acts, food trends, and budget cuts have changed what kids are getting on their trays.