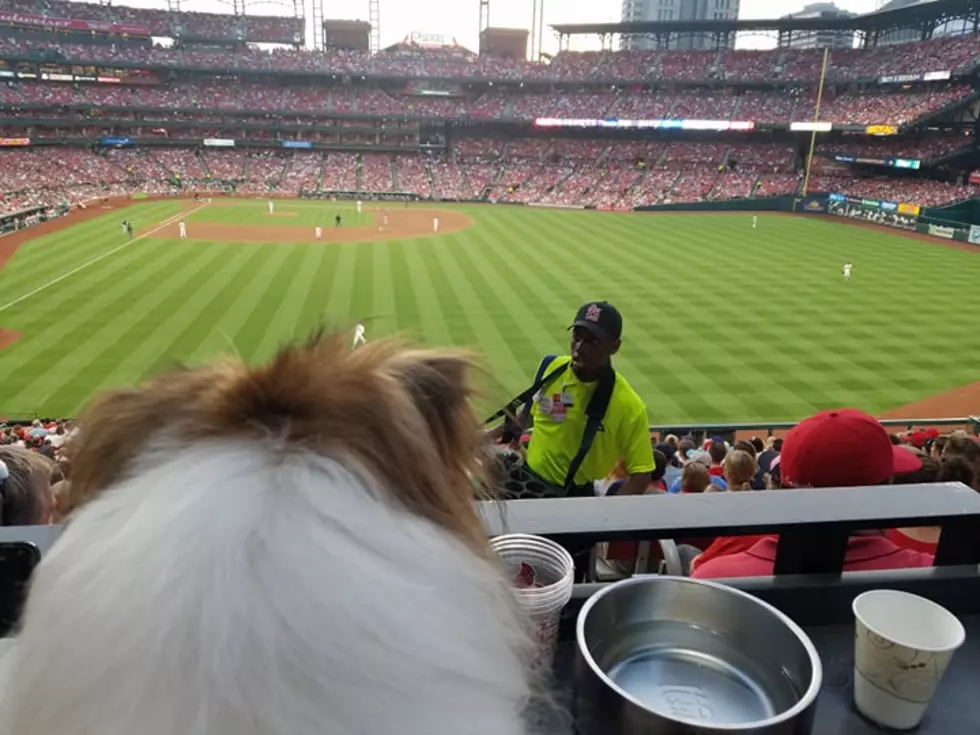 Bob's Dog, Casey, Had Quite a Weekend [PHOTOS]
Julie James
You know how much Julie and I love our pets and last weekend posed a rare opportunity to include our Shetland Sheepdog, Casey, in everything we did.
Saturday night was 'Pooches in the Ballpark' at Busch Stadium in St. Louis, Missouri. As a Cardinals fan for the last 37 years, I've been to a lot of games, but I've never taken a pet along. That changed Saturday. Casey had his own Cardinals jersey to wear, which he modeled for me before our trip:
Even though Saturday was May 25, it was HOT. When the parade around the stadium started at 4:45 pm, it was 89 degrees and felt like 91. That's hot for humans, let alone dogs. By the way, the normal high in St. Louis for last Saturday was 79 degrees. Go figure it would be hot. There were hundreds of dogs taking part.
We kept a VERY close eye on Casey who handled the heat like a champ. It was a great excuse for him to get plenty of one of his favorite things during the game. Ice.
Even though he is 28, according to Dog Years, the beer man wouldn't budge. Heck, he even had his own bowl. I guess he should've brought his ID.
That wasn't all Casey did on his trip. He also had to visit our commemorative brick outside the stadium:
Grabbed a seat outside a sports bar, only to realize the Blues game wasn't until Monday night.
The last stop was the St. Louis Arch. He took one look up at it and barked. My guess was that was 'No way, mom and dad.'
It was a great trip, that he thoroughly enjoyed though he's been pretty worn out the last couple days. Then again, I have been too.