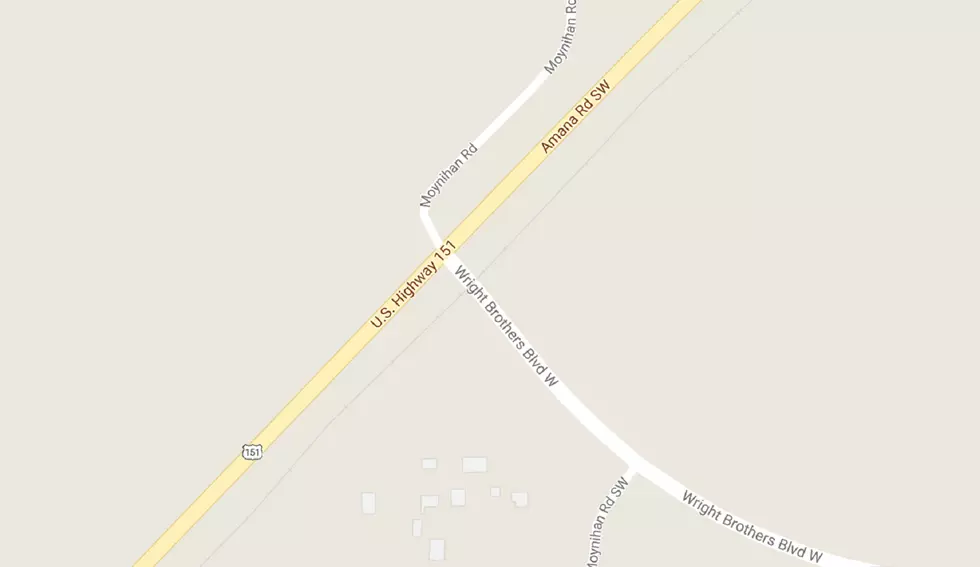 [UPDATE] Two People Killed In Accident North Of Walford Have Been Identified
Google Maps
[UPDATE 9/30/17 2:30 p.m.] The Linn County Sheriff's Office has released the names of the two people killed in a Friday night accident near Walford. They are 22-year-old Kaelonnie Moore and 43-year-old Darla J. Moander, both of Cedar Rapids. Moore was a passenger in the vehicle driven by Brianna Stastny and Moander was driving the northbound vehicle that was hit head-on in the crash.
[ORIGINAL STORY] A two-vehicle accident late Friday night on Amana Road/Highway 151 near the intersection of Wright Brothers Boulevard, has claimed two lives.
The Linn County Sheriff's Office reports a vehicle traveling south on Amana Road attempted to pass another vehicle when it struck a northbound vehicle head-on.
Linn County Sheriff deputies, Marion Police, the Iowa State Patrol, Fairfax Fire, and Area Ambulance all responded to the call at 11:26 Friday night.
An investigation revealed that 22-year-old Brianna Stastny, of Cedar Rapids, was the driver of the vehicle attempting to pass. Her vehicle ended up in the east ditch. The vehicle that was traveling north was blocking the roadway.
Stastny was taken to the University of Iowa Hospitals and Clinics in Iowa City. Her injuries do not appear to be life-threatening. The passenger in her vehicle and the driver of the northbound vehicle, its only occupant, were both pronounced dead at the scene.
The names of those killed in the crash have not been announced, pending notification of relatives. The roadway was closed until 4 o'clock this morning.
[via Linn County Sheriff's Office]