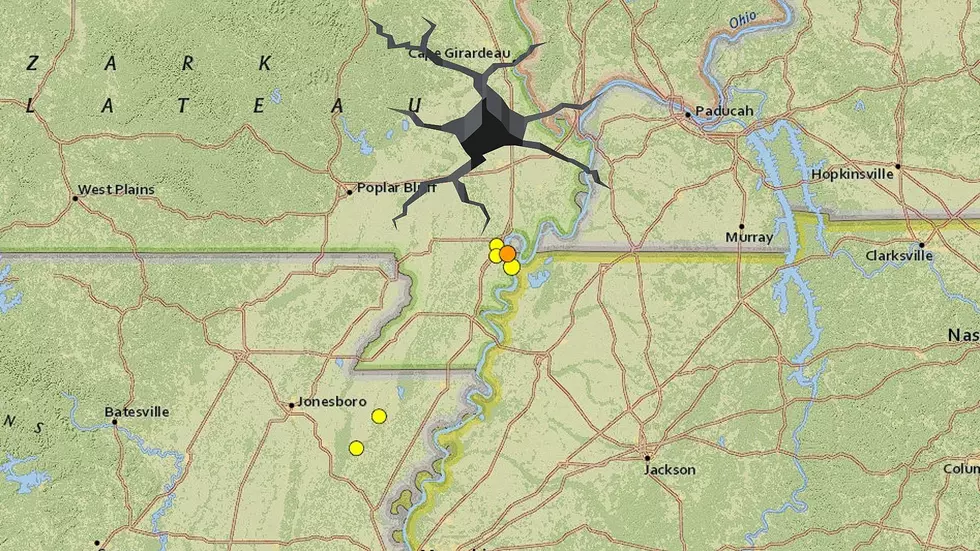 Swarm of 7 Missouri Earthquakes Sets New Madrid Fault Fears Aflame
USGS/Canva
It was an interesting seismic week in the area of the New Madrid Fault in Missouri at the end of June 2022. Nothing major, but they were reportedly felt by the USGS.
UPDATE: There was just a 2.2 in Illinois south of St. Louis in Illinois which makes it a swarm of 8 earthquakes now.
ORIGINAL STORY: I tend to be an earthquake nerd, so I check the USGS earthquake page regularly. I noticed some interesting activity on the New Madrid and decided to look at what's been happening over the last 7 days. Here's what I found.
When you look at each individual quake, you'll see they were all minor in the 2 magnitude range.
The 2.2 quake did receive "felt" reports from residents in that area. Again, nothing major, but interesting. You might recall that St. Louis had a quake felt by thousands back in April.
It's worth emphasizing that this is no reason for alarm. As we reported earlier, there were 40 earthquakes in the New Madrid Fault zone back in March which isn't out of the ordinary. We live in a seismically-active area and that's to be expected.
Fortunately, the dreaded major New Madrid mega quake that some expect to happen in our lifetime has never materialized. Many were taught in school the crazy things that happened in 1811 and 1812 when the last disastrous quake hit Missouri. No one present day wants to experience anything like that.
If earthquake activity on the New Madrid Fault interests you, you can bookmark the USGS shake page as it's constantly updated with new information about what the ground beneath our feet is doing.
One psychic is on record for a major earthquake in the New Madrid fault in July 2022.
Leading Theories About D.B. Cooper and 30 other unsolved mysteries
Thanks to the American fascination with confounding unsolved cases, mystery is among the most popular genres of books, movies, and television. From heists and capers to murders and robberies, the world's greatest unsolved mysteries spark media frenzies that grab headlines around the globe. Some cases compel so much public intrigue that the facts and theories surrounding them become the basis of books, movies, plays, and documentaries decades or even centuries after the cases go cold.