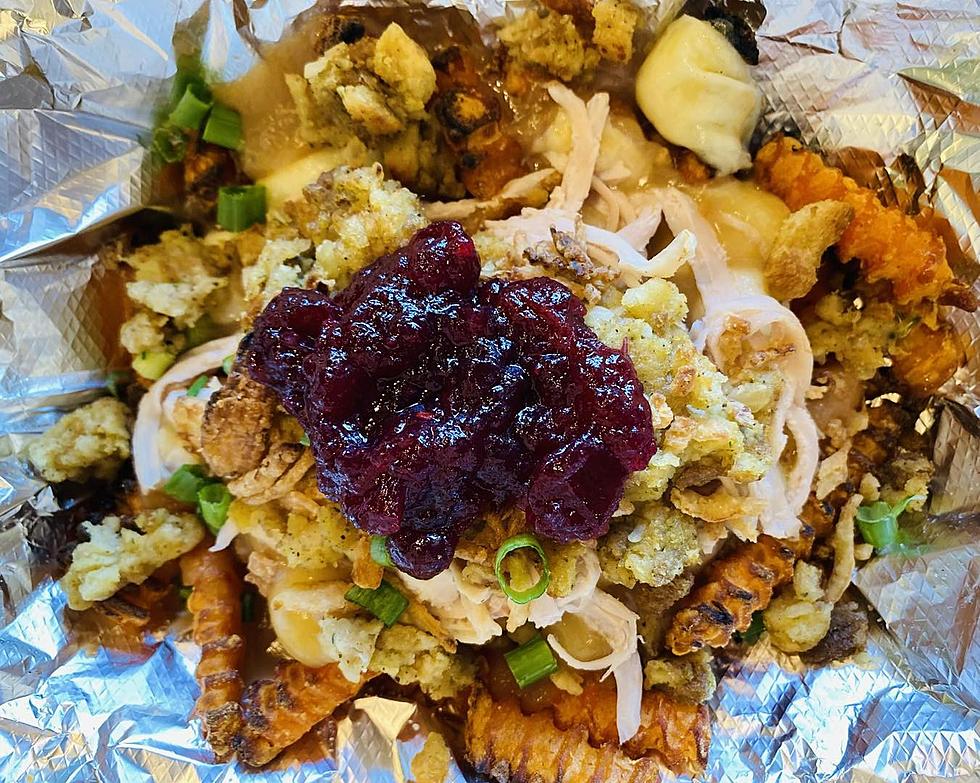 Marion Restaurant Brings Back an Epic Thanksgiving Special
Frydae, Facebook
We've heard about DiGiorno's Thanksgiving Pizza and Baskin Robbins' Turkey Day Fixin's Ice Cream, but have you seen the Holiday Poutine from Frydae in Marion?! Take a look at THIS:
The Holiday Poutine is a popular special that Frydae offers during the holiday season, and they announced today (November 7th) that it is officially back! The dish consists of "sweet potato fries smothered with house roasted turkey, buttery herbed stuffing, turkey gravy, fresh cheese curds, French fried onions, cranberry sauce, and green onions."
In addition to ordering the Holiday Poutine on a bed of fries, Thanksgiving fans can also order the Holiday Poutine SANDWICH! It's available during lunch on weekdays until 3 p.m. Other holiday specials include Frozen Hot Cocoa, Loaded Pecan Pie Fries, the Cranberry-Ginger Ice Cream Mule, the Gingerbread Eggnog Shake and more. They are available through the end of December. You can check out the official Facebook page HERE.
And speaking of sandwiches, The Map Room in Downtown Cedar Rapids has officially launches their "Moist Maker" Burger, which they release around Thanksgiving each year. It consists of a smash burger with white cheddar cheese, roasted turkey, stuffing, mashed potatoes, cranberry dijonaise, ham, and sourdough bread soaked in turkey gravy. You can follow the Facebook page for updates HERE.
What's your favorite way to eat Thanksgiving leftovers? Let us know by shooting us a message on our station app!
Want to keep up to date with the latest in local and music news? Download our app! It's completely free and not only will you be the first to know about breaking news, but we'll also keep you updated on concerts and other events coming to the area. You'll also have exclusive opportunities to win tickets. What are you waiting for? Get the free app today.
9 Delicious Corridor Restaurants I've Eaten at This Fall [PHOTOS]
Gallery Credit: Courtlin
Where to Eat if You're Going to a Concert in Downtown Cedar Rapids
The next time you're headed to a concert in Downtown Cedar Rapids, leave a little earlier so you can enjoy one of the awesome local restaurants nearby! Here are the places within walking distance of the Alliant Energy Powerhouse Arena, Theatre Cedar Rapids, and the Paramount Theatre (restaurants near the McGrath Amphitheatre are at the end):
Gallery Credit: Courtlin