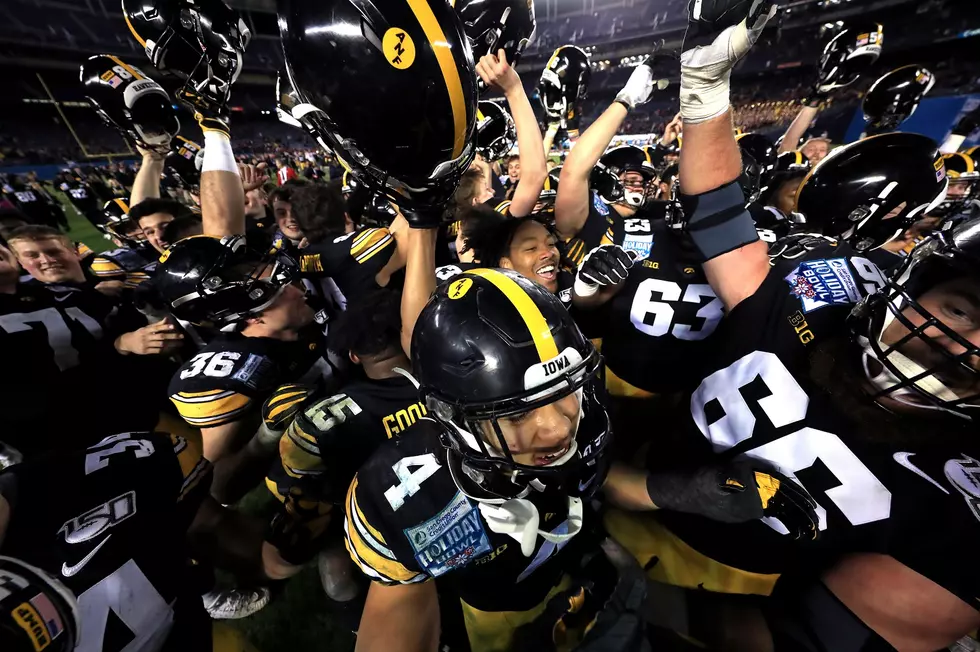 Iowa to Play Two Friday Games, Including Black Friday
Getty Images
The Iowa Hawkeyes have finally found out when they'll open the 2020 football season. We knew it would be the weekend of Friday, October 23 against the Purdue Boilermakers. We now know that game in West Lafayette, Indiana will be a Saturday afternoon tilt.
The Hawkeyes learned this morning they'll begin the season at 2:30 p.m. on Saturday, October 24. The game against Purdue will be televised by the Big Ten Network, according to the University of Iowa Sports Information Department.
In addition to the opening weekend, the Hawks learned they'll play a pair of Friday games in 2020. They're both in November.
Iowa will take on the Minnesota Golden Gophers in the Twin Cities on Friday, November 13. The game for the Floyd of Rosedale Trophy will begin at 6 p.m. and be televised by FS1.
Two weeks later, the Hawks will host the Nebraska Cornhuskers. It will be the tenth straight year Iowa and Nebraska have met on Black Friday. This year, that's Friday, November 27. The game will be televised by either Fox or FS1. The start time has not been announced.
Beyond those games, many questions still remain as to what time Iowa's games will begin and what network will televise them. Here are all the blanks filled in with what we know, as of now:
Saturday, October 24 at Purdue: 2:30 p.m. Iowa time, Big Ten Network
Saturday, October 31 versus Northwestern: TBA
Saturday, November 7 versus Michigan State: TBA
Friday, November 13 at Minnesota: 6:00 p.m., FS1
Saturday, November 21 at Penn State: TBA
Friday, November 27 versus Nebraska: TBA, Fox or FS1
Saturday, December 5 at Illinois: TBA
Saturday, December 12 versus Wisconsin: TBA
Saturday, December 19: Champions Week
Iowans Show Off Their Hawkeye Spirit