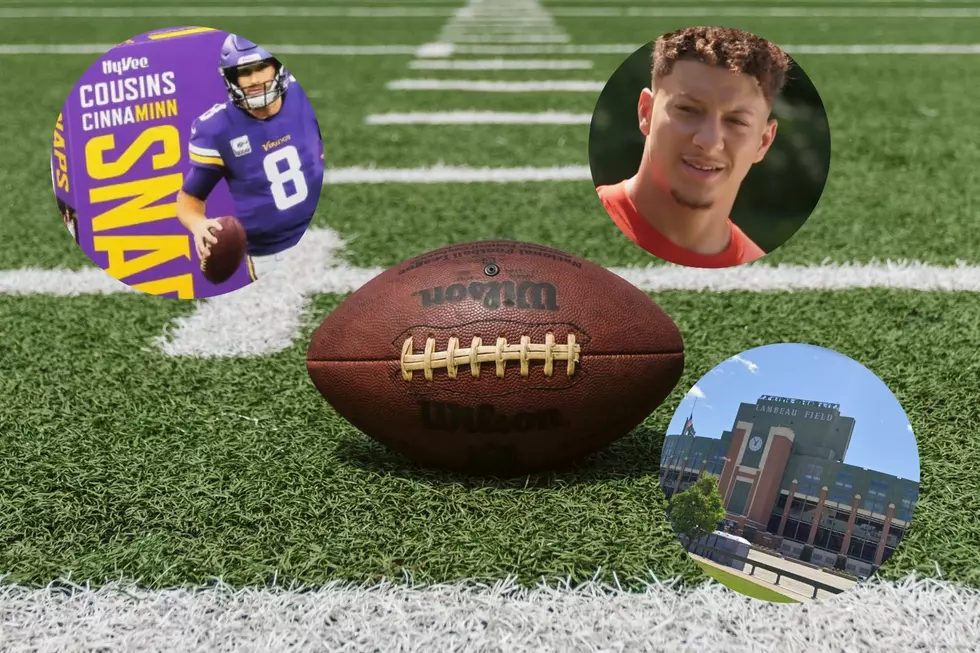 Iowa Based Hy-Vee, Whose Side Are You REALLY On?
Photo by Dave Adamson on Unsplash/Hy-Vee via YouTube/Google/Hy-Vee.com
The NFL season is upon us! For many American sports fans, it's the best time of the year. Hope for your favorite team springs eternal. It's a fresh start, and a chance to go to the Super Bowl! Well, unless you're a Lions fan...
I've been quietly observing an Iowa-based chain, Hy-Vee, I assume you're very familiar with 'em. You may have stopped by one today. Well, it appears they have a lot of (pig) skin in the football game, and it's got me a little concerned*...
*Now I should preface this piece by saying my level of concern is actually quite low, and I'm just having fun here - it's marketing, and as someone in the same business, I actually do get it. That said, let's dive into the pro football loyalties of Hy-Vee.
Now, let me start with an observation - for 8 years I worked in a Minnesota city, Mankato, which is home to two Hy-Vees. Every year in late August/early September, the store would fill with purple and gold balloons. Vikings jerseys would adorn the clerks at every checker and department. It was truly a sight to behold. In fact, in more recent years, they even began selling a Kirk Cousin cereal, with proceeds going to charity.
WOW! I thought. This Iowa-based chain must be run by die-hard Vikings fans! That's awesome! Knowing then as I know now, Iowans can root for... anyone. We have no pro teams, and with college sports being king, it leaves pro teams to be, essentially, up to the individual to find loyalty. So, I figured Hy-Vee was all in for the purple and gold.
Then, I moved to eastern Iowa... All of the sudden, I noticed a lot of Kansas City Chiefs paraphernalia. Oh, and not just limited to the stores, but on my TV as well...
My tiny mind started wondering, "what gives!" Okay, so Hy-Vee is based in West Des Moines... that's close-ish to Kansas City. Maybe they have some Chiefs fans working in the HQ as well as Vikings fans.
But today... the last straw. Our friendly Iowa retailer is also getting cozy with... the Packers?!
Yes, that's right. The Green Bay Packers OWN WEBSITE confirms the news. Here, see for yourself,
Hy-Vee is teaming up with Titletown and the Packers for a variety of initiatives, including sharing the grocery store's name with Titletown's public plaza just west of Ridge Road, now officially named Hy-Vee Plaza.
There you have it, Hy-Vee now appears to have THREE favorite NFL teams. You'll see their logo in KC, Minnesota, and now, apparently, not far from Lambeau.
Then again, if having three favorite teams isn't the most Iowa-thing ever, I don't know what is... Again, I totally get it. Smart marketing for a Midwest-based chain. As mentioned earlier, it's brilliant marketing.
Oh, and at least they're not Bears fans. The only bears you'll find at Hy-Vee are gummi ones.
Fun Facts About All of the 99 Counties in Iowa
Iowa has 99 counties, each with rich, unique history.
Stay in a 16,000 sq. ft. Mansion Here in Iowa
Only about an hour and a half from Cedar Rapids, in the city of Conrad, there is a ridiculously large mansion called the Clemens Mansion, and you can rent it out on Airbnb!