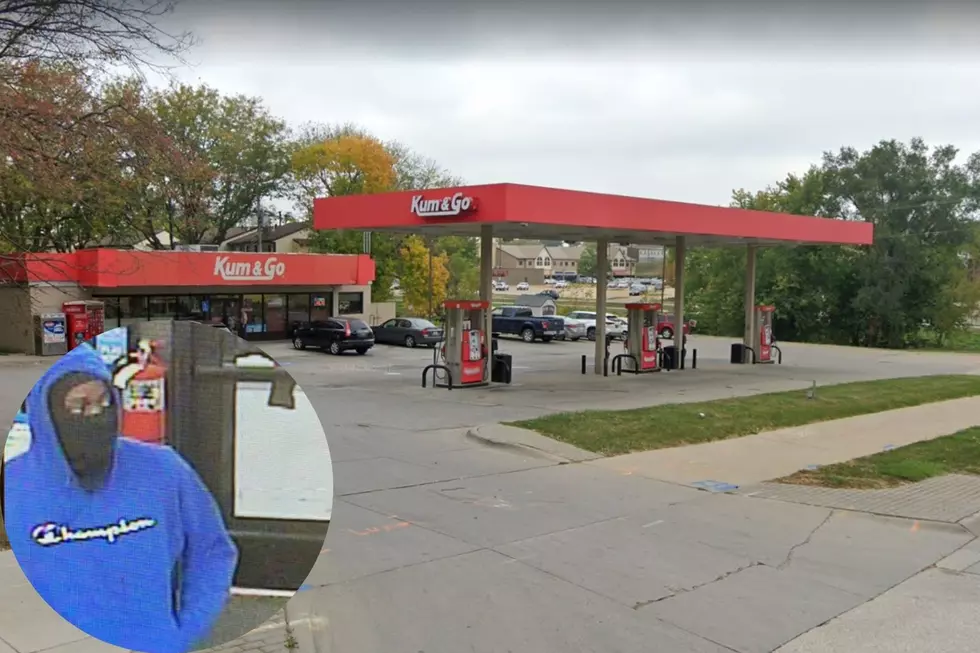 Iowa City Police Say Supposed Victim Was Part of Robbery
Google Maps/Iowa City Police Department
The Iowa City Police Department has announced the arrest of two men in connection to a robbery early Tuesday morning in the city.
Tuesday morning, August 23, at just after 1:10 a.m. Iowa City Police were called to the Kum & Go store at 955 Mormon Trek Blvd. (store photo above) for the report of a robbery. Witnesses told officers that, although the suspect didn't show a firearm, the person had threatened to shoot the store clerk. The Iowa City Police Department (ICPD) released this photo of the suspect to the media Tuesday morning.
Thursday morning, the ICPD announced that both 28-year-old Clarence Jackson of North Liberty and 29-year-old Michael Preslicka of Iowa City had been arrested in the case. Preslicka was the Kum & Go employee that told police that the store had been robbed.
Iowa City Police say their investigation determined that Jackson and Preslicka staged the robbery. The two were arrested during a traffic stop in Iowa City early Wednesday afternoon.
Both Jackson and Preslicka were in the vehicle when it was stopped by Iowa City Police and have been charged with 5th-Degree Theft and a False report of indictable offense to a public entity. Jackson was also charged with Possession of a Controlled Substance. His booking report also indicates he was charged with Operating Under the Influence (2nd Offense). Preslicka faces an additional charge of False Report-911 call.
Jackson and Preslicka are both being held at the Johnson County Jail in Iowa City.
The ABCs of Iowa
I know Iowa may not be the most popular state to visit, but we still have plenty to offer! Using countless article, websites, lists, and maps, we put together a list of some of Iowa's best and biggest events, venues, and attractions using every letter of the alphabet (which wasn't easy)! Unfortunately, we couldn't include EVERY awesome place in the state (there aren't enough letters!), but here are our Iowa ABCs:
Take a Peek Inside a One-of-a-Kind Iowa City Home For Sale
Located at
12 Longview Knl NE in Iowa City
, this
"truly authentic, award winning mid-century modern home"
was designed in 1965 by Crites and McConnell. The house is 1,836 sq. ft. and contains three bedrooms and three bathrooms. You can tell just by the exterior that the house is unique, but just wait until you get a peek inside!