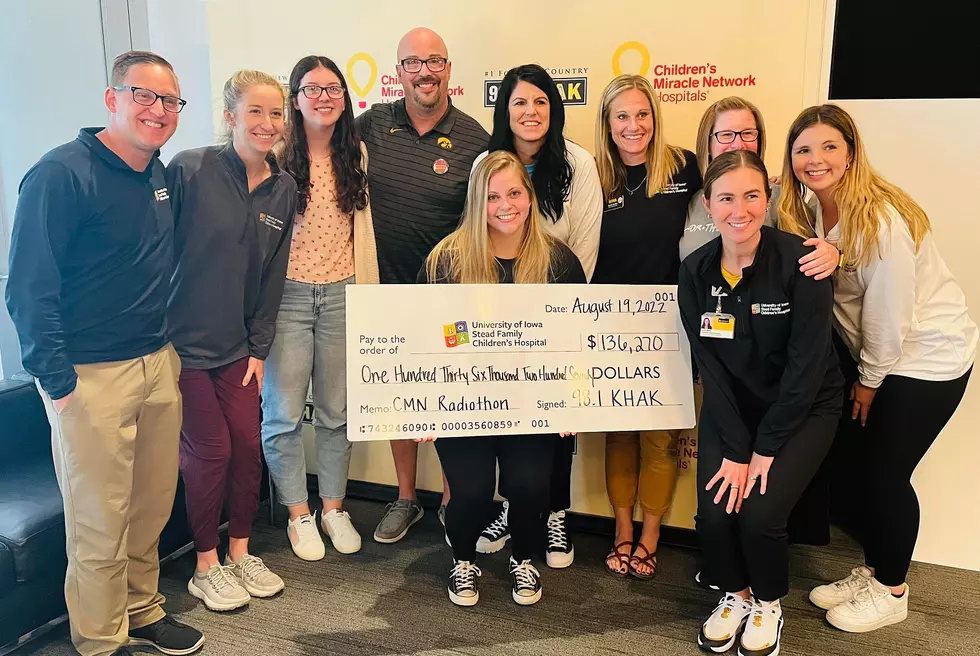 Help Kids From Eastern Iowa During Our 2023 Radiothon [VIDEO]
KHAK
We are blessed to participate in many significant events during any given year. Country concerts, county fairs, Freedom Festival events. All are important community events we're proud to sponsor and attend. But perhaps no two days are more important to us here at K-Hawk than our radiothon for the Children's Miracle Network. The 2023 event will mark our 26th year of raising money for the children treated at the University of Iowa Stead Family Children's Hospital, and we couldn't do it without the support of you, our loyal listeners.
One of the most common comments we get about radiothon is about how hard it can be to listen to. We get it. Some of these stories can hit close to home. But our goal is to show you that many of these stories are filled with hope, joy, and in many cases, cures! Words like 'cancer' are scary for anyone. But imagine having to tell your son or daughter news like that. The doctors and nurses in Iowa City are amazing. They become like family members and are with kids every step of the way. You might think of a hospital as a scary place. But the Stead Family Children's Hospital is a place where miracles happen every day!
Miracles just like our pal Aniyah. She is here today, happy, healthy, and giggling every step of the way, thanks to the Stead Family Children's Hospital in Iowa City. And her story is just one you'll hear at this year's radiothon. Our 2023 event will be held at the Levitt Center in Iowa City on August 17th and 18th. Brain and Courtlin will broadcast live from 6 a.m. to 10 a.m. and again from 2 p.m. to 6 p.m. each day.
We urge you to tune in and share in our most important two days of radio of the year. Listen to the stories from families in your town, and don't be embarrassed if a tear or two rolls down your face. Wipe them away, and call 1-800-456-2772. If you'd like to donate now you can do so HERE.
Thank you for supporting our radiothon for 26 years. You are a hero to thousands of kids and families. This year's radiothon is sponsored by U.S. Cellular and brought to you in part by Van Meter.
Photos From the 25th Annual KHAK Radiothon-2022
See photos of Brain and Courtlin having fun with families and the kids that have received treatment at the University of Iowa Stead Family Children's Hospital.