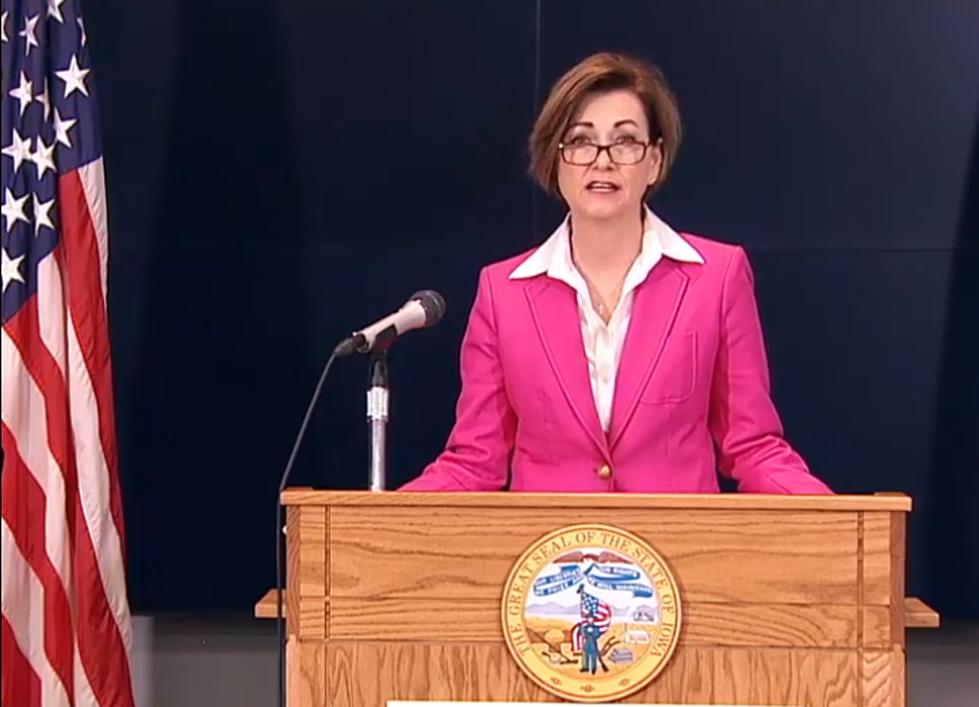 Governor Reynolds Announces Select Businesses In Some Areas Can Open May 1
Governor Kim Reynolds, via Facebook
Iowa Governor Kim Reynolds announced at her morning press conference that some businesses, in most Iowa counties, will be allowed to reopen on May 1.
Reynolds says restaurants, fitness centers, malls, and retail stores in 77 of Iowa's 99 counties will be allowed to open on May 1, at 50 percent capacity. The governor also announced she's lifting the limit of 10 people at spiritual and religious gatherings. All other businesses in these counties must stay closed through May 15.
In the other 22 Iowa counties, all restrictions remain in place. Those counties are the ones that have been hardest hit by the virus. They are the shades counties below. They are Allamakee, Benton, Black Hawk, Bremer, Dallas, Des Moines, Dubuque, Fayette, Henry, Iowa, Jasper, Johnson, Linn, Louisa, Marshall, Muscatine, Polk, Poweshiek, Scott, Tama, Washington, and Woodbury.
Governor Reynolds also announced 349 new confirmed cases of COVID-19 in the state, for a total of 5,868. 34 percent, or 2,021 people, have recovered from the virus. Nine more Iowans passed away from COVID-19, bringing the state's total to 127. The governor also announced that, on a per capita basis, 1 of every 82 Iowans has now been tested COVID-19.
Cedar Rapids Restaurants Courtlin Has Ordered Carry-Out From