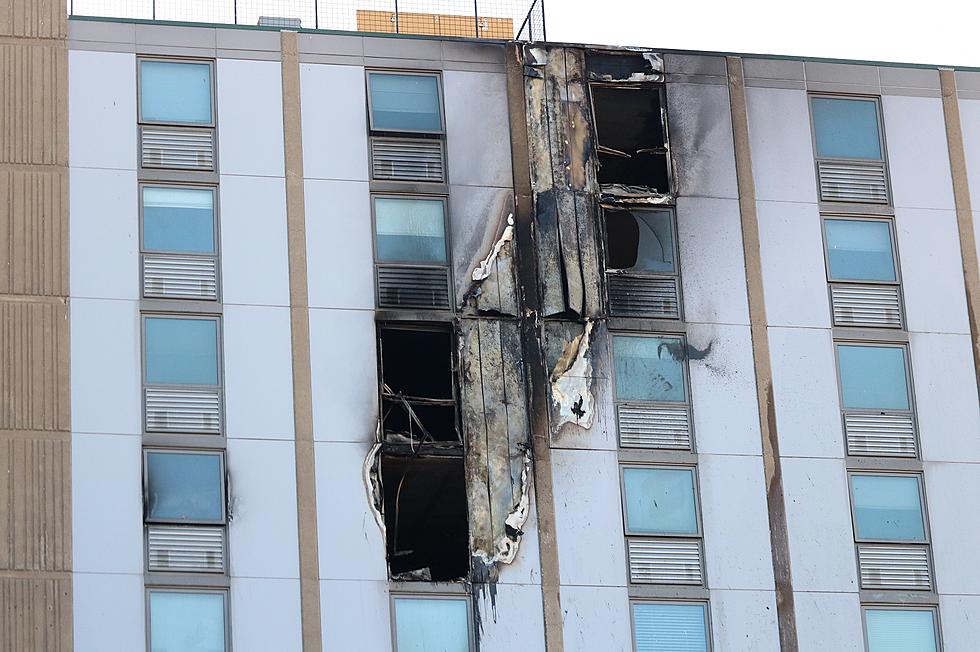 Fire Causes Evacuation of 12-Story Cedar Rapids Building [PHOTOS]
Julie James
All residents of a downtown Cedar Rapids high-rise were evacuated early Sunday morning, due to a fire that damaged multiple floors of the building.

According to the Cedar Rapids Fire Department, crews were called to the Geneva Tower apartment building, at 310 5th Avenue SE, just after midnight Sunday morning, February 20.
Upon arrival, firefighters discovered fire and heavy smoke coming from the 9th floor of the 12-story building. That fire quickly spread to the 10th floor. Fire crews from the Cedar Rapids Fire Department used high-rise ladders on the outside of the building, as well as suppression systems inside the building to fight the blaze.
The Cedar Rapids Fire Department reports one person was taken to a "specialty treatment center for smoke inhalation and possible heat-related injuries. A small but unknown number of residents were taken to local hospitals for treatment of smoke exposure and medical issues... No injuries were reported by firefighters."
Fire crews ended their work a little before 3 a.m. According to Linn County Emergency Management, they were contacted by the American Red Cross at approximately 2:45 a.m. Sunday morning, and were asked to move a shelter trailer downtown.
The entire Geneva Tower building was evacuated with residents moving to Veritas Church, which sits just across the street at 509 3rd Street SE. The church posted early this morning, "... our building has now become a temporary Red Cross shelter. We're thankful no one was seriously injured, but will NOT have in person services today. At this time, the Red Cross is taking care of practical needs."
The American Red Cross of Eastern Iowa reported just before 2 p.m. Sunday afternoon that volunteers assisted Geneva Tower residents early this morning, with 90 sheltered overnight. The local Salvation Army provided breakfast Sunday morning.
The Red Cross is supplying cots, comfort items and mental health support. The shelter is being relocated to better help impacted residents, with assistance ongoing.
Geneva Tower is an "income-based (HUD) housing property for seniors aged 62 and older and adults with disabilities". The building was erected in 1971 and has 183 units.
Cedar Rapids fire investigators are still trying to determine what caused the fire.
Geneva Tower Fire in Downtown Cedar Rapids
Geneva Tower, at the corner of 3rd Street and 5th Avenue SE, sustained damage during an overnight fire the morning of Sunday, February 20, 2022. The fire resulted in the complete evacuation of the 13-story apartment building. There is no timetable for when residents may be able to return.
Eastern Iowa Restaurants That Opened/Reopened/Relocated in 2021
LOTS of new restaurants opened here in Eastern Iowa in 2021! Here are a list of them, plus restaurants that reopened or relocated.