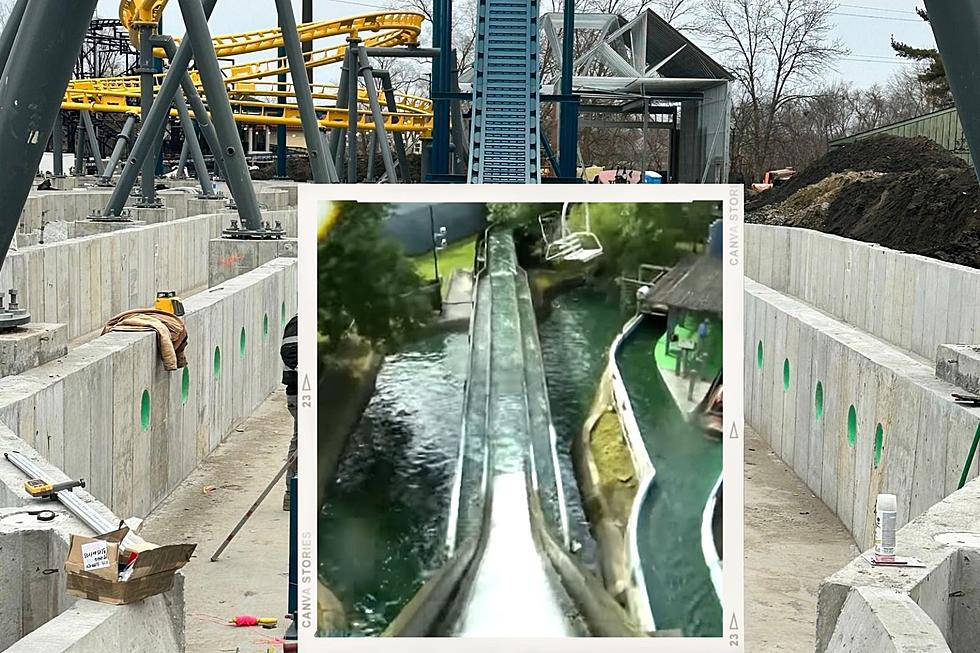 Exciting Update From Iowa Theme Park Has Me Reminiscing [WATCH]
Adventureland/Attraction Spot, YouTube
Ah, the memories. Even though sometimes there was disappointment. It wasn't because of the ride itself, but because I wasn't thinking. I was too busy being a kid.
This spring and summer will be the second year for the new ownership at Adventureland in Altoona, Iowa. They made many new changes and additions last year and have two exciting new rides for 2023.
One of the rides debuting this year is a new log flume (log ride). Adventureland's original Log Ride debuted in 1975 and was closed when the park closed for the year in 2015. That's 40 great years of memories.
Remember coming to the top of the final hill in anticipation of flying down it, and plunging into the water?
Unfortunately, I can recall a couple of occasions where things were lost when our boat hit the water. A buddy and I would always play the game where you had to guess how fast you could throw a baseball. The prize was the coveted plastic helmet of a Major League Baseball team. We were pretty good at it. I'm nearly positive we lost not one, but two of those helmets on the log ride through the years.
Sometimes you came out of the log ride pretty dry. Other times, you got drenched, and it wasn't always at the bottom of the big downhill run. Sometimes the first one got ya. Whatever happened, you knew one thing...  you'd be smiling and laughing at the end.
The new log ride opening at Adventureland this year is actually intertwined with a new roller coaster. This photo from earlier this winter shows both under construction. The yellow track is from the roller coaster.
The new log ride will be called Draken Falls. When details were unveiled, we learned it will feature 6-person boats with individual lap bars. That will allow a height restriction of just 42 inches (3-and-a-half feet).
Draken Falls will be an almost 6-minute ride that will have two different lifts and splashes, will travel up to 34 miles per hour, and will have a panoramic view 40 feet up (the ride's top height) that will allow you to see around Adventureland. Here's a new photo that shows progress in Altoona this week.
The adjacent roller coaster will be known as the Flying Viking. You can learn more about each in the video below.
Both rides are expected to open this summer. Soon they'll be ready to help shape more memories for you and your family.
LOOK: Oldest Disneyland Rides From 1955 to Today
Stacker
, set out to compile a definitive list of every Disneyland attraction you can enjoy today and ranked them by their age. Using real-time data from
Touring Plans
, Disney archives, and historical news releases and reviews, our list starts with exciting recent park additions and stretches back to the oldest opening-day classics. This list focuses on the original Disneyland Park, so you will not see any rides from its neighboring California Adventure located just across the promenade. Read on to discover the oldest Disneyland rides you can still ride today.
LOOK: Baby boomer baby names that have gone out of style
Using info from the Social Security Administration's baby name database,
Stacker
compiled a list of baby boomer baby names that have declined in popularity.