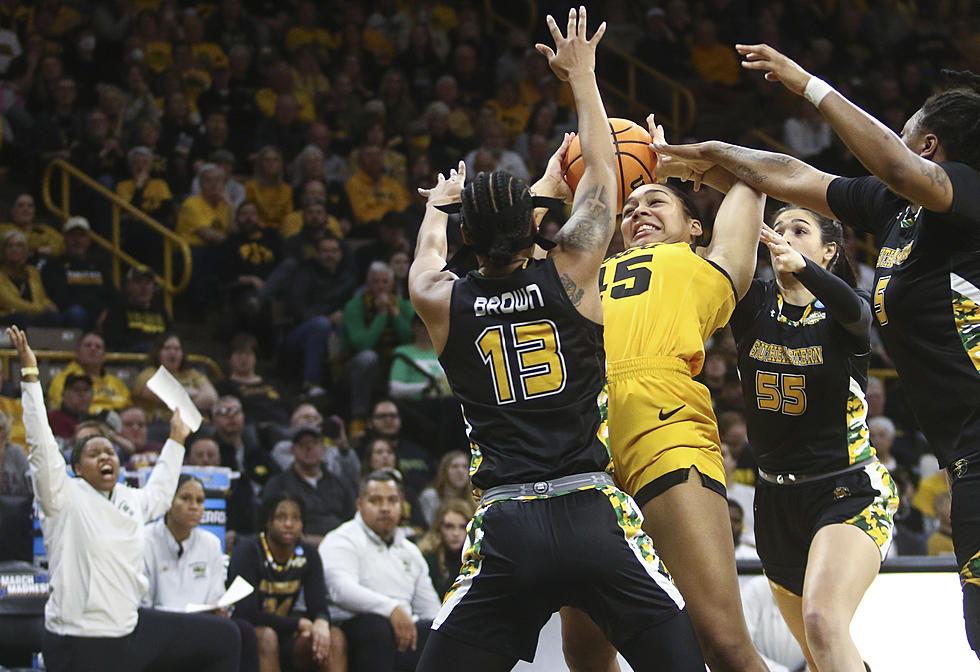 Coach Lisa Bluder Gives Update on Health of Hannah Stuelke
Getty Images
Iowa basketball fans, including yours truly, were a bit confused on Sunday afternoon as the Iowa women battled against Georgia for a birth in the Sweet 16. Where was super sub and Big Ten Sixth player of the year Hannah Stuelke? The outstanding freshman didn't see the court on Sunday due to a freak injury.
It's true that injuries are a part of sports. But getting injured in practice is just cruel. The Cedar Rapids Gazette reports that Stuelke suffered an ankle injury late in Saturday's practice at Carver-Hawkeye Arena. Iowa head coach Lisa Bluder stated that Stuelke "did treatments on it until late and again this morning. I really thought she was going to be able to go today." The Hawkeyes could have used Stuelke's energy and inside game versus the tough defense of Georgia. Fortunately, Stuelke will get another shot at playing this season in the Sweet 16 thanks to the 74-66 Hawkeye win.
The Gazette reports that coach Bluder was asked after the game about Stuelke's injury and the Iowa coach stated that she is "not worried" about the injury going forward. Bluder stated that Stuelke actually took part in warmups on Sunday but decided it would be too tough to play on the injured ankle. The Gazette reports that Bluder also didn't have any new information on Molly Davis' injury. The senior guard suffered a leg injury in the first half but returned to the game twice.
The Iowa women will fly to Seattle for a Sweet 16 game on Friday. The Hawkeyes will take on either Duke or Colorado. Those two teams play later tonight for the right to take on Iowa. LET'S GO HAWKS!
Best Photos From A Magical Weekend at Carver-Hawkeye Arena
On Saturday and Sunday, February 25 and 26, 2023, the Iowa men's and women's basketball teams pulled off last-second victories against Michigan State and Indiana.
On Saturday, the men became just the 4th team in college basketball history to overcome an 11-point deficit with less than 1 minute to play.
On Sunday, the #6 Iowa women defeated #2 Indiana on a 3-point shot at the buzzer by Caitlin Clark.
Field of Dreams Game Featuring the Cedar Rapids Kernels
Cedar Rapids was the Bunnies for the day as they played the Quad Cities River Bandits, who were the Davenport Blue Sox. Both were an ode to team names of the individual cities nearly a century ago. Played on Tuesday, August 9, 2022, it was the first minor league baseball game ever played at the Field of Dreams in Dyersville, Iowa.