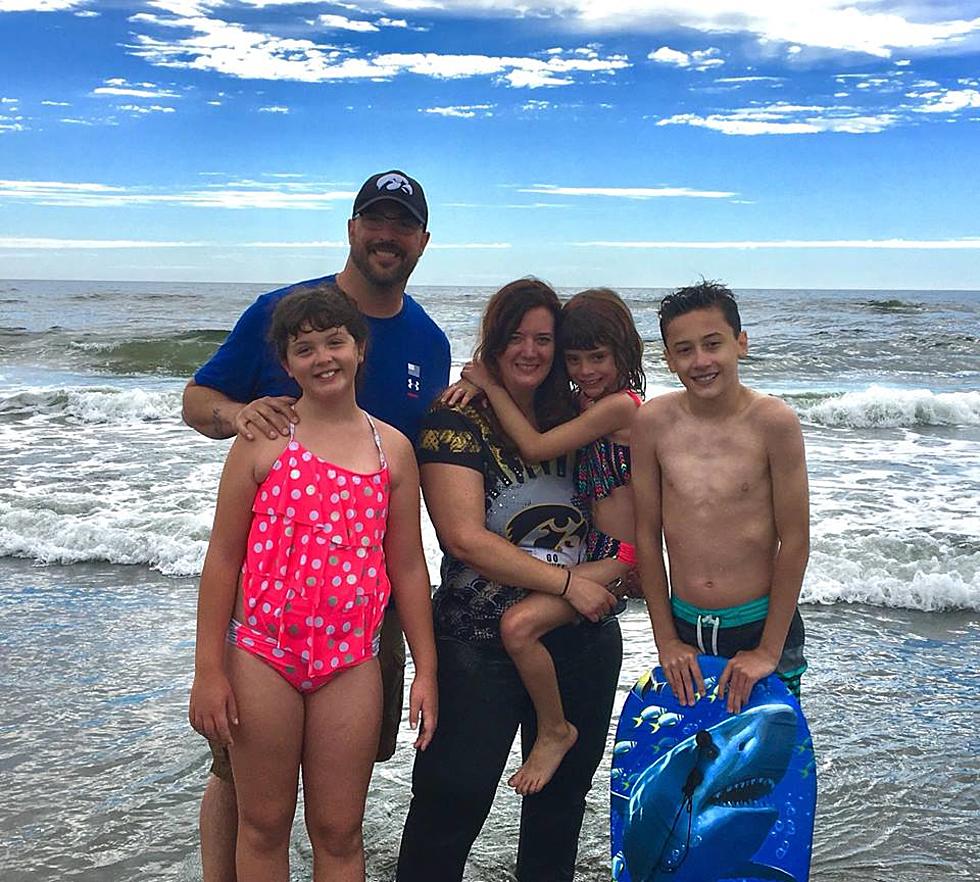 Brain's 2018 In Pictures [PHOTOS]
Ryan Brainard
2018 has nearly come and gone. With all the year-end lists littering the internet, I thought I'd do my recap of 2018 with pictures. I went through and chose one photo from each month of the previous year. The picture represents the most important or impactful thing that happened in my life at that particular time. I had plenty to choose from!
January: This is a picture of my back brace. I broke my back on Black Friday of 2017 and had to wear this brace until January of this year. In the end, it felt like a straight jacket. But it did its job. My broken vertebrae fully healed and I have to restrictions to this day due to the injury. I remember the day the doctor told me I could leave this thing off for good!
February: A great country show at the U.S. Cellular Center featured Chris Young. As we typically do, we lined up and got ready for our meet and greet backstage. I'd never met Chris before. While we were in line I got the impression that he was in a good mood and wouldn't mind if I made a strange request. So after I introduced myself, I asked if he would "hold me like a woman." He did. It was one of my favorite backstage photos. Thanks, Chris!
March: In March I got a different meet and greet photo taken. It's no secret that I love Kacey Musgraves. I've been a fan since her first album, and her new one, 'Golden Hour' is fantastic! She opened for Little Big Town at the U.S. Cellular Center and while backstage I told her that she was one of my favorite artists of all time. I could tell that it actually meant something to her. She took the time to talk and take a selfie with me. Another reason I'll always love Kacey.
April: Spring brought the Brain house a new family member. An outside cat in our neighborhood took a liking to Carly and Cayleigh when they would play outside. We would feed it on our porch and soon we invited her inside. She's been with us ever since. We named her Cora and she is the most loving cat I've ever had. But she isn't soft! She lets our dog Rigby know who's the boss! We couldn't imagine our family without her.
May: I love watching my kids participate in activities. Whether it's sports or music. Chase ran track for the first time this past spring and he loved it. The kid has always been a fast runner and he backed it up on the track. He ran the 100, 200, and some hurdles. I was proud no matter where he finished.
June: Ah, the end of the school year. A time the kids love but parents dread. At the end of the year, Carly received an award at FMI in Marion. Only a handful of students from each grade won, and they were voted on my peers and teachers alike. Carly's award was for honesty and integrity. Definitely a proud parenting moment. Carly has a big heart and cares for her fellow students.
July: Our biggest adventure of the year happened in July when our family of five, our dog, and my in-laws climbed in a van and drove to Seattle. It took us several days to get there but the trip was worth it! From the gorgeous scenery on the way, to exploring Seattle, and taking the kids to the Pacific Ocean for the first time, this trip had it all! I could have filled this post with pictures just from this trip! But this one is my favorite. Nothing beats seaing the ocean for the first time.
August: This is a special month for our family. August 26th is to be more specific. It's my parent's wedding anniversary, AND it's the birthday for both Chase and Carly! We do a joint family party for their birthday and then they each have a friends party separately. It can get a little crazy but is fun to watch these two grow. 14 and 10 this year!
September: Football is back! Holly and I got to travel to Green Bay for the NFL season opener between our Packers and the Chicago Bears. If only the rest of the season had gone as well as this night did! The Bears knocked Aaron Rodgers out of the game in the first half with a knee injury. He returned after halftime and led the Packers to an amazing comeback win! There is no better place to watch a game than Lambeau Field!
October: My favorite month and time of the year. Fall is in full swing. The cool temps, the fall colors, pumpkin patches, and Halloween! Each year we visit Bart's Pumpkin Patch in Marion. On this fall day, the kids picked out their pumpkins and some Indian corn too. It was a perfect, sunny fall day!
November: My favorite holiday is Thanksgiving. What's not to love? Great food, family, football, a nap, and alcohol! This year's festivities took place at my parent's farm. This picture sums up the day. I don't think we'd eaten yet but we sure did find the wine!
December: Our company Christmas party had an ugly sweater theme. I decided to take it a step further. I unveiled my holiday cat onsie that I purchased for $10 and won first place at our party! I wore it again during our Christmas morning show and again on Christmas Eve. Best $10 spent ever! Happy Holidays and Happy New Year!