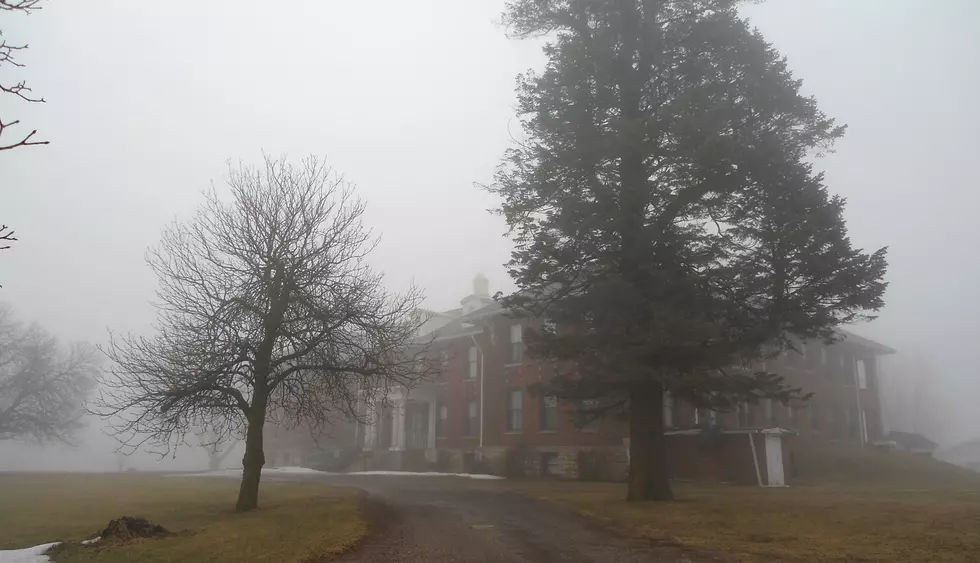 7 Haunted Places in Iowa You Can Visit or Stay the Night At [PHOTOS]
Edinburgh Manor, Facebook
ant to check out one of Iowa's "haunted" locations this spooky season? Here are seven of the places you can visit:
103 E 3rd St, Malvern
Malvern Manor was built in the 1880s and it was originally called the Cottage Hotel. According to the Des Moines Register, the hotel changed hands many times over the years. In the mid-1900s, the manor was home to the Gibson Family. Paranormal Dares reports that 12-year-old Inez Gibson died by suicide in the home. Malvern Manor became both a nursing home and a group home in the 20th century. It has been featured on TLC's Paranormal Lockdown and Travel Channel's Destination Fear.
1-hour guided tours are Thursday through Sunday from 12 p.m. to 3 p.m. for $10 per person
Overnight investigations are available Sunday through Wednesday for $300 per group (5 people) or Thursday through Saturday for $400 per group - book your investigation HERE
21982 Hawk Dr, Bentonsport
The Mason House Inn was built in 1846 and was originally known as the Ashland  House. According to the official website, "It was built as a hotel to serve the steamboat travelers going from St. Louis to Fort Des Moines and Fort Dodge on the Des Moines River." The building has a storied past, serving as a "holding hospital" for wounded soldiers during the Civil War, as well as a stop on the Underground Railroad. There was even a short period in 1913 when it was used as a tuberculosis sanitarium. The owners say that the haunted parts of the inn are the second floor of the Main House, rooms two and three in the Annex Building, the Wash House Room, and the General Store Room.
Paranormal investigation groups can either rent out the entire 6 bedrooms in the Main House for $500, or rent less rooms at the normal rate and only investigate those rooms, the dining room, and the parlor. Guests just looking to possibly experience some paranormal activity can also rent a room - call 319-592-3133 to make a reservation
13241 E23 County Home Rd, Scotch Grove

The land that Edinburgh Manor is located on was originally supposed to be for a courthouse, but in 1850 it was used as the County Poor Farm. The official website reads: "Described as a 'comfortable retreat for the lazy, able-bodied and willingly dependent applicants,' the Poor Farm housed the poor, incurably insane and disabled." The poor farm was demolished in 1910, and Edinburgh Manor was built in its place and operated until 2010.
Reservations are REQUIRED to visit Edinburgh Manor. Day tours are one to two hours long and are available on Saturday and Sunday afternoons for $10 per person. Overnight visits are $225 per night for one to five guests, but if more than five people want to attend, the cost is $50 per person. You can email emanor@email.com to book a tour or overnight stay - check out the available dates HERE
970 10th St, Marion

The Granger House was originally built in 1848 and was lived in by the same family for more than 100 years. According to the official website, "the house contains many of its original furnishings and is arranged to reflect the lifestyle of a successful, late 19th-century middle-class family." Paranormal Milwaukee reports that Earl and Dora Granger lost four of their seven children at young ages, and there was also a suicide in the basement in 1905 by a woman named Mary Elizabeth Albright. The home is currently under construction after significant derecho damage.
You can tour the Granger House on Saturdays & Sundays from 1 p.m. to 4 p.m. It costs $10 for adults and $5 for ages three to 12. Private paranormal investigations can be booked for $175 for the first five people and $35 per person after that. Get more information HERE.
508 E 2nd St, Villisca

On June 10th, 1912, two adults and six children were found brutally murdered inside the Villisca Axe Murder House. The victims were Josiah B. Moore and his wife Sarah, their children Herman, Katherine, Boyd, and Paul, and two friends of Katherine's, Lena Gertrude and Ina May Stillinger. To this day, the case has never been solved. In 1994, the home was restored to it's original state and began offering tours, and it's been featured on several big shows, including Ghost Adventures, Scariest Places on Earth, Most Terrifying Places in America, and Destination Fear.
Daytime tours are available Tuesday through Sunday from 1 p.m. to 3:30 p.m. for $10 for ages 12 and over and $5 for ages 65 and over. Overnight stays are $428 for one to six guests. Each additional guest will have to pay $75. Check out available dates online HERE.
11125 NE 134th Ave, Maxwell
The Farrar Schoolhouse was built in 1921 and served students up until 2001. It sat abandoned until 2006 when it was purchased by new owners. According to the Des Moines Register, "[The Owners] were told that over the last few decades before the school closed, students would notice slamming doors and strange figures wandering around. They later had their own paranormal experiences, leading them and others to believe the shuttered school building is haunted." The school has been featured on Paranormal Encounters, My Ghost Story, and Ghost Stalkers.
Day tours are available Tuesday through Sunday from 1 p.m. to 3:30 p.m. through October 30th for $10 per person. Overnight stays are available Sunday through Thursday for $330 (up to six guests) or Friday and Saturday for $390. A Sunday through Thursday day stay is from 11 a.m. to 4 p.m. and costs $180 for up to 6 people. You can book your stay through October 31st HERE.
226 Pearl Street, Council Bluffs
The Pottawattamie County Squirrel Cage Jail is a one-of-a-kind building. It was constructed in 1885 and was one of only 18 revolving jails ever built, and now one of only three that remain. It's the only one of the 18 that is three-stories high. The Historical Society website says that "the cell section remains much as it did in 1969 when it was closed by the county.  The signatures and dates of many of its' infamous prisoners remain scratched in the cell walls." There were four known deaths inside the jail when it was in operation. The building has been featured on Most Terrifying Places and Ghost Adventures Serial Killer Spirits.
Daytime tours are available Thursday through Saturday from 11 a.m. to 4 p.m. and Sunday from 1 p.m. to 4 p.m. It's $10 for adults, $5 for ages 6 to 18, and $8 for students and ages 60 and older. Overnight stays are also available for different rates, depending on the days and times. You can get more information HERE.
10 Things That Shock Folks During Their First Year in Iowa
For anyone moving to Iowa from... well, anywhere, there are a few things that will surprise you.
The ABCs of Iowa
I know Iowa may not be the most popular state to visit, but we still have plenty to offer! Using countless article, websites, lists, and maps, we put together a list of some of Iowa's best and biggest events, venues, and attractions using every letter of the alphabet (which wasn't easy)! Unfortunately, we couldn't include EVERY awesome place in the state (there aren't enough letters!), but here are our Iowa ABCs: