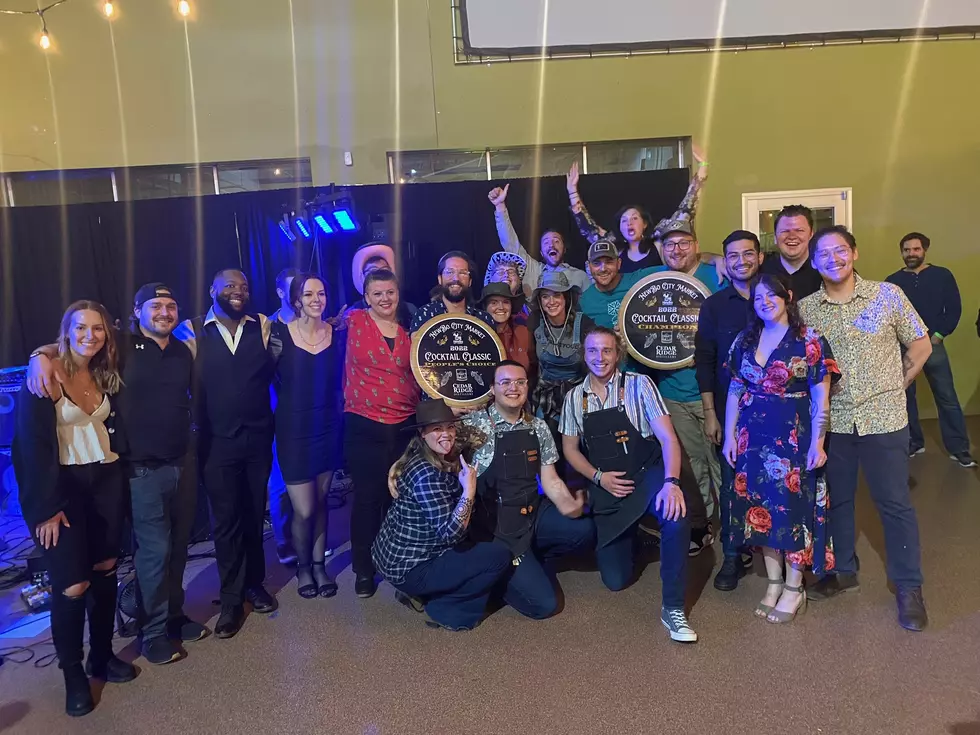 2 Corridor Restaurants Were Big Winners at the Cocktail Classic
NewBo City Market, Facebook
Restaurants in Downtown Cedar Rapids and Uptown Marion took home the top awards at the 2022 Cocktail Classic!
Tuesday night (May 24th), bourbon lovers from all over the Corridor came together at NewBo City Market for their annual Cocktail Classic. The event features "elite local mixologists" as they compete for the coveted Best Cocktail and People's Choice awards. This year, all of the beverages were made from Cedar Ridge's Iowa Bourbon Whiskey.
All together, there were ten Corridor restaurants that competed this year. Those restaurants are:
The big winner of the night was the Map Room, who was named the 2022 Cocktail Classic Champion by a panel of local judges. According to the Map Room's Facebook page, the winning drink is called The Voyage, and contains brown butter washed Cedar Ridge bourbon, Ilegal Mezcal Reposado, Kronan Swedish Punsch, orgeat, rooibos masala chai, pineapple, orange, and cardamom bitters. If you want to give it a try, it will be available to order at the restaurant for the next few weeks.
The People's Choice winner was the hip-stir in Marion, whose head bartender Caleb Scales has actually won the award for the past three years! He is now a four-time champion!
We have some amazing local restaurants here in the Corridor, and this competition is just more proof of that. Be sure to check out one of this year's competitors the next time you plan a night out!
23 New Restaurants That Have Opened in Eastern Iowa in 2022
Looking to try something new the next time you go out to eat? There are plenty of options here in Eastern Iowa! Whether you're in the mood for Chinese food, Mexican food, breakfast, sushi, or burgers, we've got you covered. Here are 23 restaurants that have opened in the area so far in 2022:
The Richard H. Driehaus Museum/Samuel M. Nickerson Mansion in Chicago
This incredible museum is housed in a building that was saved
two different times
. The Samuel M. Nickerson House (he was the founder of the
First National Bank of Chicago
) was built in
1883
. It was saved the first time by a group of citizens in 1919 and again by philanthropist Richard Driehaus. It was restored, thanks to him, from 2003 through 2008. In 2008 the Richard H. Driehaus Museum opened and is located just steps from Chicago's Magnificent Mile at 40 East Erie Street.