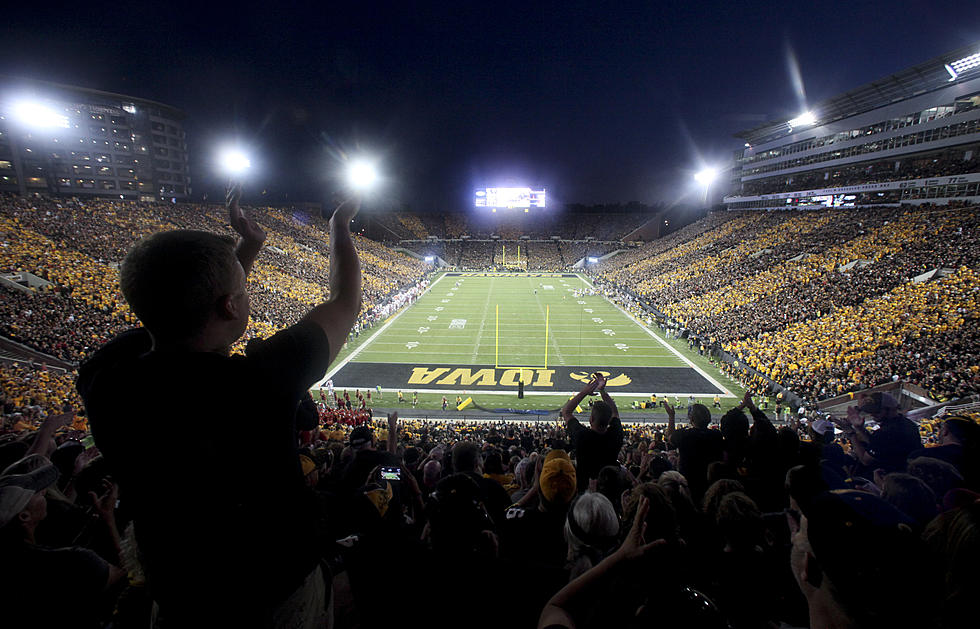 Who Are The Five Best Hawkeye Football Players Ever?
Getty Images
'Best of' lists are a tricky thing to make. Sure, there aren't necessarily any right or wrong answers, but mess one up enough and you'll get taken to town. A recent Facebook post caught my eye recently. It listed the Top 5 Iowa Hawkeye football players of all time. Think about that. In all the years of Iowa football, you have to come up with the five best. Here is what the Facebook page Iowa Hawkeyes From CS listed as their top five.
First of all, I don't think anyone wants to argue with number one. Nile Kinnick belongs there. He remains Iowa's only Heisman Trophy winner and the stadium bears his name. He was a consensus All-American and the A.P. Male Athlete of the Year in 1939.  Plus, he gave his life serving our nation. No one knocks off Nile. The rest of the five listed are all great players without a doubt. But there are some BIG Iowa football names missing!
Let's start with Chuck Long. When he graduated from Iowa following the 1985 season Long held every passing record at the University of Iowa. He was the Big Ten MVP in 1985 and won the Maxwell and Davey O'Brien Awards. While his career in the NFL never took off, Long clearly belongs on any list of the best players in Iowa football history.
Can any list of all-time Iowa greats exclude Tim Dwight? Dwight was electric every time he took the field. He was a first-team All-American and left Iowa holding every receiving record in the books. He set Big Ten records for punt return yards and touchdowns. The Big Ten even created an award given annually to the best return specialist in the conference. It is called the Rodgers-Dwight Award. Dwight went on to have a successful NFL career as a return man scoring 27 career touchdowns.
Alex Karras played at Iowa during the Forrest Evashevski era during the 1950s. He was one of the most dominant defensive linemen in football, helping Iowa win the Big Ten in 1956. He went on to win the Outland Trophy in 1957 and was the Heisman runner-up that same year. Karras went on to have an All-Pro career with the Detriot Lions. He was a four-time pro-bowler and was named to the 1960s NFL All-Defensive team. He was enshrined in the Pro Football Hall of Fame in 2020.
In this Iowa fan's humble opinion, those are the four Iowa greats that you really can't argue with. Sure there have other amazing players over the years like Marv Cook, Ronnie Harmon, Brad Banks, Shonn Greene, Marvin McNutt, Marshall Yanda, and Dallas Clark to name a few off the top of my head. So let's have it Iowa fans. Who is in YOUR top five?
30 famous people you might not know were college athletes
Stacker
dug deep to find 30 celebrities who were previously college athletes. There are musicians, politicians, actors, writers, and reality TV stars. For some, an athletic career was a real, promising possibility that ultimately faded away due to injury or an alternate calling. Others scrapped their way onto a team and simply played for fun and the love of the sport. Read on to find out if your favorite actor, singer, or politician once sported a university jersey.
CHECK IT OUT: 100 sports records and the stories behind them