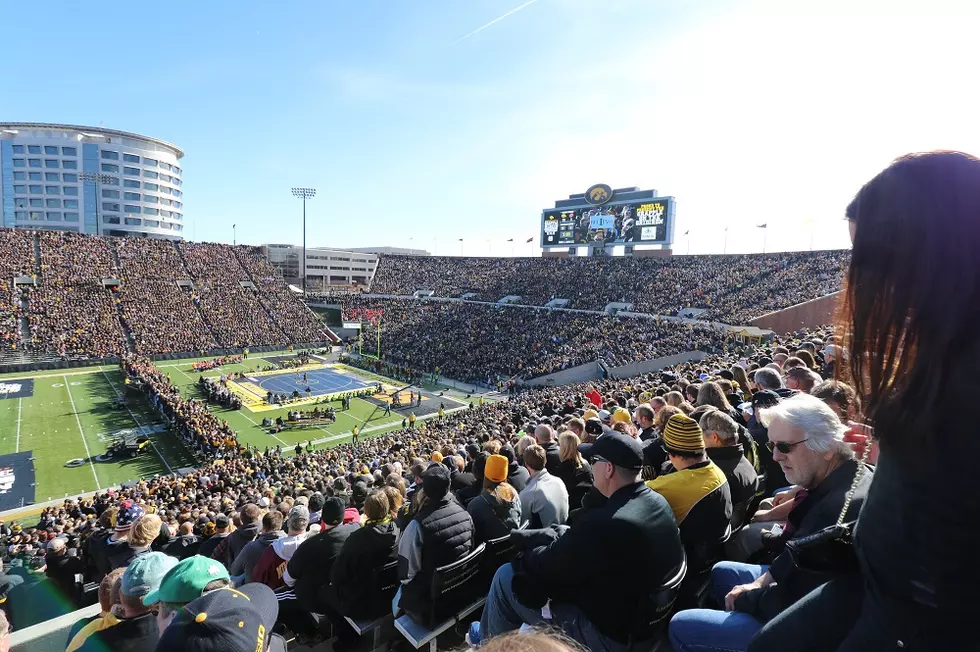 The Grapple on the Gridiron Obliterates Previous Mark for Record Attendance [Gallery]
Julie James
The state of Iowa loves its wrestling and proved it in a BIG way Saturday as the Hawkeyes played host to the largest crowd to watch a collegiate dual meet in U.S. history.
The record before Saturday was 15,996 set two years ago at Penn State. Today, Iowa drew 42,287 and also beat the top-ranked team in the nation in the process.
The Iowa Hawkeyes started fast and held a 10-6 lead at intermission. A major decision by 125-pounder Thomas Gilman got Iowa off to a fast start. 133-pounder Cory Clark and 149-pounder Brandon Sorenson also got early victories to give the Hawkeyes a 10-6 lead at intermission.
After losing the first two matches of the second half of the dual, 184-pounder Sammy Brooks scored a technical fall in only 4:09. The final score of 17-2 put Iowa back in front to stay. He was followed by a win from Iowa's Nathan Burak at 197. #4 (USA Today/NWCA Poll) Iowa won the dual over #1 Oklahoma State 18-16.
Iowa wrestling coach Tom Brands knew the day was a success. Following the meet he commented, "The hype for the fans is what's important for me. That's what it's about, our fans, I'm selfish that way. I know it is great for wrestling, and people in Russia and Iran are going to see this, as well. This is the city that Dan Gable lives in, that's a big part of it as well, they will know about it internationally."
The dual meet itself ran smoothly inside the massive venue, which seats 70,585 for football. The only issue I saw was a great deal of confusion regarding assigned and general admission seating. When they do it again, and I hope they do, I think Iowa should do reserved seating below the tunnel entrances and make everything else general admission. That would eliminate a great deal of confusion and the fans will still come. Believe me, do it again, and they WILL come.