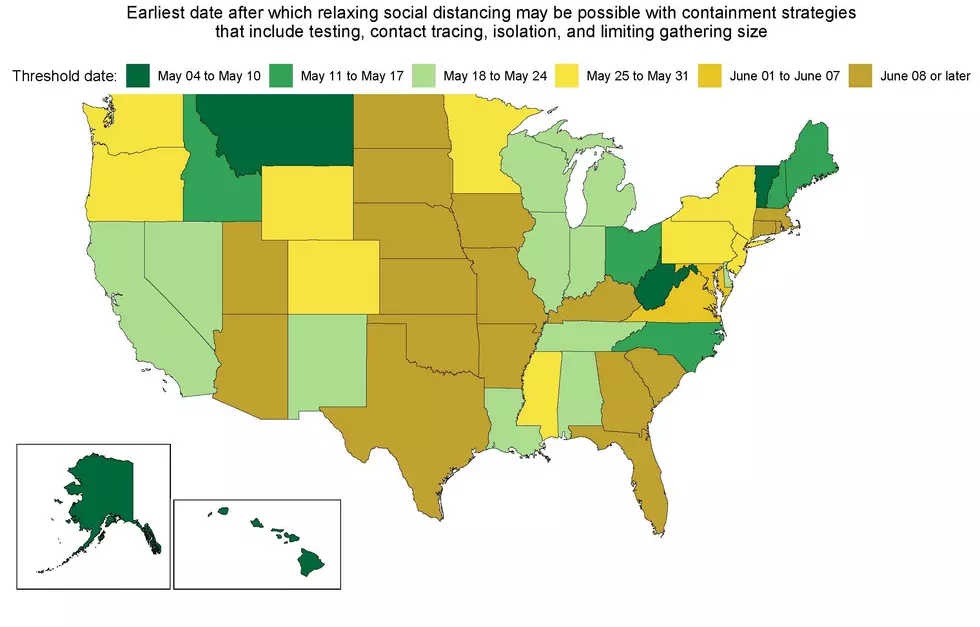 Model Recommends Iowa Not To Reopen Until June 8th Or Later
IHME/University of Washington
According to the model by IHME, many states will most likely need to hold off on reopening businesses in their state by more than a month. These recommendations by IHME is to help reduce a large negative impact on the number of cases in each state.
The model shows that 12 states should wait until at least June 8th or later before beginning to relax social distancing. IHME said about their model,
Iowa is one of the 12 states that should wait until June 8 or later before considering relaxing social distancing guidelines. Among the six social distance government mandates the IHME recommends, Iowa only has three. The three mandates in Iowa include school closures, business closures, and mass gathering restrictions. The three mandates IHME recommends that the Iowa state government has not implemented are closing non-essential services, stay at home order, and severely limiting travel.
Illinois is one of 11 states recommended to wait to relax social distancing guidelines between May 18th and May 24th. Illinois has five recommended government mandates by the IHME implemented. The only recommended mandate Illinois doesn't have is severely limited travel.
IHME has Iowa's peak date projected to be on May 5th with 9 deaths. The highest daily death report in Iowa has been April 18th with 10 deaths. Illinois' peak date has already passed. Illinois' peak date was April 18th which a total of 125 deaths in one day.
There are states that could reopen safely in early May. Those states include North Carolina, Hawaii, and Montana.
IHME and the University of Washington do warn against over-relying on this model. They say that this is just one of many models and that this particular is viewed as having a conservative threshold. IHME says that for some places, this may be an underestimate of public health capacity, and in others, it could remain ambitious until containment efforts are increased.
Enter your number to get our free mobile app
READ MORE: See how some companies are changing their businesses to combat COVID-19