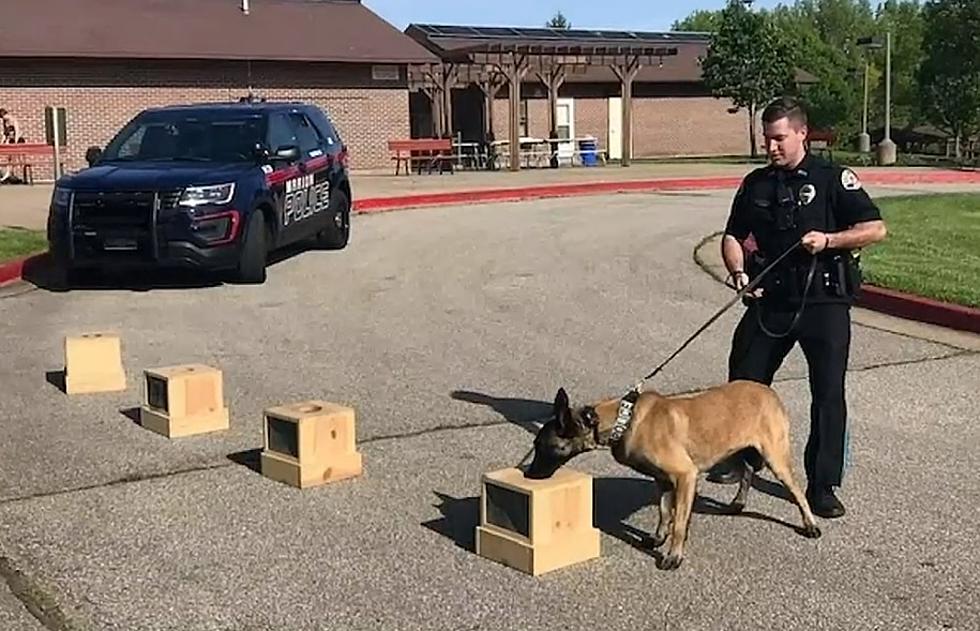 Marion Family Needs Your Help To Keep K9 Dog
via KCRG
The bond between humans and dogs is undeniable. There is truth behind the phrase 'man's best friend.' But the bond that is forged between an officer and his or her K9 unit is even stronger. That bond will most times extend to the officer's family too. Even though the K-9 handler is leaving his position, he and his Marion family want to keep the K9 dog that has become part of their family. However, the cost of doing so is proving to be too much.
KCRG reports that K9 police dog Kain came to the Marion Police Department in 2018. Most people know that these dogs receive special training and that cost can be a lot for local police departments. Kain cost the Marion Police Department $16,000 due to the fact that he was a dual-purpose K9 dog. Kain has been through a lot in his years with the Marion Police Department, and due to injuries, he is no longer a dual-purpose officer. But as KCRG points out, Kain is still able to perform some duties and that is why the Marion Police Department is requiring his owner to buy Kain for $9,000. That is a lot of money for a family to cover. So fundraising efforts are underway to keep Kain with his family.

KCRG reports that one company that is helping out is Honor and Respect. The local company helps families and first responders in need across the nation. The fundraiser they started features a shirt you can order, with all the proceeds going towards paying the fee to keep Kain with his family. You can order and donate to the cause HERE.
Iowans Share Their Hilarious Pups for 'National Puppy Day'
In honor of National Puppy Day 2023, we asked Iowans to share a photo of their pup (ANY age) and tell us something funny that they do! Here are some of our favorites!
Ridiculous Things Our Pets are Afraid Of
No matter how tough they act, our pets are all big babies! We asked listeners to share the ridiculous things their pets are afraid of, and here are some of our favorite responses!