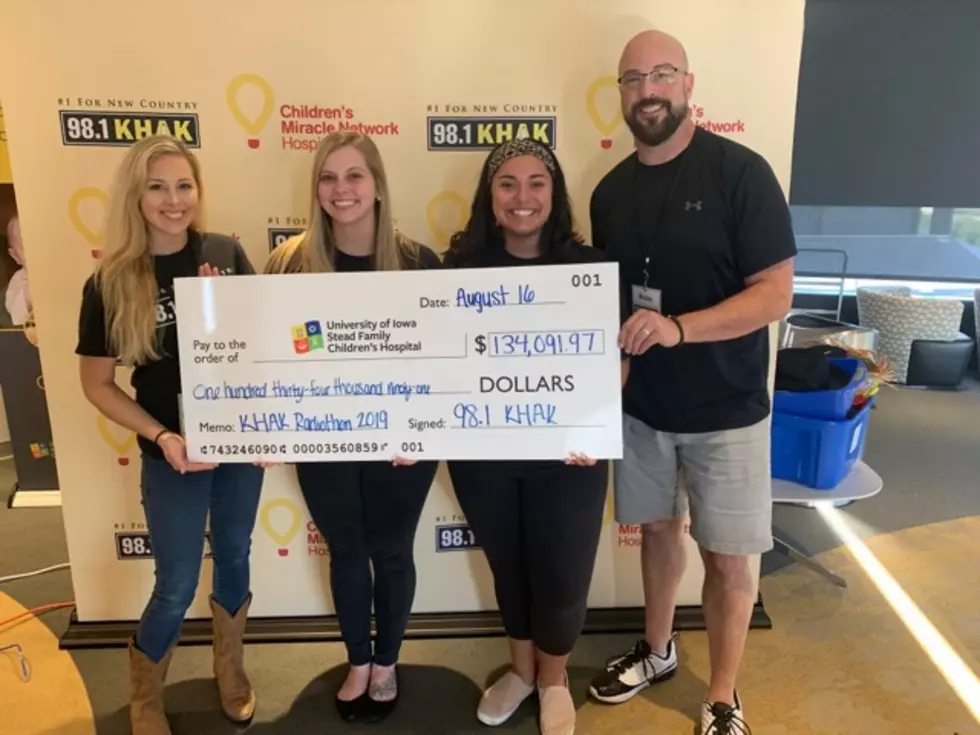 KHAK's 23rd Annual Radiothon Final Day [PHOTOS]
KHAK
The 2019 KHAK Radiothon raised $134,091.97. Thank you, thank you, thank you to everyone who donated this year. We could not have done it without you. The kids and families here at the University of Iowa Stead Family Children's Hospital couldn't have better folks supporting them.
It's day two of the 23rd annual KHAK Radiothon for the Children's Miracle Network! Brain and Courtlin are broadcasting live from the 12th floor of the University of Iowa Stead Family Children's Hospital in the same area where all of the kids being treated wave to Hawkeye fans. They'll be broadcasting until 6 p.m. this evening to raise money for kids right here at the hospital. Please donate whatever you can today by calling 1-800-456-2772 or donating online HERE.
Take a look at some of the cuteness from day two of the KHAK Radiothon. And make sure you check back often because we'll be updating this page all throughout the day.
The last interview of the day was with Nile's family! Nile is 2-years-old and was born deaf, but now he can hear! Check out the video of Nile hearing his parents voices for the first time thanks to his Cochlear implants. You can hear Nile's story (and all of the stories from Radiothon) in the interview on the KHAK Facebook page.
You can tune into radiothon at 98.1 KHAK or by listening online at KHAK.com or on the KHAK app. If you want to see what's going on at radiothon, follow along on the KHAK Facebook page! Watch as Brain and Courtlin talk to families of children that have been treated here at the hospital and share their stories.