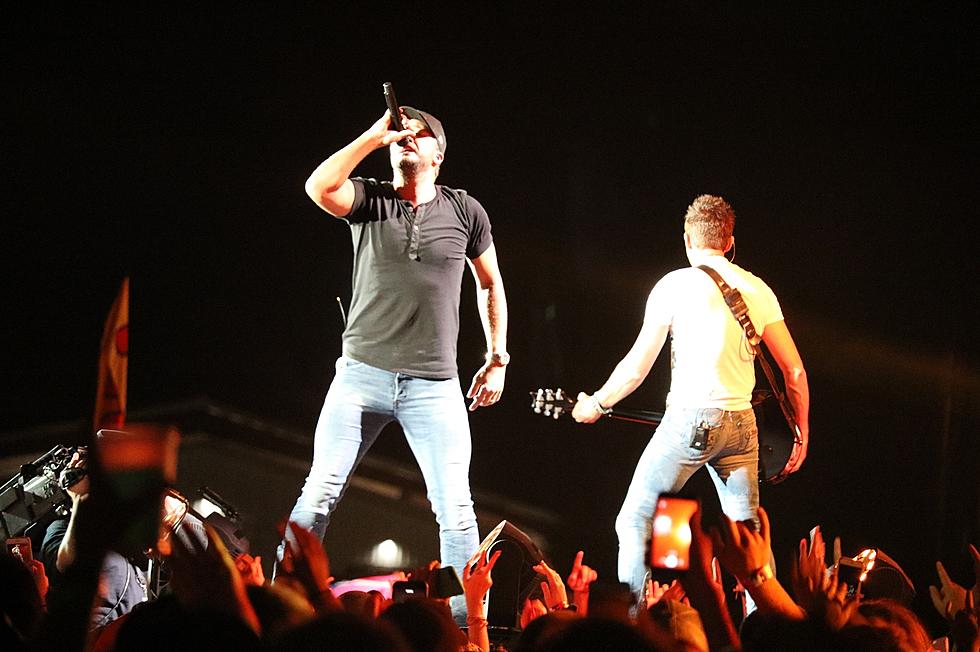 Jones County Loves Luke Bryan and the Feeling's Mutual [PHOTOS]
Julie James
Every night when I head to Monticello for a country concert at the Great Jones County Fair I think there's no way it will outdo the last show I saw. I'm always wrong.
Friday night in Monticello brought out a huge crowd, packing the hillsides as far as you could see in either direction, and not a soul walked away disappointed.
The night started with us taking donations and giving everyone a chance to meet both Luke Bryan and Morgan Wallen. After only 90-minutes, we'd collected $948, or more than $10 per minute. Every penny will go to the American Red Cross for tornado relief efforts here in Iowa. THANK YOU!
Our winners were Robin (left below) and Makenna (right below). Kinda, sorta. Robin was drawn as the winner and when she came back to pick up her passes (smiling ear to ear), she informed me she had actually come to the show alone. She advised me we could give the other pass to someone else. No less than three members of the KHAK staff immediately pointed to a girl about 25 yards away. They remembered things she (Makenna) said when she donated and signed up with the hopes of winning. When we brought her over and gave her the news, she hyperventilated slightly (thankfully, only slightly) and started to cry. Her mom began to cry. Heck, I welled up! It was a very special moment.
The show itself started with Morgan Wallen, who is off to a tremendous start, on two fronts. He recently had his first number one song, twice. Huh? Morgan wrote Jason Aldean's recent chart-topper "You Make It Easy" and reached the top of the chart as a performer for the first time with "Up Down," his collaboration with Florida Georgia Line.
When the lights went down and Luke Bryan appeared, the volume went up. The crowd roared for the superstar and 'American Idol' judge who was also a fan of Iowa winner, Maddie Poppe. Luke started with "Country Girl (Shake It For Me)" and didn't let up, nor did the singalong. From what seemed like the very first lyric this Great Jones County Fair crowd was at its throaty best, belting out the songs right along with Luke.
Luke talked about his love for deer hunting in Iowa when he said, "They don't grow deer any bigger than they do here in Iowa." And he loved on Iowa sweet corn, which he'd had earlier in the day saying, "That s--- was good!"
One of Luke Bryan's hit songs reminds us that "Most People Are Good" but, when it comes to putting on an entertaining show, Luke is about as good as it gets.