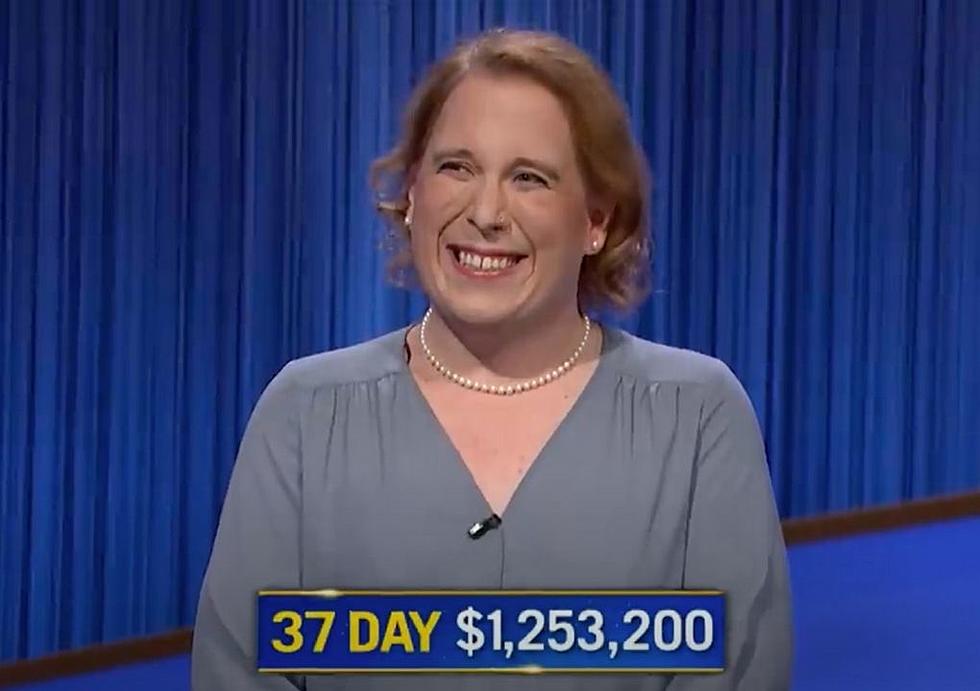 Jeopardy! Legend Comes To Iowa…Sort of
Jeopardy!
Just off of her history-making game show run, Amy Schneider will be making a visit to Iowa...well kind of.
Schneider made history on the beloved game show Jeopardy! earlier this year. The Ohio native broke records on the program after achieving a 40-day winning streak over the course of several months. Schneider made her very first appearance on the show in November of last year.
She is the very first woman to do such a feat in the show's history, according to the New York Times. The game show contestant has the second-longest streak of ANY player in program history, just behind Ken Jennings' record of 74 consecutive wins.
The winning streak came to an end in January when Schneider lost to Rhone Talsma. That loss is nothing to cry about though! She ended up going home with $1.4 million; and breaking another record with that big chunk of change! Schneider is the first woman to surpass $1 million in earnings for the show. 
However, the Jeopardy! champ didn't just make waves for this amazing record, she also is a member of the LGBTQ+ community.
Schneider is a proud trans woman and seems to be using her newfound fame to inspire people just like her.
Officials from Iowa Governor's Conference on LGBTQ Youth have announced that Schneider will be giving this year's keynote address. In a Facebook post from the Iowa Safe Schools page officials said,
"You're not going to want to miss out on the celebrity keynote at the 17th Annual Governor's Conference on LGBTQ Youth taking place virtually on April 15th - we're thrilled to welcome Amy Schneider to our virtual stage!"
Schneider will not be there in person, but she will still give the virtual keynote address. For more information, you can check out the organization's website.
Stay up to date with all of the happenings throughout the state by downloading the station app and by following the station across all social media platforms.
See Inside Roseanne Barr's Eldon Mansion
Roseanne Barr was set to make a home in Iowa. She and her then-husband Tom Arnold were in the midst of building a mansion in Eldon. It was put on hold when the couple eventually split up. This left a beautiful, unfinished, and kind of spooky mansion behind.
Snake Alley in Burlington, IA
Burlington, IA is just one hundred and fifty miles away from Waterloo and a hundred miles away from Cedar Rapids is one of the most see attractions for tourists. Ripley's Believe It or Not! voted Snake Alley as the #1 Odd Spot in America.