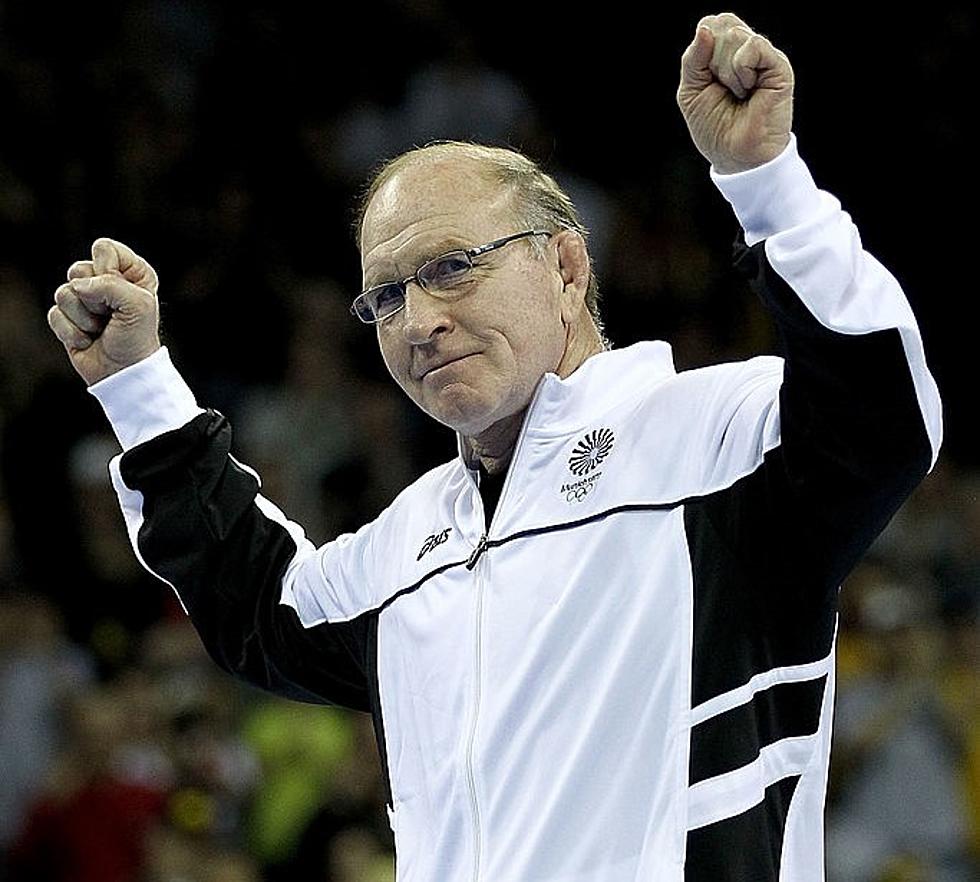 Iowa Sports Legend Getting His Own Beer Brat
Getty Images
There is a helpful smile in every aisle at Hy-Vee but don't look behind you as the shadow of the tough-as-nails wrestling legend from the University of Iowa, Dan Gable will soon be lurking those aisles too.
Iowa's News Now reports that the grocery chain has announced a new product bringing Gable into their stores, and making your midsummer grilling sizzle. What a fitting product it is. Beer brats! Gable Beer Brats were created in partnership with Cedar Falls-based Single Speed Brewing.  The brats are made with SingleSpeed's Gable Beer, which can be purchased at any Hy-Vee Wine and Spirits location.
Gable himself will also be making several Hy-Vee appearances to launch the brats at the following stores:
Thursday, July 15, 4:30-6:15 p.m.: Crossroads Hy-Vee 1422 Flammang Drive, Waterloo
Thursday, July 22, 4:30-6:15 p.m: Marion Hy-Vee 3600 Highway 151 E., Marion
Thursday, August 12, 4:30-6:15 p.m.: Altoona Hy-Vee 108 8th St., S.W. Altoona, Iowa
Where can I purchase these limited edition brats?
A slew of Eastern Iowa Hy-Vee locations will have them, including:
College Square Hy-Vee 6301 University Ave. Cedar Falls
Johnson Avenue Hy-Vee 1843 Johnson Ave. NW Cedar Rapids
Collins Road Hy-Vee 279 Collins Road NE Cedar Rapids
Wilson Avenue Hy-Vee 20 Wilson Ave. SW Cedar Rapids
Oakland Road Hy-Vee 3235 Oakland Road NE Cedar Rapids
Mount Vernon Hy-Vee 4035 Mount Vernon Road SE Cedar Rapids
Edgewood Hy-Vee 5050 Edgewood Road NE Cedar Rapids
Charles City Hy-Vee 901 Kelly St. Charles City
Lantern Park Plaza Hy-Vee 1914 8th St. Coralville
Waterfront Hy-Vee 1720 Waterfront Drive Iowa City
Eastside Hy-Vee 812 S. First Ave. Iowa City
North Dodge Hy-Vee 1201 N. Dodge St. Iowa City
Marion Hy-Vee 3600 Business Highway 151 E., Marion
Ansborough Avenue Hy-Vee 2834 Ansborough Ave. Waterloo
Logan Hy-Vee 2181 Logan Ave. Waterloo
Crossroads Hy-Vee 1422 Flammang Drive Waterloo
Village Square Shopping Center Hy-Vee 1311 4th St. SW,Waverly
Will eating these brats make me as tough as Dan Gable?
Unfortunately, you're going to have to do a little heavier lifting than a plate full of brats for that.
LOOK: Here are copycat recipes from 20 of the most popular fast food restaurants in America