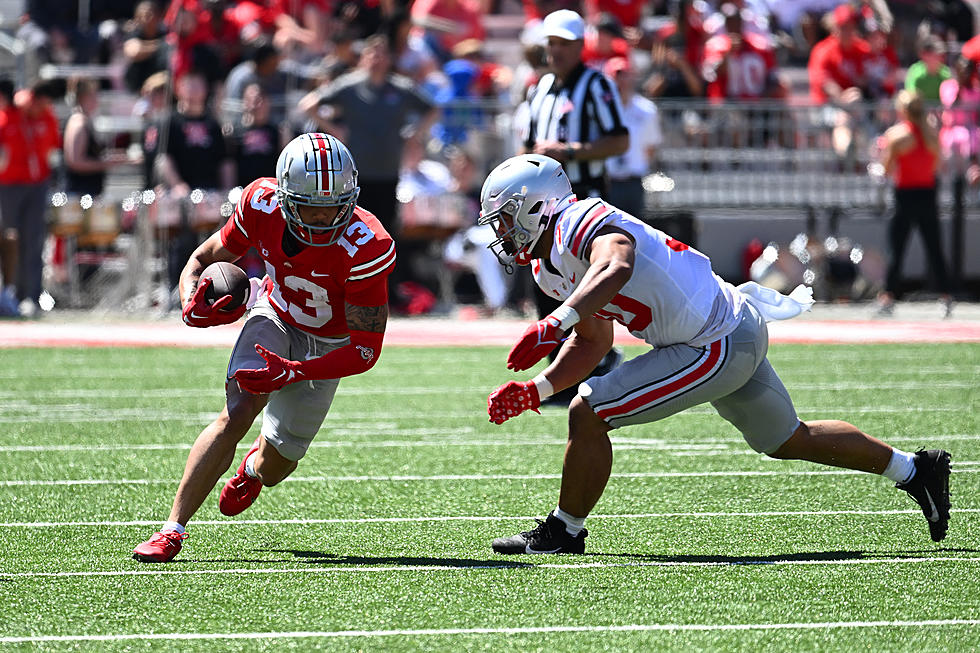 Iowa Lands Former Four Star Reciever Via The Transfer Portal
Getty Images
There is no doubt about it. This is a big one. Hawkeye football fans have been treated to some good news via the transfer portal this off-season. But the best news yet broke Thursday afternoon as a former four-star wide receiver recruit officially committed to Iowa.
Iowa fans have salivated at the prospect of former Ohio State wideout Kaleb Brown joining the Hawkeyes. The Cedar Rapids Gazette reports that he made his choice official yesterday via social media.
It's huge news for an Iowa football program that needs help at the wide receiver position. The Gazette reports that Brown was a four-star recruit and the 13th-best wide receiver in the nation coming out of high school. The Hawkeyes actually offered him a scholarship, but he ended up choosing Ohio State over Iowa, Alabama, and several other top football powers. But all that is in the past. Brown is a Hawkeye!
The Gazette reports that Brown entered the transfer portal after just one season at Ohio State. He had just one catch for five yards as a true freshman. Ironically, that one catch came against Iowa. He'll have four years of eligibility left at Iowa. Kirk Ferentz and the Hawkeyes have used the transfer portal to much success this offseason. Here are the players they've added thus far.
Quarterback Cade McNamara
Tight End Eric All
Offensive lineman Rusty Feth, Daijon Parker
Wide receivers Kaleb Brown, Seth Anderson
Lineback Nick Jackson
It is shaping up to be an interesting season for Iowa football. The only question that remains is will the results be able to keep up with fans' expectations.
Most Memorable Moments of the 2022 Iowa Football Season
Iowa finished the season 8-5, including a 21-0 shutout win over Kentucky in the Music City Bowl. The 2022 season will be remembered as one that was carried by the defense while its offense struggled mightily throughout the season.
University of Iowa ANF Wall of Honor Members
The University of Iowa's has now announced 10 members of the America Needs Farmers Wall of Honor at Kinnick Stadium.