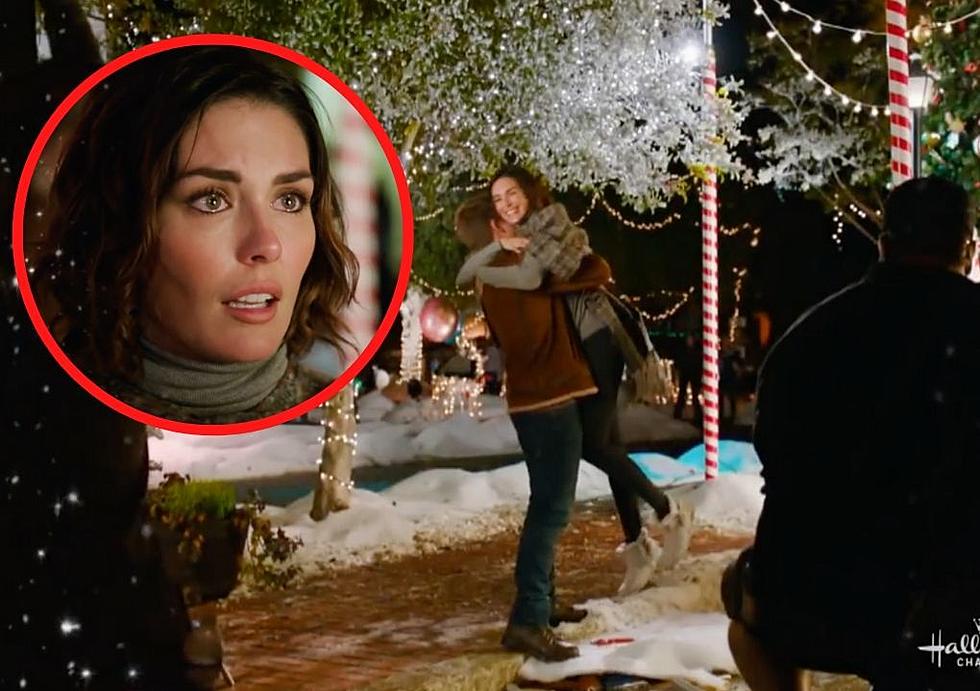 Hallmark Humbug: Iowa Keeps Getting Snubbed By Christmas Movies
Courtesy of Hallmark Movies
We can all agree that Iowa would be the PERFECT setting for a Hallmark movie, right?
AND we all know that there are some amazing places to shoot the formulaic flick right here in the Hawkeye State.
Let's set the record straight on something. Some of the greatest and most iconic movies of the 20th century were shot right here in Iowa. We've got 'Field of Dreams', 'Children of the Corn, and 'Bridges of Madison County' and all of them were filmed in this state.
So, when someone...especially the Hallmark Movie channel says that the entire premise of a holiday movie is going to be based in a town not too far from Cedar Rapids, then I know they should deliver.
Back in 2016, Hallmark released a holiday movie on their platforms called "Christmas in Homestead." The premise is similar to any other sappy Christmas movie (which I love by the way, so this is not me hating on the flick).
On Hallmark's website the premise for the movie reads,
"One of the most famous actresses in the world heads to the Christmas-obsessed town of Homestead, Iowa, to shoot a holiday-themed movie. She is thrown for a loop when a romance brews between her and local inn keeper and single dad, Matt. As she gets a taste of small-town life, she discovers the true meaning of Christmas."
That's right! This movie is supposed to take place in Homestead, a real town not too far from Cedar Rapids. After I found about this I got so excited to see how the production team transformed this town into the perfect setting for a Christmas romance.
Homestead is a star studded town! Ashton Kutcher was even raised there!
Ashton Kutcher's Childhood Home in Homestead, Iowa
The well-known actor hails from Iowa. Ashton Kutcher was born in Cedar Rapids and spent his formative years in Homestead. The later is where he helped his step-dad build this space nearly 30 years ago. In 2015, Ashton decided to give his mom the surprise of her life when he redid their basement space.
I assumed that after the great track record that Iowa has with being a part of classic films, the movie crews would jump at the chance to check out the town. After doing a whole lot of digging, it turns out that these folks never set foot here!
According to Explore Georgia, the holiday romp was filmed in Dahlonega, Georgia! That is nowhere NEAR Iowa. Georgia seems to be a popular place for Hallmark filming because several other flicks were shot there!
The real Homestead has a population of approximately 150 since the last census was taken. Even though we didn't get a hoaky holiday film, at least we've got Ashton Kutcher, right?
I'm honestly surprised that Hallmark doesn't try to film in Iowa. Areas like the Amana Colonies could be a perfect setting. All of the scenic villages would be fun to shoot in no matter what sort of project is being produced.
An old timey time travel holiday romance about a hard working woman meeting a cute farmer from the 1800s? Perfect!
A couple looking to rekindle their romance in a scenic Iowa village? Sounds amazing!
If Hallmark is in the market for another small town to shoot in, might I suggest Cedar Falls. The Cedar Valley town screams quaint small(ish) town. If they shoot it during Holiday Hooplah celebrations then Hallmark filmmakers could use the festive holiday decorations and lights as a wonderful backdrop.
Plus, any one of those stores on Main Street would fit perfectly as the "family small business that needs to be saved by Christmas" plot point of almost every Hallmark movie.
Who wouldn't want to film a make believe couple walking along River Place Plaza right by Santa's workshop? It just SCREAMS holiday romance vibes!
Strangest Rental Properties In Iowa
Here are just some of my favorite strange and cool rental properties that you can check out in Iowa!