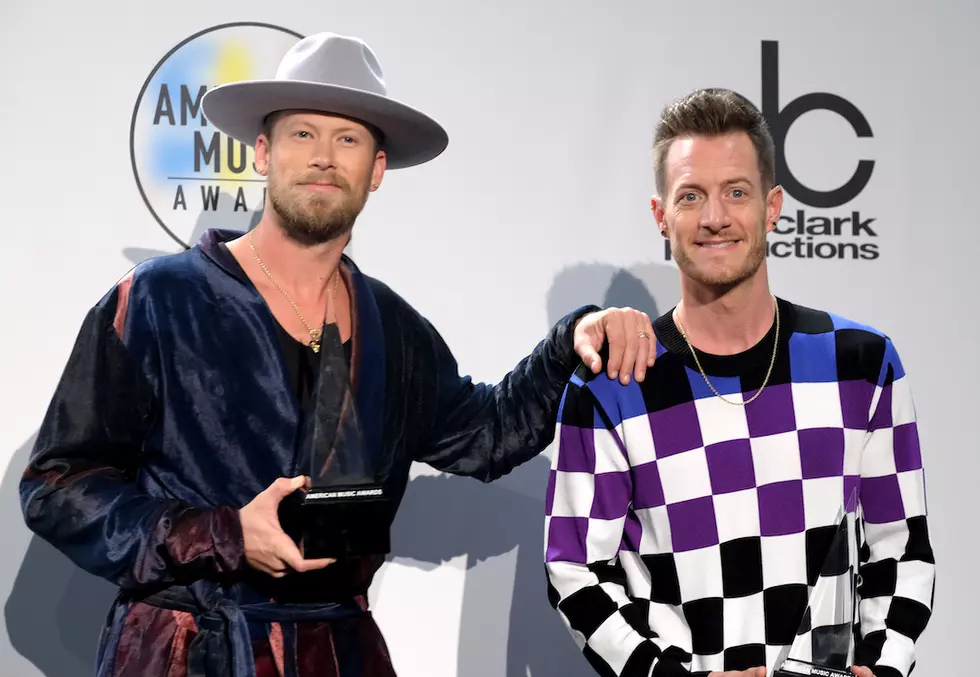 Florida Georgia Line Launch Round Here Records, Sign Canaan Smith
Matthew Simmons, Getty Images
Add Florida Georgia Line to the list of country artists with their own record labels. The duo's Tyler Hubbard and Brian Kelley have announced the launch of Round Here Records, with Canaan Smith as their first signee.
According to Billboard, Round Here Records has three additional artists already ready to release music. Smith is also signed to Florida Georgia Line's publishing company, Tree Vibez Music, but Round Here Records will release music from both artists signed to Tree Vibez and acts FGL find elsewhere. The duo themselves will remain with Big Machine Label Group.
"The label started with a passion to create music and to make records. It happened organically [as] we continued to find the artists and friends that we love, believe in and thought had a gift and talent that we wanted to try to nurture," Hubbard says. "It turned into something that we are really excited about. [We're] trying to do some trailblazing in this record label space."
Adds Kelley, "Tyler and I are looking for great people, great talent and great songs, and that's what Round Here and Tree Vibez is always focused on."
Smith, who was previously signed to Mercury Records Nashville and has the No. 1 single "Love You Like That" under his belt, is releasing the song "Beer Drinkin' Weather" -- co-written with Hubbard, Kelley and Corey Crowder -- as his first single with Round Here Records. The label is not planning to promote the song to radio, or to release an album of Smith's music, at this time; rather, they'll continue to release one-off songs of his and see what connects, then discuss the next steps.
"The thing that Tyler and I love seeing is a little bit of me and him in each of these artists," Kelley says. "There's something about each artist, each songwriter, that reminds us of us and that's what we're drawn to. Each time we fall in love with music and this journey over and over again."
Round Here Records is currently concentrating on country music, but working with artists of other genres isn't out of the question. "Our main focus is good songs. If somebody were to come in and have a bunch of great songs or a specific style of music that lent itself to the pop world, then we'd definitely be open to pursuing that with the right partners," says Hubbard.
Round Here Records gets its name from Florida Georgia Line's 2013 hit "Round Here." The double-platinum song hit No. 1 on the country charts.
All of Florida Georgia Line's Albums, Ranked