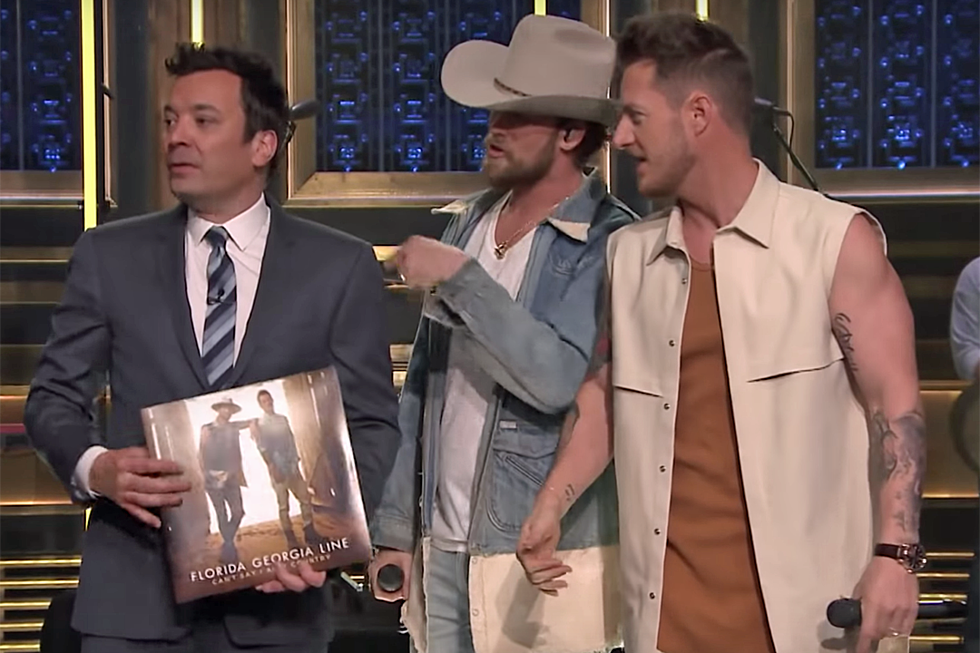 Florida Georgia Line Are, Like, Really Eager to Get on Jimmy Fallon's Couch [Watch]
YouTube
Florida Georgia Line have been on The Tonight Show a whopping six times, but like, why can't they sit down and talk to host Jimmy Fallon?
That's what the guys — and their 'rep' — were wondering when the duo stopped by the NBC late-night show to perform their song "Colorado" on Monday (Feb. 25).
In a hilarious skit that actually did air on TV, the band's "manager" approaches Fallon to have a little chat while he's watching the duo sing. Annoyed, Fallon fields the guy's questions about why FGL's Tyler Hubbard and Brian Kelley can't seem to get an invite to sit on the couch for an interview. The host urges him to talk to "the booker," but the manager isn't having it, insulting Fallon and making a jab about cockroaches running loose on set.
The Secret History of Florida Georgia Line's "Cruise":
Hilariously, Florida Georgia Line get in on the jokes after their set wraps, with Kelly whispering in the host's ear that he tried sushi for the first time while in Los Angeles — and he didn't hate it! Hubbard shook his hand, but used it as an opportunity to further beg Fallon to sit on the couch and have a chat.
The skit was in honor of Fallon's fifth year anniversary of hosting The Tonight Show and will have to suffice as FGL's formal interview for now.
"Colorado" is from FGL's new album, Can't Say I Ain't Country, which dropped on Feb. 15. Up next, the duo will head out on their 2019 Can't Say I Ain't Country Tour with openers Dan + Shay, Morgan Wallen, Canaan Smith, and Hardy. Tickets go on sale to the general public on Friday, March 1.
11 Definitive Florida Georgia Line Songs: