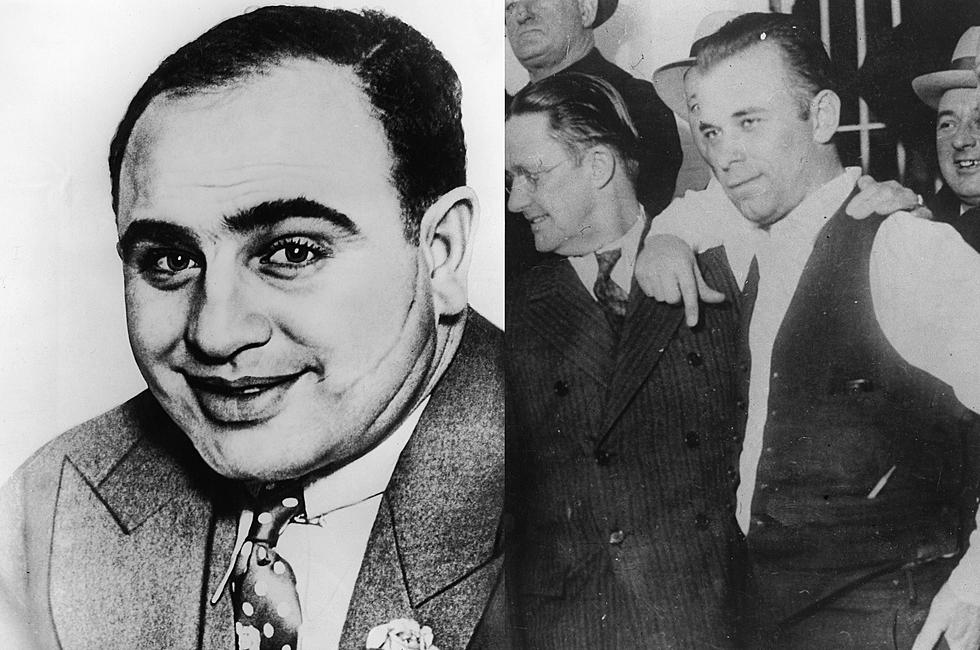 Famous Gangsters Dined at Cedar Rapids Restaurant Still Open Today [PHOTOS]
Getty Images
Years ago, a Cedar Rapids restaurant that has a history that dates back more than a century had some very infamous diners.
1912 was the year the Lighthouse Inn was built in what was then rural Cedar Rapids. The Lincoln Highway (now known as Mt. Vernon Road in that part of the city) would open in 1913 and be "the first transcontinental road for automobiles in the United States."
As you can imagine, it brought a huge number of travelers by the Lighthouse Inn, which is still open today, almost 110 years later.
Some of those travelers included infamous gangsters. Gangsters like Al Capone and John Dillinger (photos below). According to the Lighthouse Inn website,
During prohibition it became a common stop for Chicago land mobsters looking to "beat the heat" until things cooled off back home in the Windy City.

Yes, Al Capone dined here. As did John Dillinger. If you're sitting in the booth to the left of the lounge entrance, that's exactly where Dillinger's gun went off and left a hole in the wall. Even though it is no longer there, it is still a part of our history.
Al (Scarface) Capone became the leader of a Chicago mob in 1925, according to the FBI. On Valentine's Day, 1929, the killings known as the St. Valentine's Day Massacre happened when "seven members or associates of the "Bugs" Moran mob were machine-gunned against a garage wall by rivals posing as police. The massacre was generally ascribed to the Capone mob, although Al himself was in Florida."
After Capone's lawyers wanted a postponement of his appearance in front of a federal grand jury on March 12, 1929, the FBI began to investigate Capone. After appearing, he was arrested on a contempt of court charge on March 27. He posted a $5,000 bond. In May of that year, he was arrested in Pennsylvania for "carrying concealed deadly weapons." He would spend nine months in jail, the first of many prison sentences on separate charges.
Capone would end up behind bars for more than seven-a-and-half years, before his release in the fall of 1939. His health had deteriorated due to syphilis and, in 1946, a doctor said he had the mentality of a 12-year-old. He died of a stroke and pneumonia in January of 1947.
The FBI says John Dillinger killed 10 men, wounded seven more, and robbed banks and police stations, and staged three different jailbreaks all from September of 1933 to July of 1934. That reign of terror started just after Dillinger was released following 8-and-a-half years in prison after he plead guilty to robbing a Moorseville, Indiana grocery store with another man.
On July 21, 1934, an informant named Anna Sage (real name Ana Cumpanas) contacted authorities. She told them that she and another woman would be attending a movie with Dillinger the following night. FBI agents were waiting when they left Chicago's Biograph Theater, shooting Dillinger three times. He was pronounced dead 20 minutes after walking out of the theater.
The FBI says 27 people ended up "convicted in federal courts on charges of harboring and aiding and abetting John Dillinger and his cronies during their reign of terror."
The Lighthouse Inn, where the infamous pair once dined, separately, is located at 6905 Mount Vernon Road in Cedar Rapids.
Gangsters Al Capone and John Dillinger
The two infamous gangsters both dined at the Lighthouse Inn in Cedar Rapids, that's been in business since 1912.
25 True Crime Locations: What Do They Look Like Today?
Below, find out where 25 of the most infamous crimes in history took place — and what the locations are used for today. (If they've been left standing.)