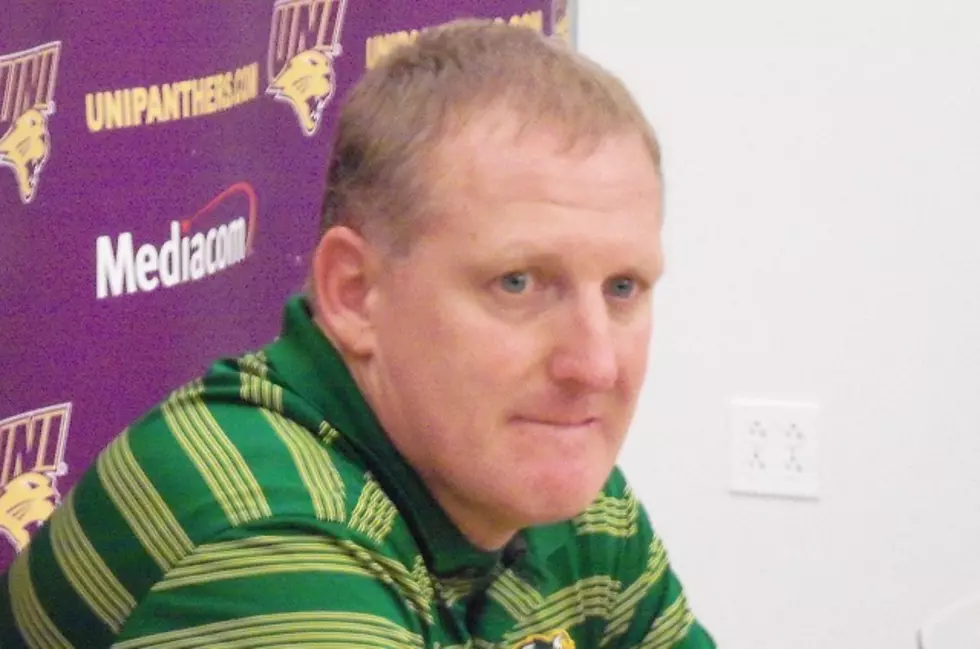 Waterloo Native Named Football Coach At Kansas State
Chris Klieman / Photo By: Elwin Huffman - Waterloo Broadcasting
A Waterloo native will be introduced as the new football coach at Kansas State University on Wednesday (Dec. 12, 2018).
Chris Klieman is leaving North Dakota State to take over the Wildcats' program. He's replacing Bill Snyder, the Hall of Fame coach who announced his retirement on Dec. 2 following a 5-7 season.
Snyder was an assistant on Hayden Fry's staff at Iowa when Kansas State hired him in 1988. He turned a morbid football program into a consistent contender, winning 215 games in 27 seasons.
"This is an absolute dream job," Klieman said in a release, posted on the Kansas State Athletic Department's website. "I'm so happy and thrilled to follow a legend in Coach Snyder. I've followed him from afar, went to his camps while playing in Waterloo, Iowa, and played against his Kansas State team when I was at Northern Iowa. The opportunity to follow in an icon's footsteps is something I don't take for granted and don't take lightly. I know I have huge shoes to fill, and I'm excited to carry on his legacy."
Klieman has agreed to a six-year contract, which includes a base salary of $2.3 million in 2019 and a $200,000 increase each of the following seasons. A number of other incentives are also part of the deal.
Under Klieman's guidance, North Dakota State has gone 67-6 the past five seasons combined. The Bison have won five-straight conference titles and three Football Championship Subdivision (FCS) national championships under his leadership.
On Friday, North Dakota State hosts South Dakota State in an FCS semifinal game. Klieman will coach the Bison, and plans to lead them during their current post-season run. They host South Dakota State in a semifinal game Friday night.
In six seasons overall as a head coach, Klieman's record is an impressive 70-13.
The 51-year-old began his coaching career as a graduate assistant at UNI, his alma mater, from 1991-92 before being promoted to an assistant coach in 1993. From there, he served as an assistant coach at Western Illinois from 1994-96 before moving on to Kansas, where Klieman was as a GA in 1997 and an assistant coach in 1999.
Klieman was the defensive coordinator at Division III Loras College in Dubuque from 2002-04 before taking over as the Duhawks' head coach for the 2005 season. He returned to UNI in 2006 as an assistant coach before being elevated to defensive coordinator for the 2009 and 2010 seasons.
A Waterloo Columbus Catholic High School graduate, Klieman was a three-time All-Gateway Conference defensive back at UNI and four-year letter-winner from 1986-90. He graduated from UNI in 1990 with a bachelor's degree in health education and a master's degree in physical education in 1992.