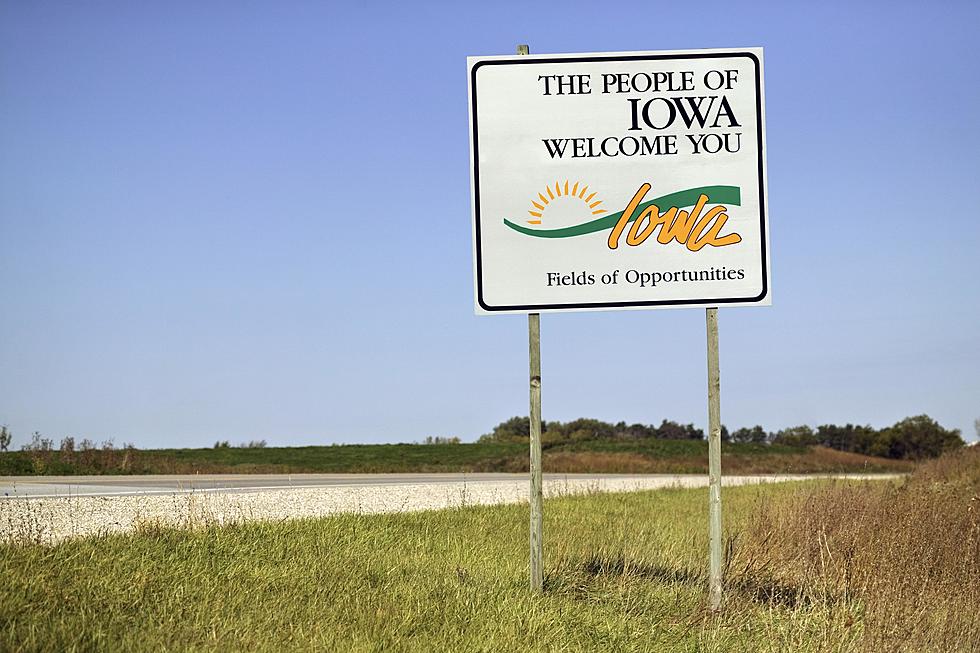 5 Myths About Iowa Most Americans Believe Are True
Getty Images
Stop me if you're heard this one: IOWA IS FLAT! Ooh, or Iowa has no tourist attractions! If you have, you're not alone. The Hawkeye State is subject to several myths that most Americans tend to think are true. After checking out a great story about Michigan myths on a website for one of our sister stations, I was inspired to dive into some Iowa myths that most Americans, who can find Iowa on a map, think are true.
These myths range from ones some Iowans may think are accurate, to ones that we all know are totally bonkers, but need to dispel nonetheless.
Myth one: Iowa is FLAT!
While Iowa is far from mountainous, it's also not flat. A trip to NE Iowa will prove this quickly. Between the rolling hills of Decorah, Iowa, and the nearby driftless region (which also sneaks into both Minnesota and Wisconsin), Iowa is not flat. The western part of the state is also home to the Loess Hills region which as the name implies, is not flat.
Myth two: Iowa has no tourist attractions!
Ohh really? One BI international one that comes to mind is RAGBRAI. RAGBRAI is an acronym and registered trademark for the Register's Annual Great Bicycle Ride Across Iowa. Not a race, but a ride from one river to the other (Mississippi on the eastern border, Missouri on the western). This ride attracts thousands of tourists and yes, some come from outside the U.S.
Iowa is also home to several minor league sports teams and soon enough will be home to a pro soccer team. Throw in our college sports, and that's as touristy as I've ever seen.
Myth three: Iowans are all farmers
So okay, my wife is a farmer. Her family is made up of farmers... but no, not everyone here is a farmer, or is even connected to a farmer. Iowa has plenty of other jobs. For example, we have John Deere plants (yes, John Deere is associated with farming, but the employees are not farmers). John Deere employs many skilled laborers and engineers. We have factory workers working in plants for companies like Tyson, Quacker, and General Mills. Oh, and soon we'll have a massive Apple data center.
Myth four: Nothing important has come out of Iowa
Oh really? We gave the world John Wayne. We also gave 'em Cloris Leachman, Ashton Kutcher, Johnny Carson (born in Corning, Iowa), and Herbert Hoover. Well, Hoover was a pretty lousy President, but still, he's part of U.S. history and history is important!
Myth five: Iowa is Idaho
Idaho is a beautiful state, or so I've heard. The potato capital of the U.S, is, however, not Iowa. Yes, we're also mainly vowels. Yes, we also start with "I". Yes, we're largely known for an agricultural product. But no, we're not in the same state. Sorry, it would be easier if we were for most people. But, we're not.
There you have it, the common Iowa myths many Americans just assume are true. If you know someone from out of state, pass this along to them. It's always important to educate everyone about our lovely state!
LOOK: Here are the 25 best places to live in Iowa
Stacker
compiled a list of the best places to live in Iowa using data from
Niche
. Niche ranks places to live based on a variety of factors including cost of living, schools, health care, recreation, and weather. Cities, suburbs, and towns were included. Listings and images are from
realtor.com
.
On the list, there's a robust mix of offerings from great schools and nightlife to high walkability and public parks. Some areas have enjoyed rapid growth thanks to new businesses moving to the area, while others offer glimpses into area history with well-preserved architecture and museums. Keep reading to see if your hometown made the list.
$2 Million Sprawling Mansion in Bloomfield, Iowa