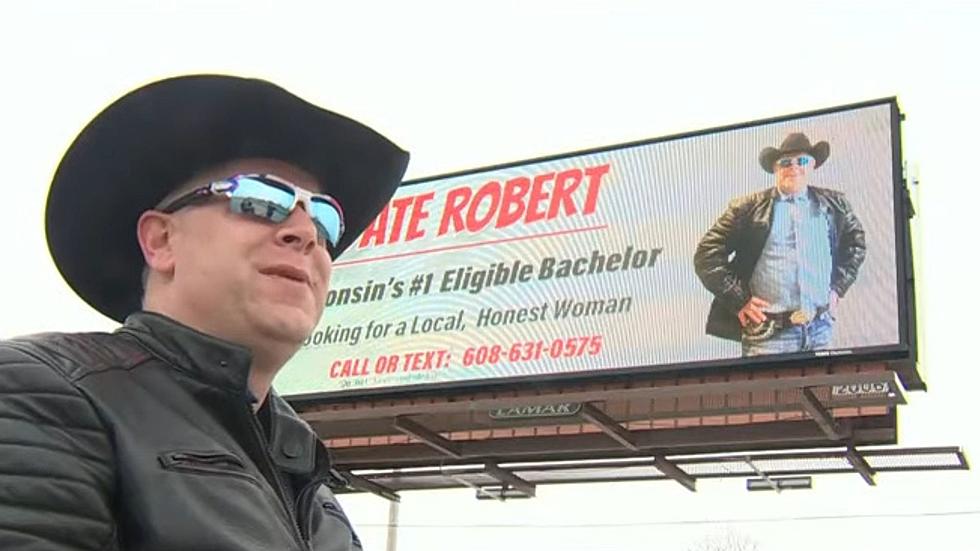 Wisconsin Man Creates Billboard To Find A Wife, It Backfires Immediately
WISC-TV via YouTube
In this day and age, dating is not an easy endeavor to set out on. Women don't like to be approached in bars, and more and more people exclusively meet their dates through dating apps. For some people, those dating apps just aren't realistic, or just aren't their cup of tea. One guy in Wisconsin is fed up and is trying his own method.
But, the local news isn't really helping his case.
43-year-old Robert Siegfried up in Janesville has given up on all of the normal avenues for finding a wife, so he's created his own.
"Dating sites just weren't working for me," he told WISC TV. "Match, Tinder, just none of them were working."
So, Robert created a graphic and had it plastered on an electronic billboard on one of the busiest roads in town. If "local, honest women" women call the number displayed on Milton Avenue in Janesville, they have a chance to have a date with the bachelor.
"I like country music. The American flag for the USA. I'm a country boy at heart," Siegfried said about himself.
So far, Siegfried hasn't had very good luck with the board. The majority of those reaching out to him aren't the woman he's looking for.
"You'd be surprised at how many pictures I'm getting," he said. "It's crazy. It's just like, oh, man, next, next, next, next, next."
The people of Janesville think it's a good idea and a unique one at that.
"Definitely better than Tinder and all the other dating apps," said Kenneth Valez. "Janesville has a lot of populous so I'm sure he'll get some hello's."
He said the billboard will bounce around the town's other billboards.
"Go big or go home. I mean you don't get any bigger than this," Siegfried said. "I hope people take it seriously. I hope people take it seriously. Don't be shy, call me."
WISC-TV ends their report on Robert and the billboards with what almost seems like a disclaimer to anyone who calls.
"Online court records show Siegfried had a restraining order put in place against him last year for a four-year period. A court also entered a default judgment in a disorderly conduct case involving the Town of Beloit late last year," the news outlet reported. 
Read more at WISC-TV
LOOK: Baby names that are illegal around the world
Stacker
scoured hundreds of baby name databases and news releases to curate a list of baby names that are illegal somewhere in the world, along with explanations for why they're banned.