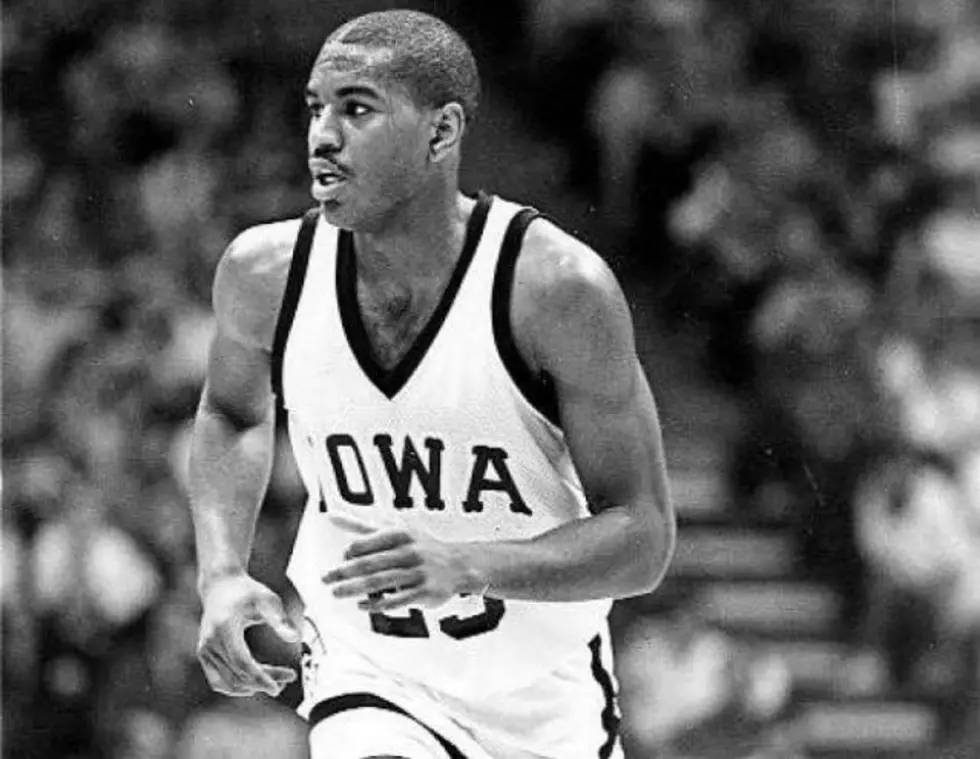 Why Iowa Needs to Retire Roy Marble's #23 Jersey
QC Times/file photo
The University of Iowa men's basketball program has gotten a lot of attention the past two seasons. One, they're really good. The Hawkeyes are currently a top five team heading into post-season play. Two, they have Luka Garza. Garza will likely be voted the National Player of the Year and recently broke Iowa's all-time scoring record. He learned that his number 55 will be retired when he completes his Iowa career. I'm fine with all of this, by the way. Garza has earned everything through hard work. But what about the man whose record he broke?
Roy Marble's number 23 has not been retired by the University of Iowa. The man who held the Iowa scoring record for 33 years does not have his name and number in the rafters of Carver-Hawkeye Arena. Now I understand you can't retire the number of every great player who comes and goes through your program, but Marble seems like an omission to me. Here are the retired numbers in Iowa basketball history, soon to be joined by #55 Luka Garza.
Carl Cain - #21
Ronnie Lester - #12
Bill Logan - #31
Sharm Scheuerman - #46
B.J. Armstrong - #10
Bill Seaberg - #22
Bill Schoof - #33
Greg Stokes - #41
Chris Street - #40
Roy Marble was a wonder to watch. I'm fortunately old enough to remember those amazing teams with Roy, B.J. Armstrong, and Ed Horton leading the way. As a sophomore and junior, Marble led Iowa to the Sweet Sixteen. In 1987, Iowa ascended to the number one ranking in college basketball. They advanced all the way to the Elite Eight, losing to UNLV. The Gazette reports that the Hawkeyes were 6-4 in NCAA Tournament games with Marble averaging over 17 points per game. He scored 20 or more four times.
Roy Marble left Iowa as it's all-time leading scorer, he also held the school record for field goals and field goal attempts, and when he left Iowa he was second in free throws and points in a season. He led Iowa in scoring three out of his four years in Iowa City. So why isn't his number retired?
Yes, Roy had his share of legal troubles after his playing career was over. But he always remained a faithful member of the Iowa basketball family. He then watched his son, Roy 'Devyn' Marble star at Iowa. He posed for pictures. He signed autographs. And then, in the summer of 2014, he was diagnosed with stage four terminal cancer. In March of 2015, Iowa recognized Marble one final time at Carver Hawkeye Arena. They gave him a framed jersey. Marble died September 11, 2015.
So here is my proposition, Hawkeye fans. Before we celebrate Luka Garza next year in a hopefully packed Carver Hawkeye Arena, we celebrate Roy Marble. We hang his jersey number up high in the rafters. We bury whatever hatchet exists with his family, and have them all there for the ceremony. Bring back B.J., Eddie, the whole gang. Spare no expense.
For 33 years, Roy Marble gave Iowa players something to shoot for. He deserves an evening all to himself.
Iowa's Rich List: Famous Iowans And What They Are Worth