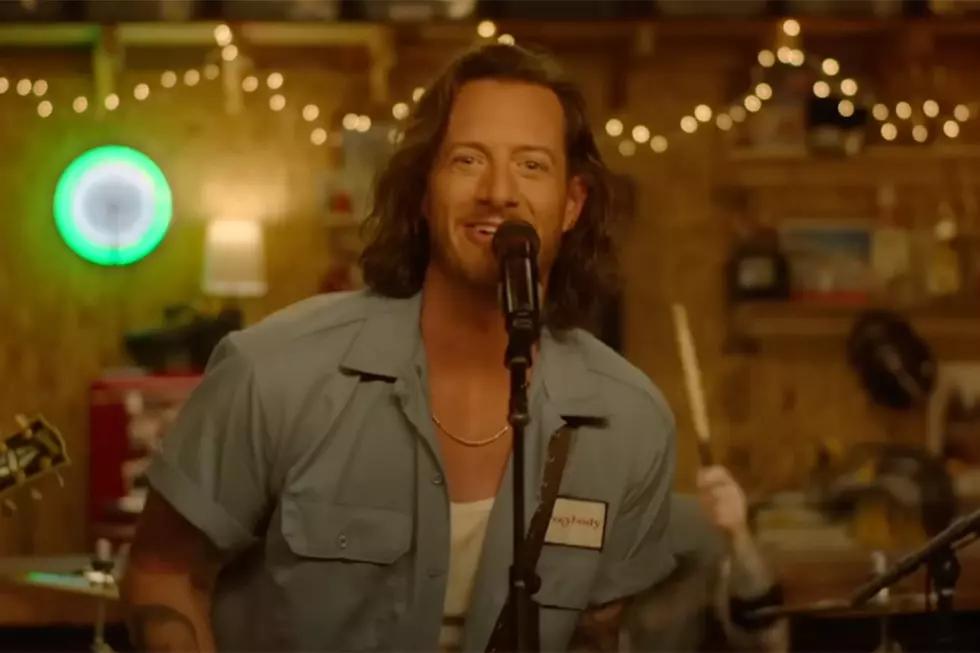 Tyler Hubbard Throws Garage Party in 'Everybody Needs a Bar' Video [Watch]
YouTube
Tyler Hubbard is highlighting another track from his debut solo EP, Dancin' in the Country, and this time, it's the jovial "Everybody Needs a Bar." The former Florida Georgia Line hitmaker released a fun-loving music video to go along with the track on Friday (Sept. 9).
Hubbard co-wrote the song with Jordan Schmidt and Zachary Kale, and it centers around the need for everyone to have a go-to bar where they can drink some beer, throw some darts and decompress on "Friday at 5:01." Throughout the song, he describes this perfect hometown bar and stresses the importance of finding such a place by comparing it to a "cornfield" that "needs rain," a "pickup" that "needs gas" and other examples.
"Yeah, everybody needs a bar / A spot that they can go / A band they wanna hear / And a beer they wanna hold / A dart that they can throw / Some s--t that they can shoot / Everybody's got a friend when you sittin' on a stool," he sings in the chorus.
The song's instrumentation echoes the lighthearted lyrics, as rhythmic guitars, banjo, honky-tonk-influenced piano and other elements help drive the message home.
The song's "unofficial" music video is just as fun as the song itself. It finds Hubbard opening a bar in a backyard garage called "Everybody's Bar." He and his band begin to perform the song inside the garage bar, and little by little, the neighbors start to show up. A man watering his lawn and a suited-up businessman are the first to drop everything to join the party, and soon, a crowd of people are enjoying a fun night at Hubbard's bar.
The singer switches between performer and bartender while the fun ensues, and the party is in danger of ending when a disgruntled-looking woman shows up. Her tune changes, however, when she is handed a margarita.
Hubbard shared his excitement for the release of the video on social media, writing, "Everybody should have a place — their own version of a bar — to go where they feel a sense of welcoming and belonging. I think we were able to create that vibe in this video. It's Friday at 5:01 somewhere, so cheers to y'all and I hope you enjoy the video."
The song about everyone's favorite "local watering hole" continues to play over the fun music video. At the end, Hubbard sends shoutouts to artist-owned Nashville bars, including his own, and pitches an idea for a bar Carrie Underwood could open.
"Yeah, these days we got Luke Bryan's, Aldean's, FGL's on 3rd / Blake's got Ole Red, Whiskey Row, that's Dierks' / Yeah, ol' Kid Rock's Honky Tonk, Casa Rosa's good / Carrie ought to open Carrieoke Underwood / 'Cause everybody needs a bar / Everybody needs a bar," he sings.
Dancin' in the Country dropped on Aug. 19 and features six tracks, including Hubbard's current solo single, "5 Foot 9."
PICTURES: See Inside the New Florida Georgia Line Country Music Hall of Fame Exhibit
A new exhibit devoted to the career and influence of Florida Georgia Line is currently open at the Country Music Hall of Fame and Museum in downtown Nashville.
Florida Georgia Line: Mix It Up Strong features childhood musical instruments, handwritten keepsakes, clothing the duo wore on stage, in videos and on album covers and much more, documenting 10 years of country music superstardom.