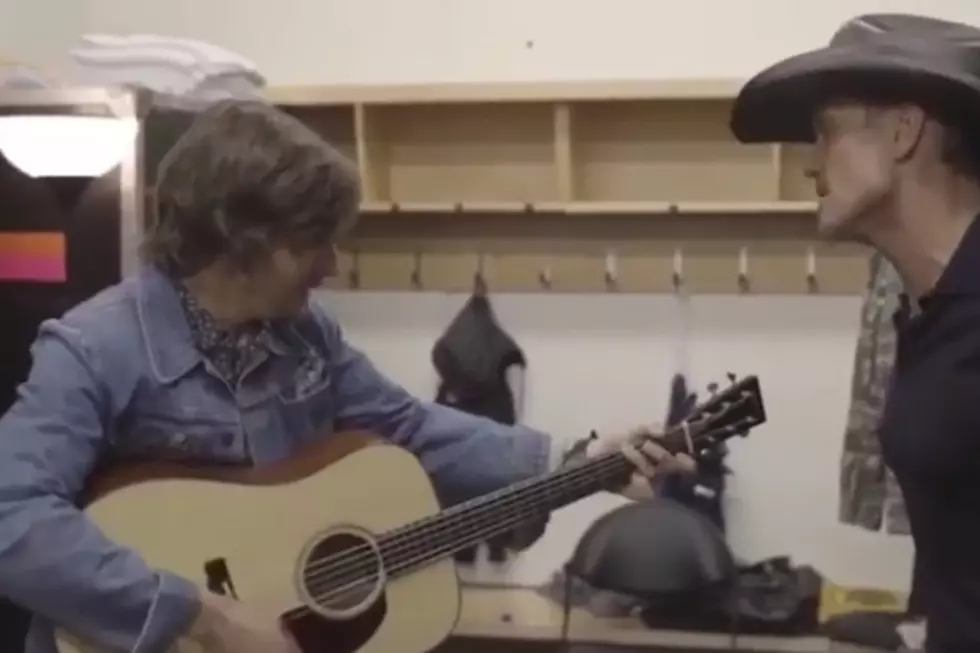 Tim McGraw, Charlie Worsham Team to Cover Glen Campbell's 'Rhinestone Cowboy' [Watch]
@TheTimMcGraw via Instagram
McGraw shared the video above to Instagram on July 7, writing, "This guy rocks! @CharlieWorsham and I doing the great @GlenCampbellOfficial's 'Rhinestone Cowboy.'"
McGraw takes the high lead vocal part for their impromptu cover, with Worsham strumming the chords on acoustic guitar and providing the harmony vocal underneath on the chorus of "Rhinestone Cowboy," which was one of Campbell's career-defining hits when he released it as a single from his album of the same name in 1975.
See Pictures From Tim McGraw and Faith Hill's 2017 Soul2Soul Tour
Written by Larry Weiss, the classic track talks about the struggles of a career in music, with the narrator dreaming of the day he'll be "like a Rhinestone Cowboy / Getting cards and letters from people I don't even know / And offers coming over the phone." The song reached No. 1 on Billboard's Hot Country Singles, Hot 100 and Adult Contemporary charts at a time when Campbell was the most successful male vocalist in America across all genres.
McGraw has been teaming with his opening acts for a series of informal backstage covers as he and wife Faith Hill cross the country on their 2017 Soul2Soul Tour, which marks her return to the road after an absence of a decade. He joined Midland for a cover of Alabama's "Dixieland Delight" and the Shadowboxers for Leo Sayers' "More Than I Can Say."
Hottest Tours of Summer 2017
Watch Faith Lead the Crowd in a Singalong for Tim