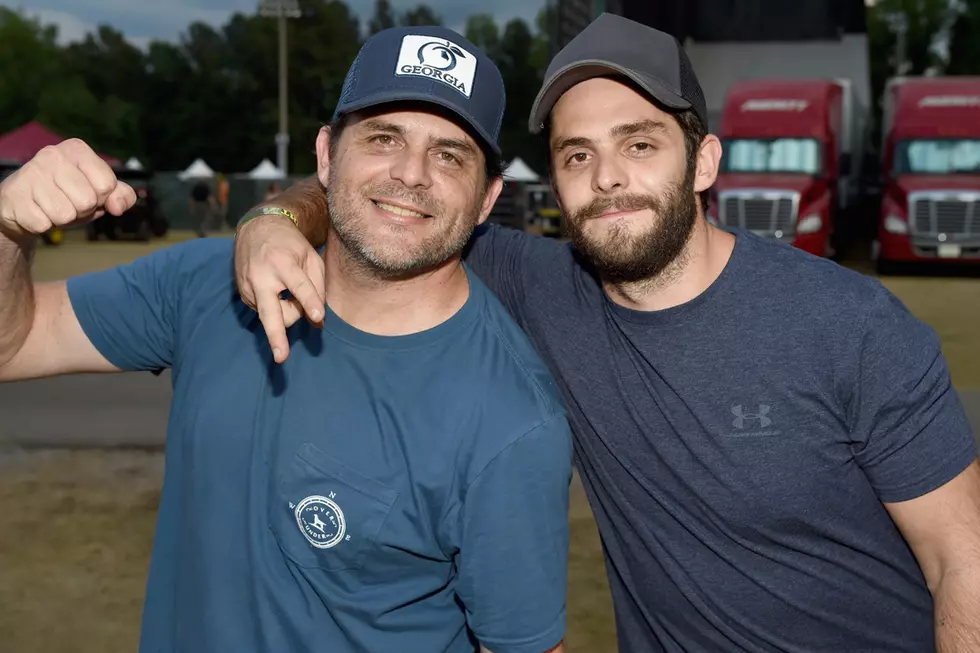 Thomas Rhett Partnering With Dad and Jay Z for New Publishing Company
Rick Diamond, Getty Images
Thomas Rhett is teaming with his longtime manager, Virginia Davis, his father and well-known songwriter Rhett Akins and rapper Jay Z's Roc Nation to create a new Nashville publishing company: Home Team Publishing.
Jay Z founded Roc Nation in 2008, and opened an office in Nashville in 2016 to officially expand his reach to Music City. At that time, Roc Nation and Warner/Chappell (Warner Music Group's publishing arm) teamed with the songwriter, producer and publisher Jesse Frasure to launch the publishing and production company known as Rhythm House. The creation of Home Team Publishing further expands Roc Nation's arm into country music.
"Songwriting has been a huge part of my life for as long as I can remember," Rhett says. "I was a songwriter before I was an artist, and I was lucky enough to find a team that believed in me really early on. Songwriting [is] the foundation for my artist career, so I'm excited and honored to be able to invest in the future of the songwriting community."
Things only appear to be getting stronger as he continues to work with his father. Rhett's most recent No. 1 hit "Star of the Show," penned by Rhett and Akins, became the first song written by a father-son combo to top the Billboard country charts. Akins had his own career as a recording artist in the 1990s.
"I'm beyond excited to be a part of Home Team Publishing," Akins says. "Why wouldn't I be? I get to work with Virginia Davis and Thomas Rhett — two of the most hard-working, talented and creative people in the industry."
Rhett's personal publishing won't transfer to Home Team — that will remain with his current publisher, EMI/Sony. Home Team Publishing recently signed its first writer, Seattle native Eric Olson, who has worked with acts including Dave Barnes, Chris Lane and more. Olson also co-wrote and co-produced Kelly Clarkson's 2012 single "Catch My Breath."
Rhett is having a huge year in 2017. He recently took home Song and Male Vocalist of the Year honors at the 2017 ACM Awards, and he and wife Lauren are not only expecting their first child, they're adopting another from Africa. Rhett has also been out on the road on his first full headlining tour, the Home Team Tour. He recently released a new single featuring Maren Morris, "Craving You," which is the lead single from a new album he'll release in 2017.
Check Out These Adorable Pictures of Thomas Rhett and Lauren Akins
Unforgettable Thomas Rhett Moments