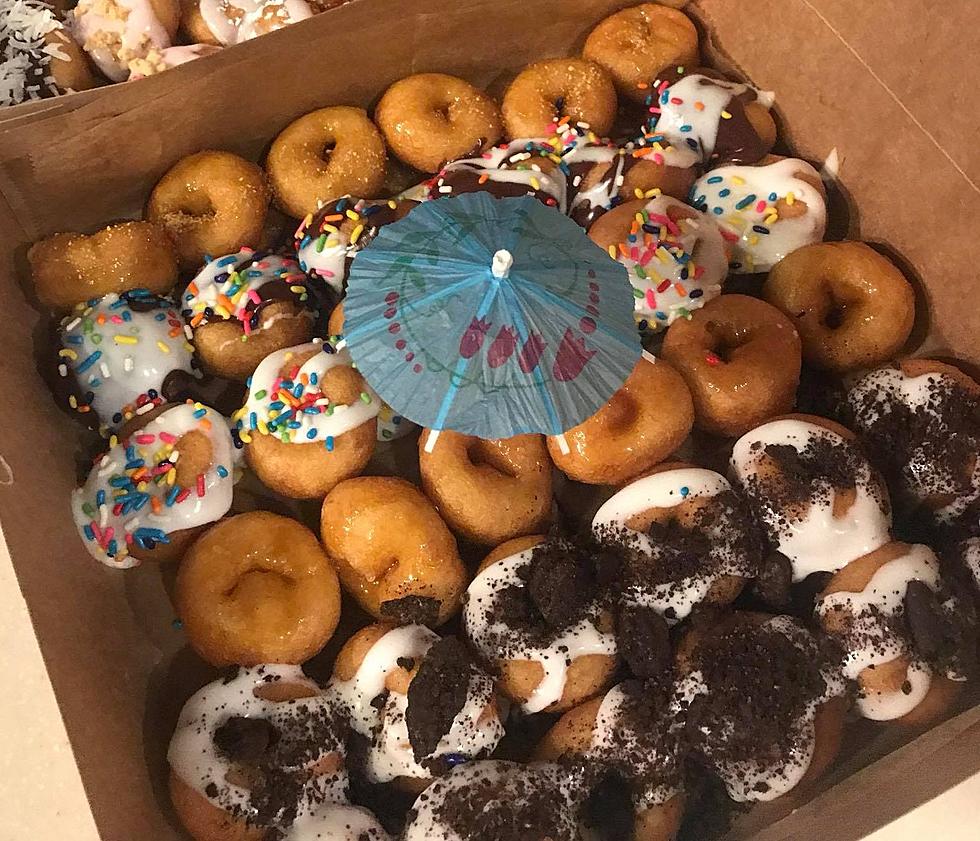 The Best Donut in Iowa is Actually a Mini Donut [PHOTOS]
Mahalo's Coffee & Mini Donuts, Facebook
We have a few great donut shops here in Eastern Iowa, but if you want the best in the state, you'll have to travel over to Des Moines!
According to a new list from Eat This, the best donut in all of Iowa is actually a MINI donut! With the help of reviews on Yelp, the Apple Tiki Donut from Mahalo's Coffee & Mini Donuts was named the most delicious in the state.
The Apple Tiki Donut is topped with caramel glaze, apple cobbler, and cinnamon sugar, and, like all of the donuts at Mahalo's, it's made fresh right in front of you! Some of the other donut flavors at the popular shop include Bacon Sunrise, Cinnamon Lava, S'more Shoreline, and Hula Honey. They all look SO GOOD.
Mahalo's Coffee & Mini Donuts, located at 4800 Mills Civic Pkwy in West Des Moines, has a 4.5 star rating on Yelp and 4.8 stars on Facebook. There are lots of positive reviews, like one from Ashley C. that reads:
"These donuts are EVERYTHING your taste buds could desire. They are the most delicious, melt in your mouth mini donuts! With a variety of flavors and the option to mix and match your order, I promise you won't be disappointed."
Another from user R.G. says:
"Love these donuts! Always get a dozen. Always gone within minutes. Fresh. Sweet. Yummy."
Oh, AND they offer mini donut birthday cakes! How freaking awesome is that?!
For more information on the best donuts in Iowa, you can visit the Mahalo's Coffee & Mini Donuts Facebook page HERE.
Who do you think has the best donuts in Iowa? Let us know in the comments!
Everything Brain & Courtlin Ate at the 2021 GJCF
30 Cool Outdoor Patios to Dine On This Summer Around the Corridor
Now that spring is here, patio season is right around the corner! With the help of Eastern Iowans in the
Deetz - Let's Support Local!
Facebook group, I put together a list of 30 awesome patios in the area where you can dine and/or drink when the weather gets warmer. Here are some of the popular places!