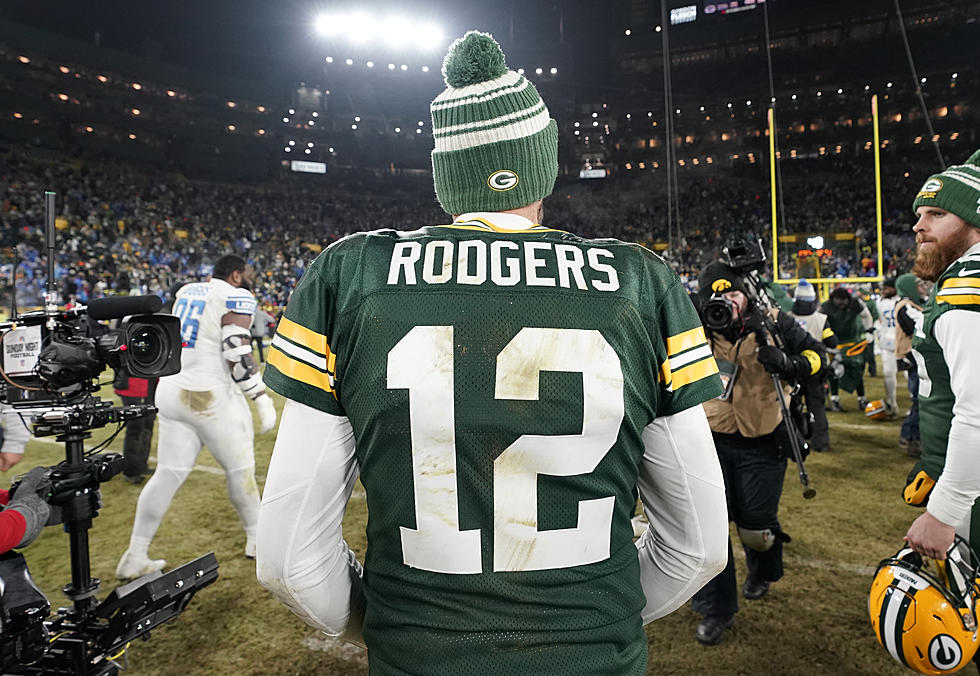 Saying Goodbye to a Legend and Hello To The Future [OPINION]
Getty Images
The worst-kept secret in sports was finally confirmed on Wednesday. Aaron Rodgers appeared on the 'Pat McAfee Show' and said that he would be playing football this season and that it would NOT be for the Green Bay Packers. Rodgers intends to play for the New York Jets. Somewhere, Brett Favre is getting off his tractor and saying to himself, "hey kid...this has already been done once before!"
As a die-hard Packers fan, the finality of yesterday's news hit me in a couple of different ways. I loved watching Aaron Rodgers play. As Packer fans, we have been truly spoiled with back-to-back Hall of Famers playing the position for the past 30 combined years. Just like Favre, Rodgers brought a title back to Titletown, winning the Super Bowl following the 2010 NFL season. Many thought it was the beginning of a dynasty. Rodgers would go on to win 4 NFL MVPs, and even though Packer teams in 2011, 2014, and 2020 were all good enough to win the Super Bowl, Rodgers-led teams would go on to lose 4 straight NFC championship games following their Super Bowl win.
In 2020, following a down year by Rodgers on the field, the Packer organization drafted his replacement in Jordan Love. Rodgers, clearly offended by the move, responded by winning 2 straight MVPs and making the Packers contenders again in the NFC. But much like Favre late in his career, the off-the-field issues began to overshadow the play on the field. The yearly retirement watch stressed out the organization and fans. And behind the scenes, many believed that Love was ready to play. Much like a young Rodgers was in Favre's final years.
As a Packers fan, Rodgers was supposed to be better than Favre. On the field, he was. But late in his career Aaron Rodgers apparently opened up the Brett Favre playbook and said, "let's give this a go!" Like Favre, Rodger's final pass as a Packer will be an interception in an elimination game at Lambeau Field. Like Favre, Rodgers will be traded to the same AFC team, the New York Jets. And like 15 years ago when Brett left for the Big Apple, fans of the Green Bay Packers will be left with a feeling of uncertainty.
Jordan Love is your new starting quarterback in Green Bay. I'm intrigued to see what he'll bring to the team. Like Rodgers before him, Love has watched a future Hall of Famer for three years. He has waited and earned his chance to lead this team. Only time will tell if he'll be the next great Green Bay Packers quarterback. For now, the drama is over. Rodgers watch 2023 has come to an end. The future will eventually see Rodgers join the Green Bay Packers and the NFL Hall of Fame. His number will be enshrined in the ring of honor at Lambeau Field. But for now, we'll have to get used to seeing our MVP in a different shade of green.
TACKLE THESE: Check Out the Best Uniforms In Each NFL Team's History
CHECK IT OUT: 100 sports records and the stories behind them