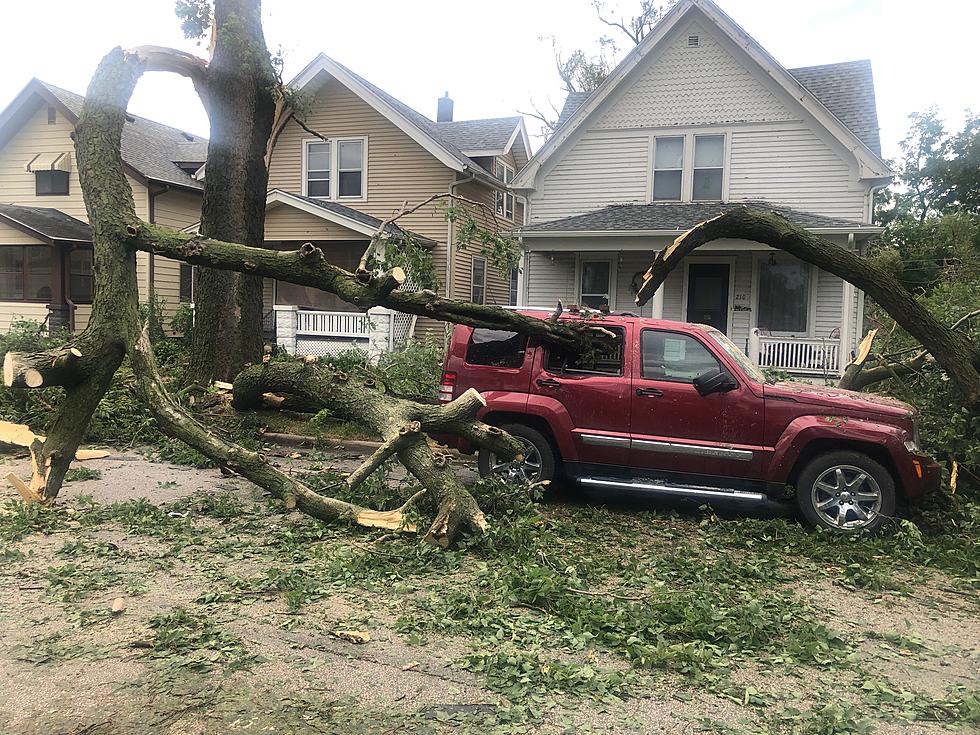 PHOTOS: Eastern Iowa's Massive Thunderstorm Causes Widespread Damage
Mike Ferris
A massive line of severe thunderstorms roared through Eastern Iowa early Tuesday afternoon causing widespread damage to property and trees.
Iowa's News Now reports tens of thousands of Eastern Iowa customers still without power.
Dozens of downed trees and power lines everywhere from residential neighborhoods to rural farm land. The widespread damage has left much of eastern Iowa looking as if a hurricane struck.
The storms crippled over the air communications of KHAK, KDAT and KRNA, although broadcast was uninterrupted on the mobile app and online.
Enter your number to get our free mobile app
In Cedar Rapids alone, nearly every neighborhood had at least moderate damage visible. Severe damage blocked roadways and down power lines. Fire, police and emergency crews were quick to respond, helping neighbors clear streets and to block off downed power lines. No word on how soon power would be restored, but utilities have dispatched its workforce.
Many businesses also sustained damage. Scott Wilson General Manager of the Cedar Rapids Kernels shares photos of serious damage to Veterans Memorial Stadium. The storm knocked out a tower of lights, and tore through the right field walls, leaving them bent back by winds at fastball speeds up to 100 mph.  
Two local Cedar Rapids bars sustained building damage, Jimmy Z's on 2nd St. SE posted photos of sign and structure damage took the roof off of the Kingston pub on 1st Ave. SW.
Cedar Rapids Police said there have been no reports of serious injuries or deaths caused by the storm. Police are warning citizens to stay safe and are asking residents to stay home. Police report that traffic congestion is becoming a major problem that would likely continue throughout the afternoon into the evening
Now looks like a long overtime workload facing down the entire community of Eastern Iowa. 2020 can't end soon enough. Here are some photos of the damage to the area. Share your photos of damages in your area in the app.
PHOTOS: Massive 2020 Storm Causes Widespread Damage in Cedar Rapids