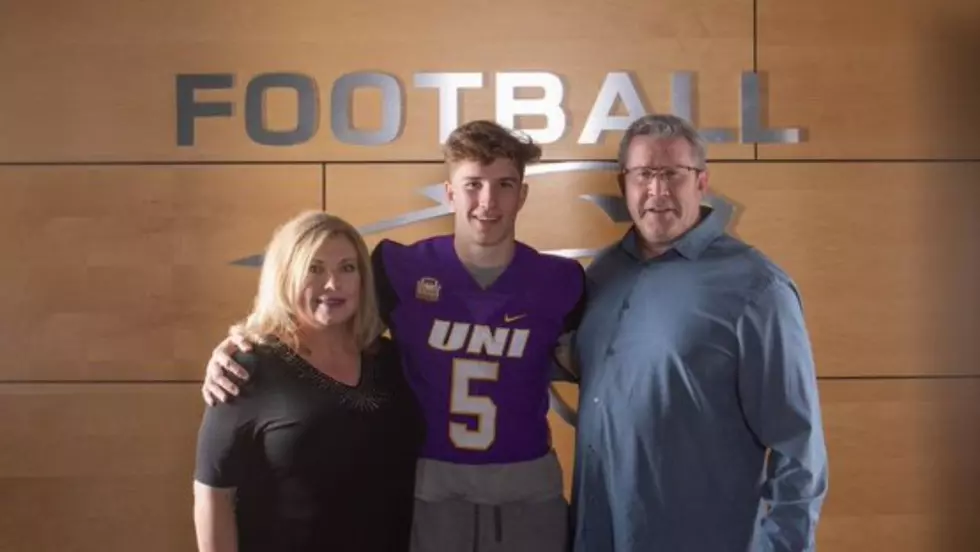 National Signing Day: The 2023 UNI Panther Signees
Grant Larkin
December 21 is the start of the early signing period for high school, JUCO, and transfer portal football players around the country. As of Wednesday, the Northern Iowa football roster is going to look quite a bit different.
Behind the recruiting of Coach Mark Farley and company, UNI will add 18 new faces to the 2023 squad from the high school level along with one JUCO addition. That's on top of the four commits and signees via the transfer portal, D.J. Hart, Mason Pierre-Antoine, Jonathan Cabral-Martin, and Josh Volk.
Here's what you need to know about each one.
Offense
Braylon Kammrad, QB Lewis Central / Council Bluffs, IA: Kammrad comes in after leading the Titans to back-to-back state championship appearances and is considered one of the best quarterbacks in Iowa. He passed for 2,778 yards and 35 touchdowns in 2022.
Carsten Bluhm, TE Lincoln, NE: A big-bodied tight end with loads of potential, Bluhm spent the majority of his time blocking in high school. After receivers coach Joe Ganz saw him catch passes at Friday Night Lights camp, he knew Bluhm could play at the next level.
Luke Reth, OL West Delaware / Manchester, IA: The recruit closest to Cedar Falls, Reth is a monster, earning All-State honors this season. He has a 530 squat max and 405 bench press max. He finished with 12.5 TFL on defense in 2022.
Grant Larkin, WR Neuqua Valley / Naperville, IL: One of the most high-profile recruits in the 2023 class, Larkin (pictured above) was initially committed to playing defensive back at North Dakota State before flipping to UNI to play wide receiver. He caught 53 catches for 896 yards and eight touchdowns his senior season. Larkin will be an early enrollee, starting classes in January.
Kaleb Cline, OL Spencer, IA: Though the position he will play as a Panther isn't set in stone, Cline is expected to play offensive line. At 6'5 and 245 pounds, he still has room to grow but has the potential to impact either side of the ball. He posted 15.5 tackles and six TFLs this season for the Tigers.
Jaiden Ellis-Lahey, WR Bethlehem, PA: A 6'3 receiver with long arms and speed, Ellis-Lahey is considered a three-star wideout by QB Hitlist, who says "With continued training and experience he could grow into a dominant wide receiver." He caught 11 touchdowns this season and had a preferred walk-on offer from Penn State.
Jackson Stortz, OL Hartford, WI: A Joe Thomas award finalist as one of the top offensive linemen in Wisconsin, OL Coach Ryan Clanton got a good one. Stortz stands at 6'4, and 250 pounds. He had offers from Montana, Indiana State, South Dakota, Navy, and Army with interest from Wisconsin, South Dakota State, and North Dakota State.
Defense
Malik Stewart, LB El Dorado, KS / Butler CC: The lone JUCO transfer during this signing period, Stewart comes in after recording 12 tackles and 3.5 sacks in six games as a defensive end for the Grizzlies. He received interest from Kansas and had several DII offers.
Anthony Isley, DB Mediapolis, IA: A high-level two-way player for the Bulldogs, Isley racked up 50.5 tackles, a sack, and 10.5 TFLs this season. He also led his team on the ground with 204 carries for 1,513 yards and 19 touchdowns.
Alonzo Morgan, CB Leawood, KS: A speedster with a 4.4-second 40 and 10.62 100-meter dash, Morgan put up 75 tackles and forced two fumbles this season. Though UNI was the lone DI school to offer Morgan, he received interest from Iowa, Kansas, New Mexico State, Kansas State, and others.
Magnus Wright, DL Champlin, MN: Previously committed to playing offensive line for Division II Minnesota State-Mankato, Wright made the decision to head for UNI after he was extended an offer in November. He'll play D-Line for the Panthers. This season, he finished with 35 tackles, four TFLs, 1.5 sacks, and a forced fumble.
Sam Reddinger, LB Morris, IL: A do-it-all player, Reddinger was listed as an athlete by most recruiting sites, as he played both sides of the ball. He is set to play linebacker at UNI and boasted 115 tackles, six sacks, and three forced fumbles this season.
Bradley Vislisel, DL Mount Vernon, IA: Vislisel wreaked havoc in eastern Iowa backfields in 2022 for the Mustangs, finishing with 32.5 tackles, nine sacks, and 24.5 TFLs. He announced his commitment to South Dakota a little over two weeks ago before flipping to UNI.
Andre Morris Jr, DL Tampa, FL: Morris is a big-bodied defensive lineman that possesses the raw, physical tools at 6'4 and 285 pounds to be a force at UNI. He received a preferred walk-on offer from Florida and scholarship offers from Florida International and Bowling Green.
Zach Mehmert, DL Crestwood, IA: With Spencer Cuvelier on the way out, Mehmert fills the Crestwood void on UNI's roster. He registered 37 tackles, two sacks, six TFLs, and recovered a fumble this season. Also caught 13 passes for 143 yards and two scores.
Brogan Ling, LB Lincoln, NE: An under-the-radar linebacker, Ling put together 88 tackles and five sacks this season while being named All-State Honorable Mention. He had offers from St. Thomas and MVFC rival, North Dakota. Also received interest from Nebraska, Kansas, Kansas State, and Wyoming.
Lance Berends, EDGE HMS (Iowa): The 21st-ranked player in Iowa according to 247Sports, Berends fielded a barrage of offers before choosing UNI. He registered 62.5 tackles, 15 TFLs, and seven sacks for HMS this season. He was teammates with Iowa State signee, Kooper Ebel.
Tyson Cooreman, LB Randolph, MN: A versatile athlete who played on both sides of the ball for Randolph Secondary, this two-star recruit is set to play linebacker at UNI. He received interest from Minnesota, North Dakota State, and North Dakota.
Cole Dutkovich, OLB Neuqua Valley / Naperville, IL: A high school teammate of Larkin, Dutkovich was also highly recruited. He fielded offers from FBS New Mexico State, Bowling Green, Akron, and Army. He was named the Naperville Sun 2022 Football Player of the Year. 
25 UNI Panthers that Went Pro
Northern Iowa has some of the best athletes and athletic programs in all of mid-major sports. With their consistent placement towards the top of the Missouri Valley Conference, it's no surprise they have a few professional athletes to their name -- here's a few.
Main Street, Cedar Falls - Here's How Much Things Have Changed
In the past 10+ years, a LOT has changed on the always popular Main St. in Cedar Falls. Let's revisit the changes and memories.