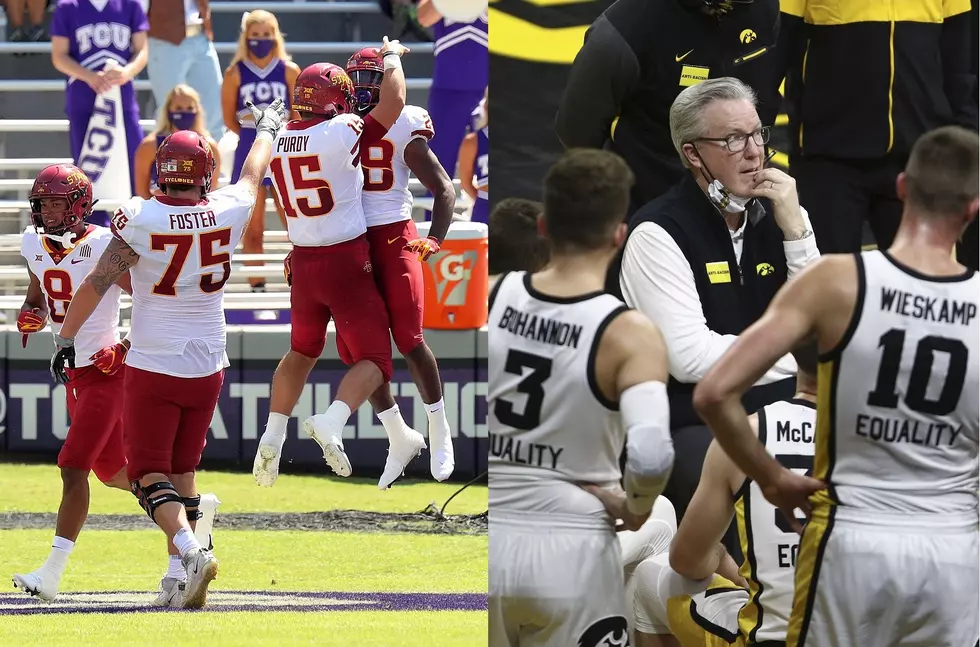 Iowa, Is This Saturday the Biggest Sports Day of Our Lives?
Richard Rodriguez and Matthew Holst, Getty Images
I've been an Iowa sports fan my entire life, but never can I remember a day like the one that awaits us. This is going to be fun.
Where do I even begin? Iowa State, and deservedly so. The Cyclones play in the Big 12 Championship game for the first time on Saturday. Iowa State last won a conference championship in 1912, the year the Titanic sunk.  Known as Iowa State College then, the school shared the Missouri Valley Conference title with Nebraska.
Iowa State (8-2 overall and 8-1 in the Big 12) takes on the Oklahoma Sooners (7-2 and 6-2). The Cyclones beat Oklahoma 37-30 in Ames on October 3. The rematch comes with Iowa State ranked #8 and Oklahoma #12 in this week's Associated Press College Football Top 25 rankings.
The Big 12 Championship game kicks off Saturday morning at 11 a.m. on ABC. Oklahoma is a 5-and-a-half point favorite. Sorry, I'll take Matt Campbell's Cyclones.
Somehow the television networks have managed to schedule the Iowa State football game at the same time as a big game for the University of Iowa. WHY does this keep happening?! This time it's not the Iowa football team, but the Iowa men's basketball team that will be playing at the exact same time.
The Iowa hoopsters are 6-0 to start the season. They're averaging 100.5 points per game and are ranked 3rd in the nation in the new AP poll that came out this morning. The Hawks will battle top-ranked, and also undefeated, Gonzaga in Sioux Falls, South Dakota on Saturday. The Bulldogs (or Zags as they're often called), haven't played since December 2 due to COVID-19 concerns on the team. Iowa's leading scorer is Luka Garza, who's averaging 29.2 points per game. Amazingly, that's not the top scoring average in the Iowa basketball program this year. More on that in a little bit. Today, Garza was named Co-Big Ten Player of the Week. It's the second time this season he's received that honor.
Iowa and Gonzaga tip-off Saturday morning at 11 a.m. on CBS. If you don't have a television with picture-in-picture, go buy one now.
*Tuesday afternoon, the University of Iowa announced Saturday's women's game was postponed due to COVID-19 concerns in the Ohio State program.
Also on Saturday, the Iowa women's basketball team travels to Columbus to take on the 18th-ranked Ohio State Buckeyes. After roaring back on their home floor last week against Iowa State, Lisa Bluder's team has a home winning streak of 39 games. The Hawks are led by freshman Caitlin Clark (#22 below) who is averaging 29.8 points per game. Yes, both the Iowa women's and men's basketball teams have someone averaging nearly 30 points per game. Incredible. Clark was named both the Big Ten Player and Freshman of the Week this morning. That's the second consecutive week she's won both awards.
The Iowa women's game Saturday will also tip-off at 11 a.m. Shocking, I know. The game will be available on BTN+.
*Tuesday afternoon, the Iowa-Michigan football game scheduled for December 19 in Iowa City was canceled. Details HERE.
Back in October, I wrote a story about the beginning of the Iowa football season in which I said, "The defensive side of the ball will have a lot less familiarity for Iowa fans. How quickly things can gel there, and how well (quarterback Spencer) Petras plays, will definitely determine how things go for the 2020 Hawkeyes during this abbreviated season."
Clearly, things "gelled" pretty quickly for the Iowa defense, which has now given up 24 or fewer points in 22 consecutive games. That is by far the longest streak in the FBS. Though there have been growing pains for Petras at quarterback, which were to be expected, it's been a fun 2020 campaign. The Hawkeyes have a six-game winning streak and are ranked #18 in the latest AP College Football poll.
Iowa, 6-2, hosts Michigan (2-4) this Saturday for Big Ten Champions Week. The Wolverines have had their last two games canceled by COVID-19 concerns. Kickoff for Iowa-Michigan is at 6 p.m. Saturday night on ESPN. The Hawkeyes are a 14-point favorite.
Whatever happens this weekend, enjoy it. We'll likely never see anything like it again in our lifetimes. Is it Saturday yet?!
CHECK IT OUT: 100 sports records and the stories behind them