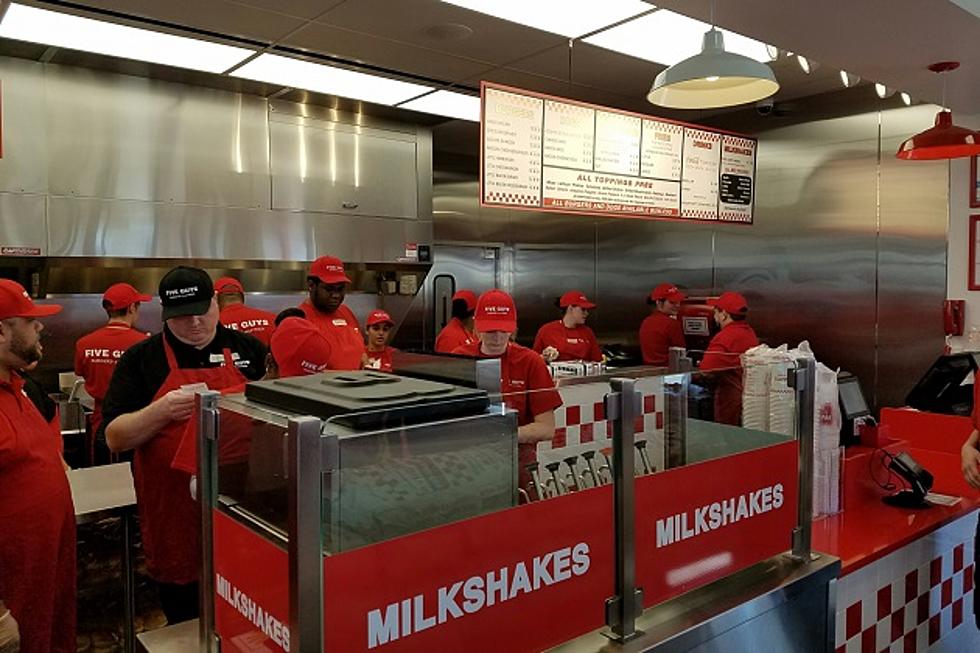 Inside Cedar Rapids' First Five Guys Burgers & Fries [PHOTOS]
Bob James
Ask anyone in the corridor what restaurants they most want to come to the area and among the answers is ALWAYS Five Guys Burgers and Fries. Today, they get their wish and taste buds will be delighted with the results.
Sunday afternoon, I stopped by the new Cedar Rapids location at 157 Collins Road NE. It was a full-on training day, preparing for today's (2/27) 11 a.m. opening. I spoke to Dan Mondragon, Five Guys Burgers and Fries Director of Operations in the Midwest. Dan shared with me that this is Five Guys' third Iowa location, following openings in West Des Moines and Dubuque and you could feel his excitement as well as that of the entire, very large, staff.
One of the things I find most interesting, and appealing, about Five Guys is that their restaurants don't have freezers. Literally, not one. Why? Everything is fresh. Everything is prepared daily, including the meat, so no freezer is needed. The potatoes, for their delectable french fries, are even cut daily and cooked in 100% peanut oil. While I found the burger and chocolate shake (one of 11 different flavors available) to be very tasty, the fries were my favorite. Absolutely delicious. I chose the original "Five Guys Style," but a "Cajun Style" version is also available.
Something to keep in mind for your first visit to Five Guys is that when you're ordering a burger, the word "little" means one ground beef patty. Otherwise, expect two on your sandwich. The menu also features a Kosher Style Hot Dog, Cheese Dog, Bacon Dog, and Bacon Cheese Dog along with Cheeseburgers, Bacon Burgers, a Veggie Sandwich, Cheese Veggie Sandwich, Grilled Cheese, and BLT.
The list of toppings, all available for no additional cost, is out of this world:
Mayo
Lettuce
Pickles
Tomatoes
Grilled Onions
Grilled Mushrooms
Ketchup
Mustard
Relish
Onions
Jalapeño Peppers
Green Peppers
Bar-B-Que Sauce
Hot Sauce
A1 Sauce
Five Guys Burgers and Fries originated in Washington, D.C. in 1986 and just over 30 years and 1,500+ locations later, the corridor finally has one. I predict it will be VERY popular.