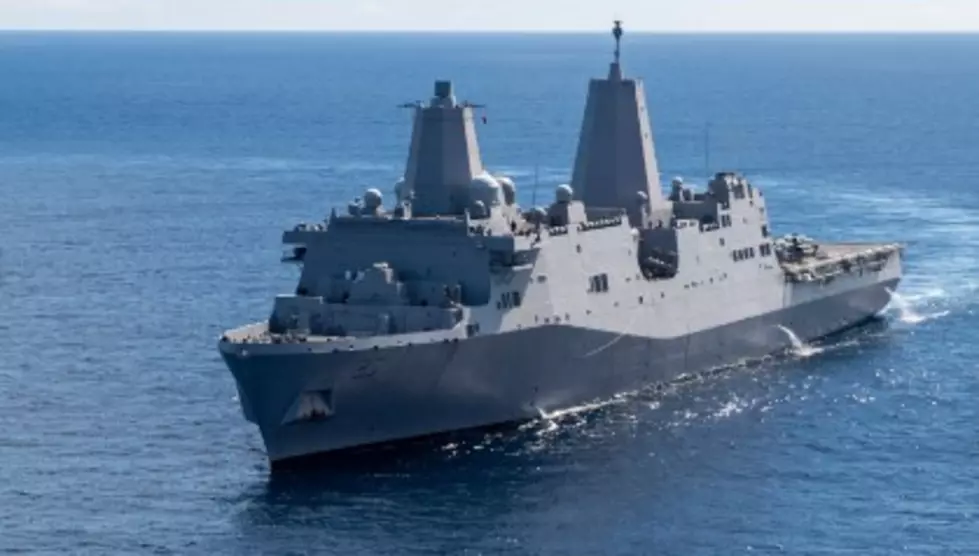 Eastern Iowa Native takes Command of Major U.S. Navy Dock Ship
USS John P. Murtha, LPD 26, Facebook
The USS John P. Murtha is the 10th San Antonio-class amphibious transport dock ship of the United States Navy and is named in honor of Congressman John Murtha of Pennsylvania.
The ship was under the command of Capt. Gervy Alota from July 2020 until this past July 9. Taking over command at that time was a Lone Tree, Iowa native with family in the Cedar Rapids area.
Captain Douglas (Doug) Langenberg, has a distinguished military and Naval career. Langenberg was commissioned in 1997 and, according to the Defense Visual Information Distribution Service (DVIDS) has earned degrees from Iowa State University and the Naval War College. As a Naval Flight Officer, the "majority of his career involved carrier aviation with flying tours in F-14 and F/A-18 including a command tour with Strike Fighter Squadron 213 in Oceana, Virginia". He most recently completed a tour as Executive Officer of the USS John C. Stennis (CVN 74).
The photo below shows Capt. Alota (behind the podium) relinquishing command to Capt. Langenberg (center right) in a ceremony on July 29
In a media release, Capt. Langenberg said
it is an honor and privilege to serve alongside the heroes of this great warship," said Langenberg. "I am truly excited and looking forward to bringing together the team of John P. Murtha and the 13th Marine Expeditionary Unit.
Alota assumed command of the USS John P. Murtha in July 2020 and will go on to serve at the United States Space Command Missile Warning Center at Peterson Space Force Base in Colorado Springs, Colorado.
We thank both of these men for their service and congratulate Captain Langenberg for taking over a ship that, along with its crew has met or exceeded impressive and rigorous standards under his command.
As the media release goes on to state, "the crew of John P. Murtha consistently stepped up to complete multiple maintenance availabilities and operational requirements, all while cultivating one of the most admirable command climates on the waterfront. This directly contributed to their achievement of the Battle Effectiveness Award (Battle "E") for 2021."
Stay in a 16,000 sq. ft. Mansion Here in Iowa
Only about an hour and a half from Cedar Rapids, in the city of Conrad, there is a ridiculously large mansion called the Clemens Mansion, and you can rent it out on Airbnb!
Milo Mini-Resort
Mini-Resort in Milo, Iowa